Your upcoming movie Rust and Bullets - in a few words, what is it about?
It's a multi layer/multi function project, on one side its about the Gunfight at the OK Corral in 1881 between the Earp family and Doc Holiday. That's wonderful classic real story most of the world has heard some version of. I wanted to update the story while trying to follow actual events but transplant the time and make them modern or post modern scenarios.
On the other side it serves as documentation of the location the story resides in, Hubcap Alley. It's a real historic district in part of downtown Oklahoma City that was and partially still is a mechanic/garage/auto service neighborhood. Dozens of independent stores and garages are set up down in the area and several are work/live garages. Every store front is vintage brick and captures this classic time period in our city. The entire area has been claimed by the city for bulldozing and is going to be turned into a massive city park. All the businesses are having to sell there property to the city at what the city deems fair value, and relocate. This will be a chance to fill the main strip with custom cars and bikes for a cruise and capture it one last time in its glory before the city turns into a big park.
And in a 3rd layer, it represents my family, a way for me to document or capture the spirit of who and what I was raised around, indie car culture, racing and motorcycles. Two of the locations in Hubcap are my actual family members' shops/homes.
The locations, story lines, and even some of the actors running in this film are true real life characters of their own in both real life and fiction, so this serves as a documentary and fictional film.
There is deeper layer to the story that serves as message, this "neu rust belt of all that is left of petrol culture" is not so far off as people may think. When, not if, the tanks start running dry, people will have to let go of this passion we have for automobile culture in its present form, or follow the supply of both fuel and upkeep. I don't see this portrayed as a fictional not so distant future, but a real glimpse into what to expect in the next 20-30 years.
With Rust and Bullets being, in a very roundabout sort of way, about the Gunfight at the O.K. Corral - how much research did you put into that aspect of your story?
When I decided on the subject, I knew I would have to do heavy research into real events and make it a point to try and follow history. I read wikis, history books, watched documentaries on several characters and then some on the actual events, studied what kind of guns they used, all sorts of details exist and many myths as well. I avoided watching any of the movies based on the subject I haven't seen and did not rewatch any I have seen in the past. I wanted to paint a clear picture of how it all happened while being in framework of different time period, so while trying to follow as much as I can, event-wise, I obviously had to make some liberties with the story. I think though that any Earp fan who sees this will catch all that is happening pre, during and after the gunfight... it's all spot on.
A sci fi/acid Western/hot rod film - how do you even come up with a combination like this, and what were your inspirations when writing the screenplay?
Real life influenced everything.
Oklahoma is Sci-fi Western, its not hard to see the inspiration if you live here. The Devron Energy Corporation megolith glass sky scraper with moving lights is in the skyline behind farmers market and cowtown/stockyard districts where cattle is shipped in and slaughtered and traded and Western wear shops and farm supply general stores exist, its sci-fi meets Old West and a part of our daily lives. Our downtown is a mixture of weird 70's architecture meets classic deco and urban West. The mixture of building styles creates a very surreal atmosphere.
My family was the other influence, they are all literally farmer/rancher/outlaws turned auto grease monkey biker hot rod/rat rod/dragster/dune/off-road/rally-racing mechanics. Its the culture I was raised in, my great grandfather owned the first commercial auto garage in Bethany, just a block East of NW 39th, which is Route 66. He had 5 kids, my grandmother the oldest, and 4 sons. Each of his kids had at least 2 kids, and they then had kids est. Every one aside from my grandmother's line, worked in the garage and as a hobby/art built their own hot rods and raced them. My grandmother, being oldest, married first and her husband, my grandfather and his son (my uncle), worked for themselves separate from the family garage. Hot rods and racecars were part of daily life in my family.
So seeing a guy in a pair of cowboy boots and straw hat in a tricked out rat rod was a normal thing.
What can you tell us about the intended look and feel of your movie?
I am wanting to bring a depression era end of the line last refuge feel in urban Western locations based in a not so distant future. I think Bring me the Head of Alfredo Garcia meets Mad Max. Put a tense drama storyline that escalates into tragic event, and I think you can get an idea for what I am shooting for.
From what I gathered, Rust and Bullets' story suggests quite a few fancy vehicles. So what can you tell us about those, and how do you plan to obtain them on your relatively low budget?
Between my family and their friends and associates, like members of their various car clubs, I've had a nice collection of cool rides offered for the film. For main vehicles the characters are in, I am using my cousin Ronald Woodring's VW Rat Rods and one of the actors, Jason Mayo, is supplying a Subaru WRX custom. For background shots and extras, we are using car and bike clubs to fill up the shots. One of the rides, a custom modified racing Corvette is being supplied by Jeff Volk for the first scene. So it's really not costing me much for location and vehicles, I'm being resourceful producer and pulling from what's available to me, and I just happen to be fortunate enough to get access to some awesome vehicles. If it weren't for my affiliation to the source of the vehicles, no way I could make this film on the budget I'm asking for, impossible.
Also, the right locations are a key factor for a film like this - so do talk about yours for a bit!
Hubcap Alley is located south of downtown Oklahoma City, its a small district/corridor that time has forgot and left isolated and unchanged since the 60's when a highway was built cutting it off from view of the city.
One point in time it was automobile/garage epicenter, the main street that runs through it is Robinson which was a highway at one point, so lots of traffic and commerce. Today, it still has its original store fronts and a few dozen auto shops and salvage yards, it's very run down and blighted in areas of it. So it's this classic vintage piece of history being left to rot and neglect. A lot of he shops/garages are live work places where the mechanics live on premises so you have this neighbor community feeling amongst all the business owners instead of some cold strip mall chain store vibe. Two of the locations in the Alley are my uncle and cousin's shop/garages, next door to one another. My cousin's shop, the Old Volks Home, is something between an artist's gallery/studio/live space meets grease monkey wet dream. So no location prepping is needed, his shop, which will serve as the telegraph office/dispatch office in the film is really how it looks in real life. He is a steampunk enthusiast and has alot of cool auto/steampunk inspired functional art he has made like a cool phone, a hand crank door buzzer, and hip court yard surrounded by iron fencing mixed with engines and bike and VW parts for cars he is building or repairing... amazing real set pieces.
The entire area is slated for bulldozing and everyone in the area HAS to relocate. The city is offering every owner a buyout/relocation offer, some are getting out with good offers, some are going to have to close up for good because what they are being offered isn't going to cover new locations.
Other areas we will film in are Farmers Market and Cowtown/Stockyard districts, which are very urban Western. Cowtown is the district where cattle is shipped in to own and bought and traded. All the shops are farm/general supply shops, Western wear, leather shops, etc and feed/grain shops.
One or two shots in the short film will be in rural areas as well.
Anything at all you can tell us about your key cast yet, and why exactly these people?
Jason Mayo will lead as Wyatt Earp - Jason is a friend who has been acting in another indie film my friend Allin Kngh is producing. He was first person I approached to act.
Mat Evans as Doc Holiday - Mat worked on my last film Jesus of Nebula and is really fun to work with.
Michael Jimboy, the security guard from Sewer Chewer, agreed to play a role, he is blast to work with, hardest part with Michael is deciding which take to use because he can improv something on the spot different each take, that is what you want perfect, plus something he throws at you and is so incredibly witty that you would never have thought of, and each time different... so got all these kick ass takes and each one is a winner but you can only pick one... that's an awesome actor.
I will be pulling on the talent pool I have used repeatedly on our films for rest of the cast. I really enjoy working with the same actors, crew etc. We have a good work flow on all our projects, work multi roles on the production so the rest of the cast and crew will be chosen closer according to people's availability and schedules.
This is a very tight schedule, we want to shoot it one evening and 4-5 days all within a 30 day period. Since everyone is donating their time and energy, everyone involved has to be able to arrange 4-5 days of 14-15 shooting hours..
That's hard to do if your not getting paid for the project, so we are splitting the days up to make it easier, and our cinematographer David Giglio lives in Texas so we all have to follow his schedule since he has to travel for each shoot.
Since I want to document my family in this film, expect several of my relatives to be cast as well, Hawley and Woodring clan will make appearances as well. Ronald and Donald Woodring are portraying the Telegraph/Dispatch operators and my Uncle, his son, myself and my son will all be in one shot, to capture all the Hawley males in one clip. I want this to be something my family is proud of, my gift to them.
As far as I know, your film's still in its fundraising stages - so what can you tell us about your fundraising efforts?
Begging and pleading, seriously. I am pushing and shoving the campaign in everyones face. It's been under a week, we haven't raised much, $85, I really need to hit $3 - 4k of my 10k goal. With $ 4k, I can shoot, that's insurance and gear, rental/travel costs. With 10k, I can do it and have better wardrobe, props and feed the cast/crew and put gas money in pockets, and have promotion materials printed/shipped and festival submission fees ready. So 3k and we will have to do another fundraiser later to promote, or 10k now and everything is in the bag.
http://igg.me/at/Rustandbullets
Once the funds are raised, how do you plan to proceed, and any idea when the film might be out yet?
If funds are met by deadline, we set the film schedule and between then and first day of photography, I will be building props, gathering wardrobe, networking and rehearsing. Game day comes, we meet and set up and do our thing, then move to the next location and do it again, until it's time to go home. Will start editing it in between each of the shooting days so hopefully we can have a finished 20-40 minute short film for festivals next year.
Screening it in Berlin and Paris regardless of festivals sometime next spring, hopefully with after party.
I've read somewhere that you're planning to eventually extend Rust and Bullets into a feature film - so what can you tell us about that endeavour of yours?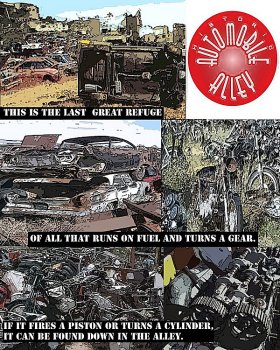 I have been wanting to do a bounty hunter sci-fi Western film for awhile. I wrote several scripts that were just a bit too out of my reach to produce right now and when I was researching the Earp history I discovered what happened after the OK Corral, and it fit very closely with one of the side plotlines from one of my scripts, The Earp Vendetta Ride. After the OK Corral gunfight, the Earps and Doc Holiday were taken to court to determine if they acted in self defense or murdered people. The court dismissed the charges and Ike Clanton had two of the Earps later ambushed by hired gunhands. Virgil was ambushed and survived, but was crippled for life and forced to relocate, and Morgan was ambushed and killed. Wyatt discovered who the assassins were, and went on a month long manhunt, hunting and killing all 5 gunmen. During this time, he and his posse were more or less considered revenge killing and were being trailed simultaneously by Sheriff Behan and his posse. So it's a traveling revenge story which I wanted to do, but as in real life the way events unfolded in the story of my short film... the short film is the start of the traveling revenge film, which will be Wyatt and Doc traveling the wastelands avoiding capture by a manhunt while conducting their own revenge-fueled manhunt, in cool rat rods at even more interesting districts/locations. In some ways, the short film is going to be more difficult than the feature, most of the complex shots are in that part of the feature.
Any other future projects you'd like to talk about?
Currently wrapping production on a loosely based sequel to Sewer Chewer called Jesus of Nebula and working on new album for Liquid Sky Berlin.
What got you into filmmaking in the first place?
When I discovered The Wolf Man and the Sinbad-movies... I really pinpoint it back to those. Both made me want to peek deeper into visual moving media, those led to Ray Harryhausen and Lon Chaney, which led to Famous Monster of Filmland, then to Fangoria etc etc - I think 3rd grade I got my Dick Smith make up book, 4th grade I had my own Bell and Howell super 8 camera and projector. I just always wanted to make my stories and drawings come to life on camera.
What can you tell us about your debut feature Sewer Chewer?
Sewer Chewer was a feature film we produced a few years ago for $6000, its a grindhouse creature feature tribute, about a nasty mutant creature on a feeding frenzy. Lloyd Kaufman has a cameo and the bulk of the budget was the FX-scenes. It's a full-on nasty in your face splatter gore FX film we managed to pull off incredibly cheap.
Reviews on Sewer Chewer have been excellent, and it's been screened in Canada, America, and Germany. It also has won several awards at film festivals, including best monster, best trailer and best of show. Sometime soon it will released on limited VHS Retro format collector edition and DVD.
I think Sewer Chewer shows what we can do with nothing, and what potential I possess if I had something.
Do talk about your musical alter ego Jack Acid for a bit, and about your brand of music!
I have been producing experimental electronic music and techno acid music since the late 80's, released my first record in 1994, and became known for a subgenre/split movement called free tekno that was basicly the d.i.y. punk equivalent of the commercial rave scene. I try not pigeon hole myself to any music genre as a producer but I fall somewhere into techno, acid and ambient/experimental. I was heavily influenced by movie scores as a kid, like a lot of John Carpenter's early films and Giorgio Moroder, Goblin and Tangerine Dream film scores. Early industrial and punk influence too. A lot of my sounds are from customized hardware, either by me or my friends. I also circuit bend toy electronics and have created my own soft synths for digital music production. Pretty much everything you hear in my music is a custom sound, tone. I pride myself on my sound palette because everything is my sound, no presets, no sound packs, nothing you can go out and buy stock or download to sound like me. You hear machine short circuit in a scene in my film, that's a sound from my collection of sounds I've made of me literally short circuiting a speak and spell toy or modular synth or a drum machine or toy keyboard voice changer toy etc I rewired and made into a different circuit and produce a sound it was never designed to do. Now what tempo or template or flavor those sounds are arranged in is something I try to keep broad and hard to define. What I do for one record label may be a totally different sub genre than what I do for another label, but still has a vibe or feeling or style that is signature Jack Acid sound.
How would you describe yourself as a director?
I think I am a great director, producer, writer and a lousy money man. As a director, I don't know if it's because I have a good relationship with people I work with or because I have good people skills, I seem to get great work out of people who are not actors or film crew by profession, yet I have people who worked on pro-productions tell me, when we do work with them, that I operate one of of the best, most efficient productions they have ever worked on. So I guess I posses good director skills. Plus as an artist of multiple disciplines, drawing, painting, sculpting, music, video, photography etc I have an easy time visualizing what final product will be and all the steps to get it.
Filmmakers, musicians, whatever else who inspire you?
John Carpenter, Sam Peckinpah, John Cassavetes, Anger, Kern, Walter Hill, Lucio Fulci [Lucio Fulci bio - click here], Dario Argento, John Woo, David Lynch, Alejandro Jodorowsky, Don Coscarelli, Golden Harvest and Shaw Brothers, Hammer films, Sergio Leone, so many names really in film, I have has always been a huge film buff and get on these director/writer kicks where I discover someone and try to digest as much of their work as possible, so at age 42, being a film buff since as far back as I can remember, that's alot of time to be influenced.
Your favourite movies?
I have so many, but I think Escape from New York and The Thing by John Carpenter are 2 of my top faves.... I don't know, so many great movies out there, I think 70's and 80's were the golden era of art, especially in film and video. Phantasm had a huge impact as well, along with Evil Dead (original) and Sergio Leone Westerns, John Water's Pink Flamingos, obviously Mad Max, Road Warrior and Death Race 2000 (1975),
Sam Peckinpah's Wild Bunch and Bring me the Head of Alfredo Garcia really hit me as a kid, and Walter Hill's The Warriors. I could make a top 100 list and most would be 70's/80's movies. I think I got to live in a awesome moment in human history when we strived to make revolutionary bizarre art and people actually funded and respected it, before the Dollar made the final decision over real expression.
... and of course, films you really deplore?

Feeling lucky ?
Want to
search
any of my partnershops yourself
for more, better results ?

The links below
will take you
just there!!!

Find James Hawley
at the amazons ...

amazon.com

amazon.co.uk

amazon.de
Looking for imports ?
Find James Hawley here ...
Something naughty ?
(Must be over 18 to go there !)

Anything new and shiny, mainstream or over-hyped. I really hate remakes of any movie that was originally a classic. Especially if it was made in the 60's - 80's and remade now, I hate those films. Halloween remakes are classic examples. Why? And what makes a no-name director think he has the talent to undertake remaking some stylist classic film made originally by a master? It's a pompous ego-fueled decision for Rob Zombie to even think he could remake Halloween or that nimrod who remade Texas Chainsaw Massacre etc etc etc - leave them alone.
Your/your movie's website, Facebook, IndieGoGo, whatever else?
Right now, we are in fundraising stage so we only have a IndieGoGo page and fan page on Facebook
https://www.facebook.com/RustandBullets
and
http://igg.me/at/Rustandbullets
Anything else you are dying to tell us and I have merely forgotten to ask?
On top of a solid crew, lead cast, locations, props, cars and story, the film will have a score provided by myself and producers I know, so expect serious heavy synth and bluesy rockabilly and slide guitars and atmospheric theremin.
Thanks for the interview!