I Dream of Jeannie, the TV-series - I'm almost sure everybody is familiar with it, but could you still sum it up in a few words?
Let me quote from NBC's press release prior to the program's debut: "Television's most alluring new comedy heroine arrives on the scene in a beautiful puff of smoke. For the girl in question is a delectable, wish-granting genie - named Jeannie. She's played by lithe and lovely Barbara Eden - which should insure Paradise for the Aladdin of her choice. Jeannie's Aladdin (handsome Larry Hagman) is an astronaut. The complications? Hilarious, (super-)naturally." The series was created by author Sidney Sheldon and co-starred Bill Daily as Roger Healey, Hayden Rorke as Doctor Alfred Bellows, Emmaline Henry as Amanda Bellows and Barton MacLane as General Martin Peterson.
On its initial run, I Dream of Jeannie was a bit, shall we say, shaky in the ratings department. Why do you think was that?
Television audiences, for the most part, develop viewing habits and enjoy watching a particular program on the same night. This was not the case with I Dream of Jeannie as the network moved it to five different time periods during its run. Here is the show's original time slot schedule:
Sept. 1965-Sept. 1966, Saturday 8:00-8:30, Sept. 1966-Aug. 1967, Monday 8:00-8:30, Sept. 1967-Aug. 1968, Tuesday 7:30-8:00, Sept. 1968-Aug. 1969, Monday 7:30-8:00 and Sept. 1969-Sept. 1970, Tuesday 7:30-8:00.
The show's ratings were not terrible but would have benefited had the program stayed put for at least two complete seasons. Here is ratings information I was able to gather:
First season ranking was: 27, Second season ranking: 34, Third season ranking: Not in top 40 and according to November 1, 1967 edition of The Washington Post Times Herald the series landed in 58th place tied with Batman and Garrison's Gorillas. I Dream of Jeannie's competition, during its third season, was the popular Daktari series. Fourth season: 29 and Fifth season: Not in Top 40 with Daily Variety reporting the show averaged a 15.5 share of the audience from September 29 through November 2, 1969. During the program's fifth season The Mod Squad was its main competition and very popular.
The wedding of Jeannie and Major Nelson was sold as a big TV event - to what extent did it influence both the quality and the ratings of the show?
Let me explain the reason for the marriage as Sidney Sheldon and the cast felt it was a terrible idea and would hurt the show. The television season prior to Jeannie's wedding (1968-1969), NBC had great public relations and ratings success marrying Agent 99 and Maxwell Smart on Get Smart. Their television marriage earned a 37 Nielsen share. You can just imagine the NBC executives thinking "who can we marry off next year and get the same success?" Well, it could not have been the leads in The Ghost and Mrs. Muir! I Dream of Jeannie was often landing in the top 30 and, on occasion, the top 20, during its fourth season opposite Gunsmoke on CBS. The March 17, 1969 edition of The Windsor Star called the series a "quiet hit". Still the brass at NBC threatened to cancel the series unless Sidney Sheldon had Jeannie wed her master.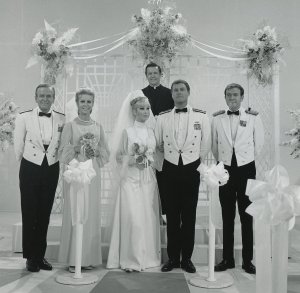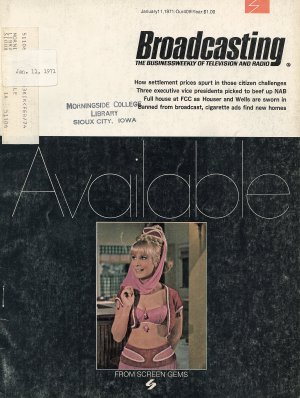 Jan 11, 1971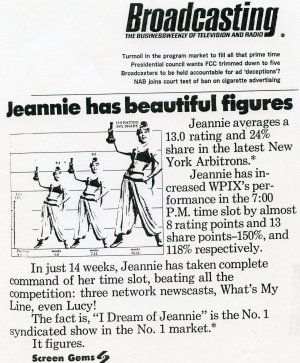 Feb 15, 1971
The press went wild with the news and Jeannie, in her wedding dress, was featured on many regional TV Guide sections in addition to the national magazine. A press release stated: "The wedding of Jeannie (Barbara Eden) and Maj. Tony Nelson (Larry Hagman) of I Dream of Jeannie will be aired on Dec. 2, and such VIPs as Gov. Claude Kirk of Florida have been invited to a reception at Cocoa Beach and Cape Kennedy Nov. 23 through 26, during which the wedding will be taped."
The decision to have the pair was, in my opinion, more of a public relation's decision than a creative one. The series lost much of its mystique once Jeannie's existence was known to everyone. Also Barbara Eden spent less time in her harem costume which probably did not go over well with the male viewers (myself included). Frankly, when Jeannie got her wish and married the man she adored the story was pretty much over. The romantic chase was gone, the threat of Jeannie's sister trying to steal Major Nelson was a moot point and as Larry Hagman said, after the marriage, "no one cared". I know fans of the series have mixed feelings about the wedding but because of it I Dream of Jeannie became a different program. As far as the show ending I think it was a combination of the wedding, the show's competition being The Mod Squad and executive's wanting to make money from the series now that it had enough episodes for syndication.
After the show ended its run, it surprisingly became a big success in syndication almost immediately - could you talk about that phenomenon for a bit?
There have been several series including Gilligan's Island, The Brady Bunch and The Odd Couple which were mild successes on the network but became huge hits when playing in syndication. I Dream of Jeannie became available for independent television stations to purchase in early 1971. The show immediately became an overwhelming success. The March 31, 1971 issue of Variety stated the series was the number one program in the Monday-Friday time period for WPIX-New York. The copy read, "Jeannie delivers a 12.4 rating and a 25 share - 41% higher than her closest rival."
Actually I Dream of Jeannie made television history when a broadcast of the program earned higher ratings than its competition on the networks. This was the first off-network series to accomplish such a ratings feat.
The Chicago Tribune's June 20, 1971 edition noted the series was number one in Australia, Germany and Japan. In 1985 USA Today stated the series was being aired in 80 markets and ranked in 25th place in syndication popularity. The show appealed strongly to women in the 18-to-34 age group while constantly finding a new audience in children. At this time the program's popularity ranked higher than I Love Lucy, The Beverly Hillbillies, Mary Tyler Moore, Dick Van Dyke and Gilligan's Island.
To this day, I Dream of Jeannie pops up on TV all over the world every now and again. How would you explain the show's longevity - also compared to other series from its time?
Well, not "now and again", I Dream of Jeannie has been airing somewhere in the world since it debuted in syndication. Barbara Eden has stated the show has lasted because it is not dated, the main characters wore uniforms and it is "clean". Any age group can sit down and enjoy the program and appreciate it on different levels.
How did I Dream of Jeannie's, shall we say, after-life popularity change the TV-industry and its attitude towards producing sitcoms for the long haul at that?
I recall, during the 1980's series which were cancelled by the network after two or three seasons had at least one more season's worth of episodes produced to be included in their syndication package. This happened to at least two programs which I can recall: Punky Brewster and Silver Spoons. The television industry saw the need to keep series in production to ensure the necessary amount of episodes needed for syndication. No doubt this move was influenced by the success I Dream of Jeannie and other off-network programs from previous years were having on stations across the country. I should add a program's success in syndication plays a big part in other industries. When I Dream of Jeannie began playing on Nick at Nite, toy manufacturers cashed in and produced a line of toys based on the success of the reruns.
Barbara Eden reprised her role as Jeannie twice, in I Dream of Jeannie ... Fifteen Years Later and in I Still Dream of Jeannie, in 1985 and 1991 respectively, two TV-movies that didn't really catch on. Any explanation for this, and what do you think about them?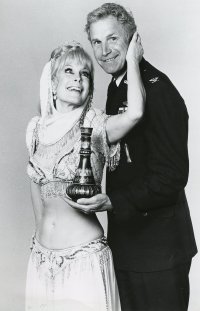 The first television movie, I Dream of Jeannie ... Fifteen Years Later actually was a big success and finished as the 11th highest rated program for the week against the World's Series. I enjoyed the film until the last twenty minutes or so when Jeannie's evil sister (played in this movie and on the series by Barbara Eden) managed to succeed in breaking up Jeannie's marriage to Tony. Basically the plot had Jeannie's sister maneuvering Tony into taking one more space flight which angers Jeannie. She leaves Tony and tries life as a single woman. Tony's space capsule is heading in a meteor's path. Haji, the master of all genies, explains Jeannie cannot save his life without consequence. Jeannie saves her master but he later forgets his life with her. In the last few minutes of the film the couple meet as strangers and Jeannie 'blinks' which gives Tony the nudge to get to know her once again. Maybe this ending was made to say "hey NBC Jeannie and Tony should not have been married in the first place" - but it was a rather sad finish. Larry Hagman would not reprise his role as Major Nelson and Wayne Rogers did a good job filling in as the part was written more calmly than on the series. Bill Daily and Hayden Rorke returned and Mackenzie Astin did an excellent job playing the son of Jeannie and Tony.
I Still Dream of Jeannie did not fare as well in the ratings as the first film because its competition was the initial installment of ABC's Dynasty reunion as well as the World's Series on CBS. It finished in 39th place but, considering what the film was up against, NBC was reportedly happy with the rating's score. Apparently what transpired in the first film did not influence the second as Jeannie was happily married with her son now in high school. Tony Senior is on an extended space mission. In order for Jeannie to remain with her husband and son she must find a "temporary" master. Jeannie's sister tries to thwart her efforts which include visiting a single's bar and double dating. In my opinion the second film is better than the first as it is more like an extended episode of the series. Jeannie acts like, well, Jeannie and not a woman seeking independence.
What bothered loyal series fans were the production's staff decisions not to recreate the original harem costumes and go with attire which had less visual appeal. In addition the magical sound affects heard on the series were replaced with blasé noises. Oddly enough, the original sound effects were heard, during some of the brief promotions for both films.
For the longest time, the recently deceased Larry Hagman had nothing good to say about I Dream of Jeannie - any idea why?
Before I get into this touchy subject let me say Larry Hagman was brilliant in the role and the show would not be the classic it has become without his involvement.
Sidney Sheldon recalled "I remember returning from the desert where we shot one of the early episodes. We stopped at a red light and Larry rolled down the window of the limo and yelled out, "Someday you're all gonna know who I am!" Bill Daily added, "He wanted to be the star and everything went to Barbara. He wanted to be noticed, so he did other things like a naughty boy." Larry did not like the scripts and made this known in an unprofessional manner like relieving himself on the set. Eventually he was going to be fired but Barbara Eden stepped in and truthfully said without Larry you have no show. Besides on-set issues he was going through personal issues and I suppose these memories surfaced when he thought of his days on I Dream of Jeannie.
However I have to tell you how distraught I was when he said during an interview on Entertainment Tonight regarding his post-Dallas plans: "I do not want to work any children, animals or genies." Then he paused a bit realizing how this sounded and added "That does not mean Barbara, of course." It was too late and the damage was done. It is the old saying if you cannot say something nice about someone (or in this case something) then do not say anything at all. During the height of his fame as J.R. Ewing, for the most part, when the subject of I Dream of Jeannie came up in the press it was often in a negative tone. It was certainly no surprise, when both TV-movies were in production Hagman chose not to participate. Simply out of loyalty to Barbara Eden for saving his job a cameo appearance in one of the films would have been appreciated besides making millions of people very, very happy. I asked Nicholas Sheffo from Fulvue Drive In for another opinion: "Like Sean Connery on Bond films, Hagman watched his likeness become a big business and he got paid very little beyond his paychecks (i.e, endless reruns and tie-in items like books, toys, etc.) at a time when that was too common." Shortly before and after his liver transplant operation in 1995 Hagman became more appreciative of his time on I Dream of Jeannie. In recent years he attended conventions with Barbara Eden and Bill Daily speaking fondly of the series. When asked why the show has endured he simply said, "it's funny!"
I've read somewhere that in 1973, Barbara Eden and Larry Hagman were coupled again for the TV pilot Toy Game. Have you got any more information on this, and any idea why it didn't create much interest?
Oh goodness! I was aware of The Toy Game but not Larry Hagman's involvement in it. Barbara Eden was a hot property due to the success of I Dream of Jeannie in syndication. It was only natural for her to be cast in TV pilots in the hope they would sell and become another successful series. There are so many variables why a TV pilot fails but Barbara made quite a career from her appearances in variety shows and highly rated made-for-television movies.
Just to be on the complete side, you also have to talk about the Barbara Eden-Larry Hagman thriller A Howling in the Woods and Barbara Eden's temporary involvement in Dallas for a bit!
A Howling in the Woods was a TV-movie which aired on NBC in 1971. The press billed it as a reunion between Barbara Eden and Larry Hagman. It is actually an effective thriller featuring Vera Miles.
During Dallas' last season attempts were made to lure back viewers and one was having Barbara Eden reunite with Larry Hagman. Eden played LeeAnn De La Vega who was involved with J.R. and became pregnant with his child. She ended up having an abortion and could no longer bear children. J.R. shunned her and she returned to seek revenge by destroying him. The reunion received a lot of press but it was too late to save Dallas.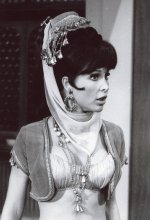 Barbara Eden as
Jeannie's evil sister
How did you, personally, first get fascinated by I Dream of Jeannie?
I do recall watching the series during its original run. I have vivid memories of my mother and I sitting on the couch hearing the announcer say "I Dream of Jeannie will not be seen tonight due to this special program"—we heard him say this often. Naturally when the series began airing on my local Boston station (WSBK-TV 38) I became an avid fan once more. For a time both WSBK-TV and a Providence Rhode Island station ran different episodes at 7:30pm. I was finding myself clicking back and forth watching scenes from two different episodes.
Your favourite I Dream of Jeannie-episodes?
My favorite is from the fourth season called How to Marry an Astronaut when Jeannie's sister, by pretending to marry Roger, attempts to wed Major Nelson! It is a very funny episode and Eden, as usual, is very convincing in her dual role.

Feeling lucky ?
Want to
search
any of my partnershops yourself
for more, better results ?

The links below
will take you
just there!!!

Find I Dream of Jeannie
at the amazons ...

amazon.com

amazon.co.uk

amazon.de
Looking for imports ?
Find I Dream of Jeannie here ...
Something naughty ?
(Must be over 18 to go there !)

I also have a favorite moment from How to Be a Genie in Ten Easy Lessons from season two. When Tony's attempts to stop Jeannie's misguided magic fails he turns to her and says, "When you care for someone I mean when you really care for someone you don't try to change them. You take the good with the bad and be thankful for what you've got". Those words I try to live by. It is difficult at times but wise words coming from a situation comedy.
Any books or links you can recommend for further reading on I Dream of Jeannie?
Stephen Cox wrote a book on the series (Dreaming of Jeannie: TV's Prime Time in a Bottle) which Barbara Eden told me she did not like. The book does have a smug air to it. Cox writes fantastic books on television series but I Dream of Jeannie was obviously not one of his favorite programs. I actually self-published a book called Still Dreaming of Jeannie which was in a scrap book format. It was sold through Barbara Eden's fan club during the late 1980's. Good luck finding a copy!
Anything else you are dying to mention and I have merely forgotten to ask?
For all the critics who have labeled I Dream of Jeannie a "silly" show. This "silly" series has become one of the most widely syndicated television programs in the world. Who knew Jeannie's magic was to be this enduring in 1965? To everyone involved with the program, thank you!
Thanks for the interview!