Your upcoming movie Deadly Revisions - in a few words, what is it about?
Hypnotherapy and drugs are used to help an amnesiac horror writer, but are the terrifying images that surface real or imagined?
What were your initial inspirations for writing Deadly Revisions, and did you put any kind of research into the movie's underlying topics like amnesia, hypnotherapy and the like?
I wanted to write a relatively contained (limited location) story, but wanted a story that wouldnít feel stagnant; a psychological thriller/horror film seemed like the ticket, since they depend on twists and surprises. I certainly did some research into hypnotherapy and many other story elements, but I also took creative license often where it would best serve the story.
Being a writer yourself, to what extent do you identify with your main character?
Grafton says: ďI hate staring at a blank pageĒ - I do, too. He also says that writing is his therapy and I think that has also been true for me, at times. But mostly, Graftonís just a character with traits, behaviors and attitudes that I thought were the right fit for the story. Heís a real wounded animal. Iím a much lighter, goofier guy.
Do talk about the movie's look and feel for a bit if you can!
We wanted the best look we could get for the budget. We couldn't afford cranes and all the really cool toys, so we had to be very creative in how we were going to shoot things. But I was going for a look and feel that would fit the story. (It always comes back to that, doesnít it?) So it had to have a moody, dreamy feel at times to evoke the slow-burn psychological thriller element, but the scenes of horror had to evoke the flashy fun of that genre.
How would you describe your movie's approach to horror (as in suspense vs sudden shocks, atmosphere vs all-out gore, ...)? And is horror a genre you're at all fond of and why (not)?
Itís a genre I love and hate. I think there are brilliant films that happen to be horror and then I think there is a lot of awful junk. Grafton and a journalist actually talk about that in the film. (More on that a few questions down.) Because this film is a valentine to the horror genre, it has everything that the genre is known for: it has mystery and suspense, sudden shocks, blood; it has many classic tropes including creepy hallways, a possessed doll, a hatchet wielder, a zombie; then it has winks to other famous horror films via names, musical cues, and even directorial choices. The more you are familiar with the genre, the more youíll see. So it works on lots of levels. Or that was goal, anyway.
Do talk about your key cast for a bit, and why exactly these people?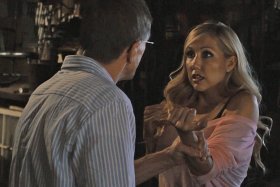 Bill Oberst jr, Cindy Merrill
Bill Oberst jr [Bill Oberst jr interview - click here] was my first puzzle piece. I had met him and we clicked and we knew we wanted to work together. We talked about a lot of ideas and this one just felt right. He usually plays a blatant, antagonistic, sadistic killer, so we were both excited by the change and the challenge to have him in the Jamie Lee Curtis role for once. I had known and worked with Mikhail Blokh and Cindy Merrill previously and knew they would kill it as the best friend and hypnotherapist who try to help Bill find peace and sanity. Lise Hart (who playís Billís wife) has been an actress friend for about a decade and weíd never had the chance to work together and this was the perfect role for her. So I was really playing in the sandbox with talented people I loved.
You also play a role in Deadly Revisions - so what can you tell us about your character, and what did you draw upon to bring him to life?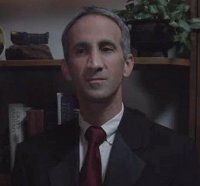 Gregory Blair in Deadly Revisions
I have a small cameo as journalist Crawford Davis. I aimed for a sort of Anderson Cooper type: a serious journalist who is friendly but unafraid to ask evocative questions. Grafton watches an old interview he did on my show where he defends the horror genre and his role in it as I question both. Itís fun because not only does it verbalize what a lot of people think about the genre (on both sides), but it also comments on the difference between the slightly younger, cockier Grafton and the current, cynical and unsure Grafton.
What can you tell us about the shoot as such, and the on-set atmosphere?
How long do you have? Actually, my DP Kate Sobol was so fantastic at working out the shot lists with me that most days went pretty much as planned. There are always surprises, difficulties, and things you have to work around. The unexpected heat wave, the day a huge big rig accident that shut down the neighboring freeways caused sirens and helicopters to circle for hours, the day a parade of gardeners came to mow lawns for 127 hours, etc. But everyone on set worked hard to remain focused and we kept to our schedule and shot our movie. And we had a lot of fun, discovering and creating lots of magic along the way. Filmmaking is about planning, patience and playing. That last part is the drug that keeps you coming back.
The $64-question of course, when and where will the film be released onto the general public?
I wish I had an answer for this one. Weíve had some interest from some distributors, but we are holding out until we find the right one. Thatís why weíre pushing to get our film into some of the major film festivals. Because weíll be able (so far) to offer it as a premiere, thatís appealing to festivals; that itís a directorial debut also has its value; that both the screenplay and I have each been awarded doesnít hurt, either.
Any future projects beyond Deadly Revisions you'd like to share?
Of course! My award winning screenplay The Sisterhood has been bought by EnMar Productions and is going to be shooting in 2014 in the UK under the title Heretiks. I also have a screenplay called The Straying that I hope to do with Bill... only this time, weíll both be in front of the camera... and both playing monsters!
As far as I know, you entered the filmworld as an actor - so what got you into acting, and what can you tell us about your training on the subject?
I think I am an actor by nature and a writer and director by nurture. By that I mean: I think I wanted to act for as long as I can remember; the desire to write and direct came a little later. I was doing theater as a youth and thenóafter tangential college and business world experiencesóI got back into it, slowly. I think you have to be born with what we call ďtalentĒ as far as acting goes. Itís not something you can take credit for or take pride in; you just have to decide if youíre going to embrace it and develop it. Classes and training can augment talent, but it canít make up for a lack of talent. Writing and directing, on the other hand, are things anyone can learn if you have the desire and the drive. Some will be better than others, sure, but both writing and directing areóby their own natureómore technical disciplines; great acting has an ineffable, organic element that cannot be taught. That said, Iíll admit to describing many writers and directors as ďtalentedĒ. So maybe I have no idea what Iím talking about!
You've also done quite a bit of theatre, right? So how does performing on a stage compare to acting in front of a camera?
Itís all about size: on a stage, you have to play to the person in the back row of the theater; in film, the camera is closer than anyone in any theaterís front row, so you have to play everything much smaller. They both take focus and energy to do well. Some actors only excel at one or the other. The best can do both.
Can you still remember your first time in front of a movie/TV camera, and what was that feeling like?
I was in front of my own camera as a youngster, making my own films. Professionally, I have to be honest and admit I don't remember what the first project was, although it might have been a USC student film I did many years ago where I played a hateful painter. My first multi-camera show was more recent; that was for what became a recurring role on TVOneís sitcom Love That Girl!. I played an over-the-top nutcase neighbor called Weird Wendell. Itís hilarious.
Over the years, you also moved more and more behind the camera - how come?
Well, itís become more and more common (more and more necessary) for actors and writers to take more control of their careers. One of the ways you do that is to produce your own material. The world of the web series has made this easier. I was exploring several ideas for different web series and short films, but when it became clear that Deadly Revisions was going to be my next project, it made sense that it would be my directorial debut. Itís probably mad to direct a full length feature without some shorter films under your belt, but Iíve always had a little of the rebel in me.
What can you tell us about your filmwork prior to Deadly Revisions (in whatever position)?
Aside form directing my own films in my youth, Iíve mostly, as noted above, been in front of the camera or the computer screen. But being on set after set, if youíre smart, you spend your off-camera time paying attention and learning from simply watching other people do their jobs andówhen appropriateóasking them about their actions and choices. People love to find someone who is truly interested in what theyíre doing and will usually open up and youíll not only learn something, but make a new friend. And nowadays, you can also learn a lot from DVD extras, director commentaries, etc.
You've also written a few novels and stageplays, right? So what can you tell us about those, and about Gregory Blair, the writer?
Yeah, Iíve pretty much done it all in the writing department: plays, screenplays, novels, short stories, poetry, essays, editorials, etc. You can find my prose (The Ritual, Little Shivers and Spewing Pulp) online. Several of my plays have been produced including Cold Lang Syne (which Iíve turned into a screenplay) and Nicholas Nickleby (which has played in various venues across the country). I love the act of writing (Iím kind of a nerd who gets incredibly giddy when Iím writing a scene I find raucously funny or intensely terrifying) and I love the evolution of my writing as it changes when itís interpreted by readers and actors.
How would you describe yourself as a writer, director, actor?
Well, I now describe myself as all three... as well as producer. But the best word I would use is ďversatileĒ. I write comedy, horror, historical drama; I play professionals, goofballs and villains, and I think Deadly Revisions will show I can handle drama as well as horror; there are some great scares in the film, but there are some very quiet, heartbreaking moments that I think add gravitas to the piece.
Filmmakers, writers, actors who inspire you?
Hereís where youíll see my split personality: rebel side of me favors the daredevils who do new things: Ken Russell, Peter Greenaway, David Lynch, Orson Wells, Hitchcock, Baz Luhrmann, Joel Coen, Mario Bava [Mario Bava bio - click here], Tim Burton, Sam Raimi, etc.; the classicist in me loves Steven Spielberg, Woody Allen, George Cukor, Mike Nichols, Mel Brooks, Robert Zemeckis, Howard Hawks, Frank Capra, Billy Wilder, etc. You get the idea. I guess what I like to take in is as versatile as what I like to put out.
Your favourite movies?
Covering all genres: Who's Afraid of Virginia Woolf?, Field of Dreams, Young Frankenstein, Halloween, ET, Star Wars, Raiders of the Lost Ark, Sleeping Beauty (Disney), Willy Wonka & the Chocolate Factory, Insignificance, Moulin Rouge (BL), Babette's Feast, The King and I. And that was the hardest question, because there are so many that belong on that list.
... and of course, films you really deplore?
Iíve had a strong dislike for the occasional film, but Iíve learned to be wiser in what I choose to see. In general, I dislike films that glorify bad behaviorówhether itís physical (like murder and torture) or emotional (like misogyny, racism, homophobia, etc.). That said, many an artist can employ ugly elements and make a powerful, positive film experience, regardless of genre, but it takes a focused sensitivity from the start. In the case of Deadly Revisions, whatever one decides is the final reality of what happened to Grafton Torn, I hope no one comes away from the film thinking I was applauding or approving any of the tragic or terrifying things that happen in the story.
Your/your movie's website, Facebook, whatever else?

Feeling lucky ?
Want to
search
any of my partnershops yourself
for more, better results ?

The links below
will take you
just there!!!

Find Gregory Blair
at the amazons ...

amazon.com

amazon.co.uk

amazon.de
Looking for imports ?
Find Gregory Blair here ...
Something naughty ?
(Must be over 18 to go there !)

Official site: www.DeadlyRevisionsMovie.com
IMDb Page: http://www.imdb.com/title/tt2386291/?ref_=nm_flmg_act_4
Facebook: https://www.facebook.com/DeadlyRevisions?ref=tn_tnmn
Twitter: https://twitter.com/DeadlyRevisions
Like us, follow us... heck... stalk us!
Anything else you are dying to mention and I have simply forgotten to ask?
Not of the top of my head, but if something comes to mind, Iím always game! I may write a lot of horror, but questions never scare me. ;)
Thanks for the interview!
Thank YOU!