Your new movie Dead Meet - in a few words, what is it about, and what can you tell us about your character in it?
Dead Meet is a short action comedy film in which my character Cleo attempts to combine her social life and work life, a big ask given that she is an assassin! She has gotten lonely what with her life of constantly moving between hotel rooms & solitary jobs, and so sought out companionship via internet dating in the form of the charming Ryan, played by Reuben Williams. Unfortunately her next job ends up being scheduled by her handler Charlie Ė the dulcet tones of Richard A Usher Ė on the very same night in the very same pub, and her target Anderson turns out to be a lot more of a challenge than predicted. I hope the readers of this interview will watch it to find out just how that turns out so I wonít give away more than that!
What did you draw upon to bring your character to life, and how much Francesca Louise White can we find in Cleo, actually?
Cleo is take charge, extremely confident in her arse-kicking abilities whether itís breaking a manís arm in three places or any kind of weaponry & can adapt quickly depending on her adversary or target. Sheís multi-lingual, well-travelled and sheís great at her job. Sheís the ideal really! I wish I could say I was more like Cleo! I love learning languages & communicating with people Ė I speak French and Spanish, Iím currently taking another French course to keep it fresh (you can forget it so quickly!) and have attempted to teach myself some Russian because itís an amazing language and alphabet, and I train in martial arts and enjoy weaponry work, Jeet Kune Do with Kali/Escrima specifically. However Iím nowhere near the level of Cleo ability-wise. That being said sheís still bored, has no real connections beyond Charlieís voice on the phone and doesnít feel fulfilled. Iím more empathic and have more of a moral code than Cleo. She does her research and only takes on targets if she believes the world would be a better place without them, but she is still killing people for personal profit! She does have a set of ethics but they donít match my own. I think the main similarity between myself and Cleo is that her date doesnít go as planned, Iíve had a few doozies myself!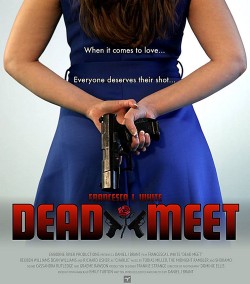 With Dead Meet being rather on the action-heavy side, how did you prepare for that aspect of your role - and how much of a strain/fun was it to shoot those scenes?
It was great fun to shoot those scenes! Daniel J. Brant [Daniel J. Brant interview - click here] the director has martial arts training himself (you should see his splits!) and experience shooting action, and he scheduled several rehearsals/training sessions just for the bathroom scene alone. A lot of indie films donít think to do them but I wholeheartedly believe rehearsals are extremely important, especially when shooting action, so I was grateful. Dean Williams the stunt choreographer and actor playing Anderson is extremely experienced at stunt work Ė he has worked on over 60 films, and he and Daniel had it all planned out well before our shoot. You can view a couple of our rehearsals actually here: https://youtu.be/ocRwhmyZ-FE and https://youtu.be/Ir2NLArVMG0
I also have a brilliant martial arts instructor called Scott Witham who trains me weekly in JKD, and he loves experimenting with different weaponry as much as I do so we frequently switch it up between dos manos staff, escrima sticks both double and single, knife work and shields. I also attended a ĎFireArms in Actioní course run by StageFight taught by Jim Quinlan and Raph Aldis to help prepare for the gun work. I went to a LA Gun club with my friend Devin Roessler who knows an incredible amount about guns too, I loved the experience!
How did you get involved with the project in the first place?
Daniel emailed me via Casting Call Pro as heíd been looking for an actress with martial arts experience who could do the action scenes herself rather than find doubles, and Iíd actually just filmed my Stage Combat BADC qualifying course choreography with True Edgeís Jessica Hrabowsky and director Christopher Hanvey. So, he apparently checked out my action reel and thought Iíd be right for the role.
What can you tell us about Dead Meet's director Daniel J. Brant [Daniel J. Brant interview - click here], and what was your collaboration like?
I have to admit it was Danielís fantastic concept art which initially caught my attention, the character looked kickass. From the very first meeting in Reading when he, Emily Turton (the assistant director and production manager) and I chatted for hours about all the films and television series we loved and why we were each working in this industry I knew that I wanted to work with them. They both respect and enjoy multi-faceted strong female characters and those are the kind of roles I best like myself. They even understood my Buffy the Vampire Slayer quips. I was sold. And as I mentioned earlier, Daniel has martial arts experience himself which I think it very useful when it comes to planning shot lists and working with a stunt choreographer to get action scenes the way he imagined them.
To what extent could you identify with the movie's brand of humour?
Ohh so much, it is this meld of silliness and witty quips that made me laugh every time I read the script! I was really happy when Reuben was cast as Ryan too as heís a writer and is the mind behind ĎBullshit Toursí of London, heís very intelligent, quick witted and was perfect for the role and Danielís sense of humour. Made my job as Cleo easier.
Do talk about the shoot as such, and the on-set atmosphere!
Well for one thing we had a pun tally. Which Dean Williams won with, I think, 45 in total?! Just on one day on set! Dom Ellis the DoP is hilarious too Ė he has a very dry sense of humour, and cast and crew are all big music addicts so weíd have it playing whenever they were setting up for another shot or we were rehearsing. There was a LOT of film talk too. It was really nice!
I will never get over Graeme Rawson recording my laughter, raising the pitch and upping the speed and playing it back to me on repeat while we were recording ADR. Painful.
Any future projects you'd like to share?
Iím currently training up in running for the role of Velocity in Made Ordinary by the talented director Christian Kotey. The film stars Bruce Payne and Sean Cronin. Iím excited to start working on that. Iím also rehearsing and prepping for a short film called Between The Divide by Alastair Railton in which I play a troubled detective called Eve Fischer.
What got you into acting in the first place, and did you receive any formal education on the subject?
I took a lot of acting extra-curricular exams as I was growing up from Trinity & Guildhall, and attended RADA weekend workshops. I studied Drama to A-Level then I got my BA (Hons) Drama degree from Exeter University. After that I followed my dreams of film acting to LA and took an Acting course at AADA there, then hopped around to various schools including The Groundlings to briefly study improv comedy (thatís a real talent, I have a lot of respect for people who specialise in that, I find it a challenge!) and really receive a good mixture of training styles and methods. I still take acting classes from places like The Actors Centre and The Actorís Guild. I think itís easy to get caught up in the business side of the industry and itís important to retain that sense of creativity you get in class that you might not get if youíre experiencing a lull in work or only auditioning (something which occurs to every actor at some point, I think).
What can you tell us about your filmwork prior to Dead Meet?
Iíve done around 25 films at this point, in varying scales of budget, production size and duration. Dead Meet was actually filmed over a year ago and the project originally started pre-production about 2 and Ĺ years ago so Iíve done a fair few since then, but prior to that mostly small cast & crew independent work. I think Iíd done a couple of features but mostly short films and student films. I hear from quite a lot of actors that theyíre only getting a certain type of role, that theyíve gotten pigeon-holed, but Iíve been pretty lucky and really had a diverse range in my time working. I believe thatís because students are more open to casting you in roles that might not be your typical Ďmarketing/casting typeí. I accrued a decent showreel of work from students taking a chance on me in varied roles and, I think, professional companies are more likely to cast you if theyíve seen an example of you playing a role with similarities before. So, Iím very grateful itís worked out like that.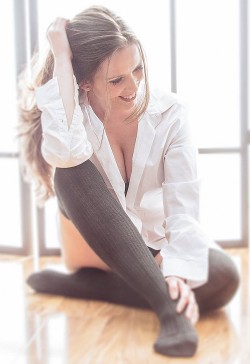 Besides your filmwork you have also done your fair share of stagework, right? So how does performing on stage compare to acting in front of a camera, and which do you prefer, actually?
My drama degree focused almost exclusively on stage work and we performed a lot of productions there, including staging, budgeting and sourcing an audience for a site-specific production which we devised. Iíve since worked with director Josh Hinds on a new writers showcase production with actor Pape Gueye in Waterloo. Iíd certainly like to do more stage work but I do prefer acting in front of a camera. While you get that instant feedback and reaction from an audience which can be addictive in theatre work, I prefer the intensity and subtlety facially on screen. I think there is great value in doing a bit of each.
How would you describe yourself as an actress, and some of your techniques to bring your characters to life?
Iím quite methodical in my approach to characters. I do a lot of research for real world people similar to/who have had similar experiences to the person Iím playing as I think itís important to root my characters in real people than off other peopleís performances/solely how I imagine the role as I read the script. I still use a lot of Stanislavsky techniques like Emotional Substition, Actioning and breaking my script down with Objectives/Obstacles. I find music influences me a lot and try to think about what the character would like to listen to, then Iíll play that while Iím prepping the script. I write a lotttt of notes and learn lines by writing them down, before getting the scene up and moving. I like the shoe trick too Ė to try to get the lines to the point of being able to say them while focusing on putting on and tying laces on a pair of shoes then taking them off again. There are loads of techniques and methods, and some will work for particular characters but not others. You have to be able to adapt and I like trying new things.
Actresses (and indeed actors) who inspire you?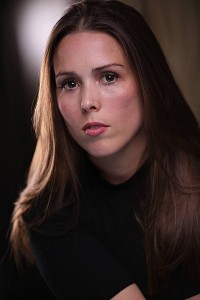 Feeling lucky ?
Want to
search
any of my partnershops yourself
for more, better results ?

The links below
will take you
just there!!!


Emma Thompson is my all-time favourite actress. I think sheís brilliant! She has played and written so many different roles and projects and sheís stellar in all of them. Gary Oldman is my favourite actor. For the same reasons: such diversity and always enjoyable.
Your favourite movies?
Galaxy Quest. Iíve watched it oh sooo many times but itís always fantastic and I get swept up in it. The cast is incredible, itís hilarious and I will recommend it over and over! If you havenít yet seen it, WATCH IT.
... and of course, films you really deplore?
Oohh haha I wouldnít want to say a film then end up offending someone with whom I could potentially end up working!! Plus everyone works their butts off, it would be disrespectful for all that effort Ė some of the credit lists on these blockbusters, crikey. So much combined effort & work. I love how subjective films are too, just because I dislike one film doesnít mean I donít see how someone else could respond to or value it, you know?
Your website, Facebook, whatever else?
I am pretty active on social media these days. Iíve been fortunate and have some fantastic loyal supporters and followers on there. Thank you!
Twitter: FrancescaLWhite
Instagram: FrancescaLouiseWhiteActress
Facebook: @francesca.l.white
My website: www.francescalwhite.com
Check them out as you will. I try to keep posts varied with exclusives and interesting.
Anythint else you're dying to mention and I have merely forgotten to ask?
Not off the top of my head. Thank you for the interest, taking the time to watch and nice review on Dead Meet! We appreciate it.
Thanks for the interview!