Your new movie Homecoming - in a few words, what is it about?
It's a revenge story told from the point of view of the people the revenge is being taken upon. A bunch of former career criminals find out a person from their past is enacting payback on them and struggle to try to defend themselves - and to come to terms with their impending doom.
What were your sources of inspiration when writing Homecoming?
As far as movie sources go, the works of Sam Peckinpah and William Friedkin were a huge inspiration - they're generally some of my favourite directors. I think Peckinpah is the father of modern action cinema, period, and I wanted to pay some homage to the masculine fatalism present in his best works. And visually, heavy inspiration was actually taken from 80's Swedish genre films! Stuff like War Dog, Ninja Mission etc. They had some bold cinematography and a pervasive grittiness to them that I wanted to incorporate in my film.
Of all the characters in Homecoming, who do you identify with the most actually?
Oh, that's an interesting question! I've never thought of that - I suppose all of the main characters have a bit of me in them, in that they all represent a sort of conflicting view on some sort of unspoken guilt and on the acceptance of the inevitability of death. If you're to consider Viktor the embodiment of impending death, Raide is the one violently in denial of it, Haavisto is the one with an understanding and acceptance, and Gustafsson is the one who's struggling with how to face it. I think what most reflects my own thoughts is the speech Haavisto gives his compadre about the underlying guilt you can't escape - you may momentarily forget it, yet it will inevitably resurface.
Homecoming does have its fair share of gruesome bits - so do talk about the gore effects in your movie for a bit, and how were they achieved?
We had an excellent FX crew working with us in this film, and it was my first major collaboration with Minja Tuomisalo, whom I've then went on to make dozens of projects with. We were also lucky to have one of Finland's most prolific makeup FX artists, Ari Savonen, on board. I've done plenty of collaborations with him as well since shooting this one. The main idea with the gore for me was to make things seem as brutal and as realistic as possible. Most of my previous works were also heavy on the gore, but it was largely either limited to short bursts and quick moneyshots or way more cartoony in a splatter movie way. I thought this one was a story that demanded realism and brutality.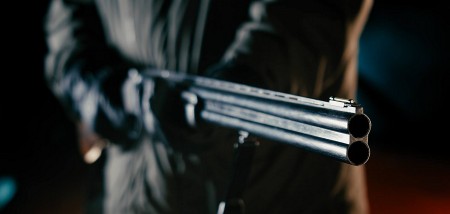 We really went with tried and true old-school methods - lots of latex, head casts, pumps and squibs. The head explosion in the beginning we did Tom Savini style - by actually blasting the latex head with a shotgun. And I wanted the bullet wound effects to have a feeling of flesh being ripped off people, sort of like in Paul Verhoeven movies, so we put a lot of focus on having appliances of torn flesh and bones sticking out of the wounds. There's also some emphasis on the disfiguring effects of violence, which is an element I personally always found extremely disturbing and wanted to include in this one, so our FX team had to do a lot of face appliances, swollen eyes etc.
A few words about filming the action scenes in your movie?
I wanted to keep the action grounded to realism in this one - and to keep things easily readable. So no elaborate tactics, choreography or camera trickery. After all, these are mostly ordinary people put into this situation. And I wanted the final shootout to play more on suspense than gun-blazing action. That sort of scene requires a certain level of realism and consequences from the characters' actions. I also got to tackle a pet peeve of mine, which is people ducking behind cars for cover in movies
Shooting the action itself wasn't all that different from shooting the rest of the film - just tackling shots, albeit with higher level of time consumption brought about by the large amount of FX shots.
What can you tell us about your overall directorial approach to your story at hand?
It was very specific, lol. I wanted the movie to have a look and feel of an imaginary Scandinavian noir thriller shot in the early 90's, which was a time of great depression in Finland. So, production design-wise that meant 80's-90's cars like the white Volvo, old Motorola yuppie phones, all that stuff. And visually it meant we went for a low-key lighting with strong colors and plenty of dark shadows - things like trees being lit with strong teal/green in night scenes.
Same applies to the acting, I wanted the emotions to be understated and almost stoic - and to give the whole thing a strong feeling of predetermined fate. Many visual choices are made to enforce that; the men packed into a car, quietly driving into the night, knowing most if not all of them will never return. It's just something they have to do.
And when it comes to shooting, I try to work as economically as possible. I know how I want things to cut together, so instead of shooting tons of coverage we focused on fine tuning and iterating on the shots I knew I needed. The film also has a pretty oldschool and understated visual language and rhythm to it which lends well for this type of workflow.
Do talk about Homecoming's key cast, and why exactly these people?
The cast is a mix of people I've collaborated for a long time and people I had been impressed by in some prior productions during the time.
Onni Kaskinen, who plays Viktor, is a mainstay in our productions - he has actually played the main protagonist in quite a few of my movies. It's always a joy to work with him as he's really involved and proactive when it comes to participating in the filmmaking, and isn't afraid of tougher physical stuff. I work with him whenever possible.
Toni Kandelin, who plays Gustafsson, is wonderful, very expressive and can portray vulnerability and determination in equal amounts. His role required him to convey a lot via his eyes and facial
expressions instead of dialogue, which is why I chose him for the part - I knew he could deliver. I had worked with him in a few movies prior to this, and we still collaborate occasionally - which is as often as our schedules allow.
Mort Grankvist - I ran into him on a couple of student productions I was pulling gaffer duty on, and figured he'd make a great fit for the sort of wiser, more thoughtful Haavisto. He has this sort of soft authority and charisma to him. This was our first and only collaboration, I think I may have put him through a lot as I was pretty adamant about having very restrained emotions and very specific undertones to the characters. In the end I was very happy with his performance.
And Tommi Karjalainen, this was our first collaboration with me directing him. He was a mainstay at Joonas Pirttikangas' movies, where I had taken note of him, and I got to work with him when I DPed their post apocalypse feature Lilian. He was a joy to work with and incredibly expressive with his use of voice and emotion. I had to have him in the role. He's an absolute natural, a great performer, and we have collaborated a few times since.
Where was Homecoming actually filmed, and what were the advantages and challenges filming there?
Homecoming was completely shot in my hometown and in the nearby archipelago here in Finland. It was a self-funded zero budget effort so I mostly set it around locations I already had access to; the hunting lodge of the finale was my parents' cabin, the swamp location was next to my childhood home etc. The advantages were of course the ease of access and having no limits to it, so we could take our time with the scenes where it was necessary. The disadvantages... well, we were shooting outdoors in Finland in winter/early spring and fall. That's always a disadvantage due to the erratic weather and constant cold. I was sick and had a fever for most of the main shoot due to catching a mean cold on the second day. We actually had to postpone the shoot of the finale by almost six months due to a combination of unfortunate weather and sickness of the key players. What happened was we were shooting the finale - which has no snow - and after shooting a part of it, we got like half a meter of snow overnight and had to halt the shoot. It was a pretty big setback.
A few words about the shoot as such, and the on-set atmosphere?
Well, we had a good team on the shoot and decent spirits in as much as was possible under the circumstances. I won't lie, it was a tough shoot, one of the toughest I've been in so far, including the feature films I've worked on - like I mentioned, I was incredibly sick during the principal photography. So my main memories about it were all about being out in the wind and the rain and feeling miserable, trying to direct people with my voice completely gone. There's a picture of me hauling a slider in the middle of a swamp in the rain while delirious on fever and I have this thousand yard stare on my face, which became a meme with us after the shoot to sort of embody the whole thing. I'm sure the rest of the crew had a slightly more positive experience than I did, but everyone does seem to remember the shoot as a particularly tough one.
The $64-question of course, where can Homecoming be seen?
It can be seen online, the film premieres on my YouTube channel on 15th of December. You can find the channel here: www.youtube.com/
channel/
UCG0WEKC1Hn_
9TEG6PK-5r_g
What can you tell us about audience and critical reception of Homecoming?
Well, it seems to be well liked whenever it's shown, and critical reviews have been pretty glowing. Many people have found it disturbing and tense to the point of turning their eyes away during certain moments - which to me means the movie works as intended. However, the brutality and straight up unpleasantness combined with the "long for short film but not a feature" kind of length of the movie have pretty much killed it when it comes to festival circuit. So even though it seems to have a strong effect on audiences, getting it shown anywhere has been an uphill battle.
Any future projects you'd like to share?
Sure. We just finished a short film for the Sick 'n' Wrong 72-Hour Movie Competition, called Pussy with an Uzi. It actually won the competition, and I'm happy with how crazy it turned out. It will probably have a short festival tour and then will be released online. Also I have a short mockumentary and a full feature film in post-production currently. Can't really tell a huge amount of details about the feature yet since we're keeping all the specifics - including the title- under the wraps until we have a concrete release schedule for it, but to put it in Hollywood terms, it's essentially Hostel meets Die Hard. It's as dark as Homecoming, more violent but also more humorous - if you're into some very dark comedy. It also pays a lot of homage to 90s action and Asian genre cinema - so expect some heroic bloodshed and plenty of punching. I'm looking to have it finished by spring 2021.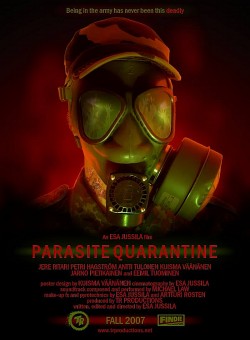 What got you into making movies in the first place, and did you receive any formal training on the subject?
It all started out when my parents got a Sony Handycam to record holiday videos and stuff back in 1999. It soon ended up being used almost exclusively by yours truly. At first we would shoot short comedy skits with my friends - then we got into splatter in our teen years after seeing Bad Taste, Dawn of the Dead and Braindead. We began figuring out how to make fake blood and different ways to incorporate FX into our shorts, and in the process learned filmmaking techniques in general. Later on we began sneaking into our schools computer lab to edit our movies. We got thrown out several times but we persisted until one of us was able to buy editing software and a capture card to transfer our Hi8 movies. There was also this cable channel show called Lataamo that played at night on one of the channels showing underground/indie movies. That's where we first found out there were others like us, and that enthused us even further. After almost a decade of hobbyist filmmaking, I went to study film in Turku Arts Academy. I've been working professionally in film doing commercials, music videos and DP work for about five years now.
What can you tell us about your filmwork prior to Homecoming?
I've done a bunch of things over the years. At first it was strictly amateur/underground stuff, and I'd count some of my first feature films as such. I did my first feature in 2006, it was called TNT: Merchants of Death. It's embarassing and can't be seen anywhere, lol. But the following movies were at least in parts worthwhile. During the zombie boom of the 2000s we did the horror splatter Parasite Quarantine, that came out in 2008. Shot on DV, shoestring budget, and bucketloads of cheap gore. It looks archaic now but we were really proud of it back then. Then we made a crime exploitation film called Urban Savages the following year and a couple of depressing post apocalypse films, Storm in an Hourglass and They Rest in the North. All of them can be seen on my YouTube channel.
Of course I've done a bunch of short films over the years as well. Most notable ones are the Goremageddon films - I think you might like them quite a bit! They're really just balls-out, ultra-offensive splatter movies we made to pay homage to the Finnish underground gore flicks that inspired us back in the day.
Since you're making movies in Finland, do talk about the Finnish indie scene for a bit!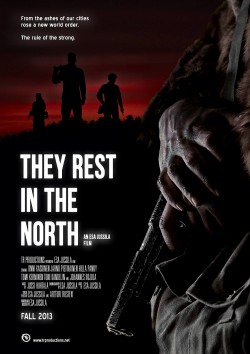 The indie scene here is actually quite lively and wonderful! There's a very tight-knit community called Findie with history spanning to the early 2000's when it comes to online presence, with some older, still relevant groups having their roots in the 90's. So there's this whole scene of people who have been at this for 20-odd years, and we have a yearly festival that acts as a gathering of the who's who of the indie scene, with several generations of filmmakers - and it's given us a chance to befriend the grandfathers of the Findie scene whose works actually inspired us to embark in filmmaking back in the day, as well as meet younger generations of filmmakers with similar interests who have been inspired by our generation. And as the scene has matured, it has been great to be able to grow into filmmaking along with many colleagues we've known over the years and to see the level and seriousness of filmmaking escalate to a professional level.
How would you describe yourself as a director?
That's a tough one. The people I direct would probably be better suited to answer that. But I guess I could say I'm pretty determined and mostly focus on getting the shot and being effective about it. In the end, that's all that matters - getting your shots, conveying your story or your message to the audience.
Since I have done several movies in a way where I've been involved every step of the way, I usually tend to know pretty well how I want a scene to play out before I start setting things up. That does help a lot in making things economically - and I usually know how I'm going to edit a scene before I've shot a single shot. Which feeds into the high level of determination.
Filmmakers who inspire you?
There are many - Sam Peckinpah, John Woo, Lucio Fulci [Lucio Fulci bio - click here], Joseph Merhi and Richard Pepin, Iisac Florentine, Lars von Trier, Enzo Castellari [Enzo G. Castellari bio - click here], S. Craig Zahler, John Hyams, Paul Verhoeven, Walter Hill, Jesse V. Johnson, William Kaufman... some for their personal voice and style, some for simply making some of my favourite films, and some for how inspiring they are as individuals who have built themselves up as filmmakers - especially Pepin and Merhi. They started out shooting no budget exploitation on a shoestring budget for the VHS market and grew to be a huge, legendary mainstay of DTV film market in the 90's.
Your favourite movies?
My favourite movies sort of change by the season - sometimes it's horror, sometimes arthouse, currently I'm going through another phase of just binge watching tons of 90's action movies and DTV action. PM Entertainment, Nu Image, wonderful stuff. They did some crazy stuff back in the day.
But of course there are some movies I'll always love: Obviously, Sam Peckinpah's films rank pretty high there - Cross of Iron, Bring me the Head of Alfredo Garcia and Wild Bunch specifically. The demarcation scene in Cross of Iron makes me tear up every time. George A. Romero's Dead trilogy made me love film and especially horror back in the day, and I still have a special place in my heart for his masterpieces. I can watch Starship Troopers and Under Siege 2 any time and will have a good time regardless of if it has been 5 years or 5 days since I last saw them. Lucio Fulci's The Beyond and New York Ripper, Friedkin's Sorcerer, John Woo's Hardboiled and Hard Target, Stone Cold, Death Wish 3,... oh, and an absolute guilty pleasure of mine, Albert Pyun's Mean Guns. I actually own 3 different releases of it. That movie's such a weird and wild ride, I must've seen it a dozen times.
And of newer movies, Night Comes for Us was an especially wild one and I find myself rewatching scenes from it quite often.
... and of course, films you really deplore?
Oh, too many to count! I'd say any film that feels like a cynical corporate product or tries to shove a political agenda down my throat really grinds my gears. Even a failed no-budget trash can be entertaining and endearing if it has a heart to it and the makers really tried their best to put on a good show and to entertain the audience - but a calculated product, political pandering or cynicism will always disgust me. I'm pretty adamant about my disinterest towards these big franchise products like Marvel or Star Wars. I find no entertainment value in them. Same with films that are just cynical cash-grabs to milk in on whatever is the current hot thing and to fill 90 minutes regardless of entertainment value. I think that kind of filmmaking is downright shameful.
Your/your movie's website, sodial media, whatever else?

Feeling lucky ?
Want to
search
any of my partnershops yourself
for more, better results ?

The links below
will take you
just there!!!


You can see our newest projects on our Facebook page and YouTube channel:
www.facebook.com/trproductionsfin
www.youtube.com/channel/UCG0WEKC1Hn_9TEG6PK-5r_g
And my professional website is www.esajussilacinematography.com
Anything else you're dying to mention and I have merely forgotten to ask?
Not really, no. Thanks for having me!
Thanks for the interview!
Stills by Lisa Mcwirther/Mcwirther Photography