Your new film Snake - in a few words, what is it about?
Snake is about fear of the past and fear of the future; and how such fear can lock a person out truly leaving all their hollow emotions behind. In the film, we follow this man isolated in this claustrophobic apartment and we hear him speak to his grandmother and hear him complain about his motherís behavior following the death of his father. The interesting thing to note, though, is you never hear the voice of the grandmother he speaks to and you never get to see the mother he speaks about. This has to do with my approach to the character, in that I wanted to visually project what it must feel like to be complete shutdown following the death of a loved one.
What inspired you to make Snake - and how much of yourself do you find in your main character?
It originally just started as an experiment. I wanted to make another film and having no proper equipment at all (not even a video camcorder) to make a picture, I wanted to test uncharted waters by filming the entire project on a laptop webcam. And thatís what I did. Snake is definitely a depressing film because I knew that, with the 4:3 aspect ratio of the camera I was using (and the fact that I was going to act alone on this project), I completely thought up the ideas, the moments, and I shot them. The film was shot and edited in less than eight hours. Are there any resemblances to the filmís character with myself? On the more physical things (the manís obvious insanity), itís a no. On an emotional one, or should I say, the filmís overall theme, I definitely relate. When youíre unaware of what has happened to you and where you are heading, all you really know is where you are now, and even still not positive on how you got there. Thatís definitely whatís running through the mind of the man in Snake. The piece of erotica he reads at the end of the film also ties into this aspect.
Snake was shot with the most basic of crews, right? Honestly, was there even someone on set with you most of the time?
There was absolutely nobody in the interior shots of the apartment. I was all alone, and getting so very much into character that I was emotionally draining myself. For example, after shooting the scene where the man screams at his mother and how he truly feels about her (and underlying the sexual conflict thereof), I felt very exhausted afterward. Very, very depressed for the whole day until I finished editing the project that night. It just hurt so much, right in the stomach.
To what extent (if at all) was Snake based on a written-down script, to what extent did it develop during filming (also in comparison to your earlier films, which tended to have bigger casts)?
The film was simply constructed with the general idea that it be a visual piece that brings concrete attention to the thinking process of an emotionally-grieving young man. By doing this, there was no script Ė just an outline of scenes and sequences (the same thing I did with my film Cleaners) and a strong attention to what I had framed in certain shots or moments throughout. For example, the scene with the man hunching over the bed in a strikingly eerie pose, I staged for fishing equipment behind him to be shaped as phallic object Ė a connection to when the character mentions later that his father has sexually abused him.
What can you tell us about your indoor location? And would you like to elaborate on some of the seemingly non-narrative detail shots you have picked up in that apartment?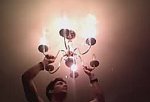 Itís my motherís apartment located in Maysville, Kentucky; right on the border of the Ohio River. Itís famous for being the birthplace and hometown of Rosemary Clooney Ė Georgeís famous aunt that played in White Christmas. Itís a very haunting place, both in spirit and in appearance. My momís apartment was no exception. Everything about the place has a scent of this melancholy that truly startled me when I visited there. I just knew that this would be a place I would want to make a dreamlike piece in. It just fits too well. Non-narrative detail shots, like the ceiling fan or the chandelier were supposed to connect with the grandmother character. We never see her, so is it possible sheís just a protector? A guardian angel there for him to feel like someone cares? When he tells her the story at the end of the film, you get to see a huge overdose of the nighttime city lights clawing their way at the screen as if the manís thought process is on the verge of breaking. Itís that idea that runs rampant throughout the film, a kind of breaking-the-fourth-wall aspect that also shows in the bathtub scene (the ghostly medicine bottles hovering there) and, not to mention, the moment at the window in the apartment hallway where the camera falls to the floor behind him. His mind is in a fragile state, and I wanted to show that visually as much as I could.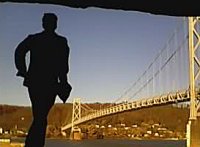 A few words about Maysville, Kentucky, where the exteriors of Snake were shot, and why there?
As Iíve stated before Ė the place is just absolutely, devastatingly haunting. Every cracking building lined amongst its streets gives off that ghost town impression so it causes the business of the city streets feel like a bunch of lost souls driving in multiple directions. The Maysville-Aberdeen Bridge shown in the film (which connects the Kentucky border to the Ohio one) is also a complete ghost to me. Just the appearance of it feels to be an invitation gateway to the cityís mood; and the many sites alongside the river are purely creepy as well. For example, the murals and the wall of cemented handprints from the early 1900s underneath the train tracks. Or the way you see an abandoned boating dock alongside the river, and see a small colorful mural of a beautiful boat just randomly existing on an otherwise crumbling building. Itís as if it was placed there to give the place a feeling of welcoming, but instead creates this queasy feeling thatís hard to shake.
What can you tell us about the story your character reads at the ending of Snake, and its relation to the film as a whole?
Itís a short story I wrote that has the same theme as the film. In fact, in a way, the film is thoroughly based off of that story, to be honest. In the story, two strangers having sex on a beach and feel godlike from the moment, but once both reach orgasm, everything fades back into existence as seemingly dull and powerless. The story starts to follow the way the world has been treated over the years of its existence before reaching a point of carelessness, and we see from the perspective of a snake who watches as the two people fuck and then fall back down to depression after the incident. The point of the snake is that itís an obvious spiritual figure from the Christian book of Genesis. Very iconic that it represents Satan, and I felt that, with the story, I was connecting this self-degrading nature of emotion to that Biblical villain.
Snake is accompanied by a handful of hauntingly beautiful songs by Katherine Priddy. How did you find her, and how did you know these songs were perfect for your film?
I found her with a friend when we were scanning randomly through Youtube videos. I wanted to show him Kenneth Angerís masterful short film Rabbitís Moon and someone linked the song Selah from that page. We both listened to it and were completely chilled to the bone by the womanís voice. Listening to her other works, it does nothing but haunt me in the same way that the city of Maysville did. For that, I felt they accompanied what I was going for to perfection.
I think much more than your earlier films, Snake in story and ending is completely open to interpretation. Was it intended that way, and how would you explain your film?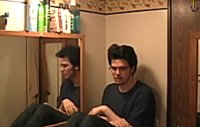 I donít know about that, actually. I kind of feel all my works have in some way had very ambiguous endings. The Vaughn Sister ended quite abruptly, but I felt it was at the perfect moment. The entire film, the two main brothers hardly speak a word to each other and then to climax the film on a very lengthy conversation between the two completely devastated me. Will they both change after that? Will the sister stay around to get to know them? How will the mom react to her visitation? All questions I knew could have been answered, but felt like they didnít need to be. The point of the film is that the girl helped these two brothers actually want to question themselves. The Vaughn Sister, to me, is ultimately about falling victim to your environment and how it seems like one of the brothers is becoming increasingly aware of it and the other just wanted to deny its existence.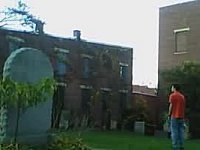 Cleaners is the same way. Two people stuck in the dark, never-getting-clean environment of the trailer (the same one I shot The Vaughn Sister in, interestingly) and, in the end, we are unaware on whether the violent act they committed has changed them for the better or for the worse. I also wanted to bring up the question on whether the event may have even really taken place.
Come to think about it, Snake, too, has the theme of being lost in your surroundings. I just now picked up on this and am beginning to wonder if itís something I should subconsciously question about myself. (laughs)
Your last movie Cleaners already hinted at it, but Snake finally can be seen as a bona fide horror movie (if of the experimental kind). Is that a route you want to further explore?
Horror has always been a genre I have appreciated. I grew up watching scary movies. Do I want to explore it a bit more? Yes, for sure. I would like to actually try to aim at making a truly slasher-type of horror film one day. I appreciate horror, and yes, I do get what youíre saying about Cleaners and, of course, Snake having the elements of them a very psychological basis. Both are truly devastating pieces to me and their bleakness is what makes them so hard-to-watch for me personally. Iím proud of both films, but I canít watch them that much at all. Itís very hard to digest them.
Within your filmography, where would you put Snake in relation to your other films, and in which way do you think you have evolved as a filmmaker with Snake?
I still put Cleaners ahead of everything Iíve done, but Iím very proud of Snake. I started off with it as an experiment and it evolved into something a whole lot more. A lot of reviews have told me that they were moved by the film, and that it was powerful to them. Something I wanted it to be, without falling down to hysterics of a melodramatic kind. Have I evolved? I donít know. Do filmmakers really evolve? Or do they just keep constantly projecting more and more of themselves. If anything, it has just relieved me a bit more.
Any future projects you'd like to talk about? And do you plan to ever make another movie pretty much all by yourself?

Feeling lucky ?
Want to
search
any of my partnershops yourself
for more, better results ?

The links below
will take you
just there!!!

Find Douglas Reese
at the amazons ...

amazon.com

amazon.co.uk

amazon.de
Looking for imports ?
Find Douglas Reese here ...
Something naughty ?
(Must be over 18 to go there !)

I donít think Iím going to make another film like Snake in terms of being alone. It fit for what I was going for with that film itself, but I donít think I could make something else the same way and have it not feel a bit similar to it. I do have two projects in mind. One possibly to be finished before the end of 2011 or, at the latest, spring of 2012 and then another which I will be shooting throughout the summer of next year. The first project is another that will be shot on webcam (hell, after Snake, I kind of like the quality it gives) and then the other will be a return to MiniDV (a format I absolutely love to work with, no matter how many have begged me to move up to HD). Not going to give much more than that, but I will say that the first is a comedy.
Your/your film's website, Facebook, whatever else?
Currently donít have a website (but working on it) and I prefer to keep my Facebook as a personal connection tool. If youíd like to get in touch with me about my films, whether it be to comment on them or, hell, even take part in creating one with me, Iím completely open to an e-mail at DougReese0911@yahoo.com!
Anything else you are dying to mention and I have merely forgotten to ask?
Iíve always been curious on what you thought of all the performances throughout my filmography you have watched, Mike. Mainly just myself, Jaybizzle, and Dylani Mathis in The Vaughn Sister; Hall and Kjellman in Cleaners; and then, of course, my work in Snake. (snickers)
Thanks for the interview!
No problem, man. Canít wait to share my future work with you!