Your upcoming movie Dark Vale - in a few words, what is it about, and what can you tell us about your character in it?
Without wanting to give too much away, I play Tom, a young(-ish :) ) guy who goes away for the weekend with his girlfriend Leah (Cara Middleton [Cara Middleton interview - click here]). Events transpire and we have to leave to go home early but we end up getting trapped in a mysterious place called the Vale and stalked/tormented by a ghost. It's not your typical horror movie though, writer and director Jason M.J Brown [Jason M.J Brown interview - click here] has really put his own stamp on the genre with this film.
What did you draw upon to bring your character to life, and how much of Darren Randall can we find in Tom?
To be honest Tom is just a regular guy, he's got his own issues and insecurities that sometimes get in his way and let him down, but he does genuinely love Leah very much and given the troubles she is going through in her own life wants to bring her some happiness and make her feel safe. He isn't the type of protagonist that appears in a lot of horror movies though, who has a specific skill set that will help him get through the situation he's dropped in. It was that attracted me to the character, that he's a normal guy who finds himself in a completely abnormal situation. Personality-wise Tom and I are quite alike, that's what brought in the challenge of playing him, to find things that differentiated the two of us. I did act in this film... honest...
To what extent could you identify with the movie's horror theme?
Well I've never been trapped anywhere being stalked by a ghost... touch wood :o In all honesty, quite a lot. I think Tom's biggest thing in the film is his desire not to fail those that he loves, I've been in situations where I've felt that and it, while difficult, helped to draw on that to put across how I imagined Tom would be. There's moments in the film where he snaps or acts out at whoever's around him, and that's more about how he feels about himself than anything else.
How did you get involved with Dark Vale in the first place?
I've known Jason for a while now, we worked together in college and he approached me when the lead in Dark Vale became available. He'd seen me act back then and I think wanted me to get involved in one of his previous film projects.
What can you tell us about your director Jason M.J Brown [Jason M.J Brown interview - click here], and what was your collaboration like?
Probably one of the more talented directors I've worked with. He knows what he wants from the scenes and how to get it. Easy to work with as well, as much of a perfectionist as he is he's very trusting of his actors to put on the performance they feel the scene needs. I've got a lot of respect for the guy, though I'd never show it to his face so don't tell him I said that :)
Do talk about the shoot as such, and the on-set atmosphere?
We've had some pretty long days of filming for Dark Vale, my part in the film at times can be very physical and I've done my own stunts so lots of bumps and bruises along the way. But as I've said to Jay before, I'd always choose a day of shooting for a film over my day job. As hard as we work we've always found time to have a little fun and laughs along the way, it's really helped that none of us take ourselves particularly seriously as a bit of banter and harmless mickey-taking has always managed to creep in at times.
Any future projects you'd like to share?
Nothing concrete at the moment, although JJ Abrams I'm free for Episode 9... got my own lightsaber and everything! Sigh. I can but dream.
I've been invited to audition for a new theatre company over the next few months and Jay has said he'd like me to be involved in his next project, which I'm all on board for.
What got you into acting in the first place, and did you receive any formal training on the subject?
I think deep down I've always wanted to do it to be honest, though it didn't really occur as a possibility until after I left school. I'd done a course in Media and Communication and as a part of that I had to do a short film of sorts, which put me in front of the camera. I just found that I felt quite comfortable in that kind of performance situation, which if you knew me at the time (and many people who did know me at the time will back me up on this) wasn't like me at all. I was... and kind of still am... quite shy and introverted so when I turned to my parents and said I wanted to study performing arts at college they were a little taken aback. Pretty sure they still can't believe that I'm doing it, but they've always been supportive and probably my biggest (possibly only...) fans.
As far as I know, Dark Vale was your first feature film, but you've done lots of theatre work - so what can you tell us about Darren Randall, the stage actor?
Very true, first feature film. Hopefully not the last (Mr Abrams?). I did have a pretty short apppearance in a pilot for a comedy series a while back, but that never got aired. Stage acting isn't the reason why I got into acting in the first place really. I studied at West Notts College for four years (two two year courses, BTEC National and Higher National Diplomas). That being said though I did develop a real love for it... after getting over that initial reservedness at performing in front of an audience of people I didn't know (did I mention shy?). Theatre has given me some of the best experiences, performing a World War 2 play to the Royal British Legion and having them stand to salute us towards the end, touring up to the Edinburgh Fringe and, of course, that first standing ovation. It's certainly something I'd like to continue doing, but Dark Vale has given me a taste of film acting which I really want to focus more on now.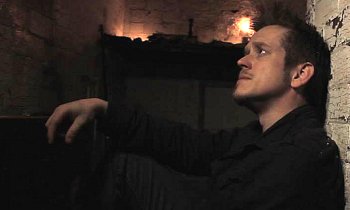 How does acting in front of a camera compare to performing on stage, and which do you prefer, actually?
Two things which I find equally as challenging and rewarding, though for different reasons. In theatre you have the very real challenge of creating the character over a course of time and learning the lines for a performance at the end, in which you have to remember all those lines while putting over the character you've created. It's a lot of build up to a big pay off at the end. In film, what I've found so far anyway, is that it's much smaller chunks of dialogue for each day that you shoot but maintaining the character for - at times - a week in between shooting days. And plus it's not really possible to film the scenes in sequence, you're almost restricted to what locations you can get. The very first scene I shot actually happens about two thirds of the way through the film so you really have to know the character's journey very well so that you can put across how they'd be at that stage in the story. I think my preference is with film to be honest, though by a small margin.
How would you describe yourself as an actor, and some of your techniques to bring your characters to life?
I'm generally up for doing anything to portray a character, both in physicality and personality. With the exception of nudity anyway (shy...). The most important thing for me is to get a clear idea of who he is as early on as I can, I generally find that the character very much flows on from there and it becomes natural when I'm doing a scene to behave or react in the way that character would.
Actors (and indeed actresses) who inspire you?
There are a lot of actors that I really respect for their talent, probably too many to mention here, but those who inspire me are often ones that I see as not taking themselves too seriously, always giving back to their fans and supporters and that use their status to benefit charities and do a little good in the world. That's the kind of actor I'd like to be. The first one that sprung to mind is Zachary Levi who's actually used his status to set up Nerd HQ, an organisation that supports Operation Smile who provide medical care and surgeries to children in developing countries that are born with cleft lips and palates. Others include Nathan Fillion and Misha Collins to name just a couple.
Your favourite movies?
This could be another really long list. I'm really enjoying pretty much all the Marvel films so far - Avengers Assemble is probably my favourite. Along with that, Aliens, Serenity, The Shawshank Redemption, Star Wars (all of them), Jaws, Lord of the Rings (all), Harry Potter (all)... honestly I could go on and on, suffice it to say I'm a big movie lover and would much rather spend a night in with good company and a good movie (or three).
... and of course, films you really deplore?

Feeling lucky ?
Want to
search
any of my partnershops yourself
for more, better results ?

The links below
will take you
just there!!!


Can't really think of any off the top of my head, so either I've managed to find a redeeming quality about every film I've watched or they were so bad I've erased them from my mind. Oooh... Daybreakers. Didn't take to that at all. Was a bit dissapointed by After Earth as well (sorry Will Smith).
Your website, Facebook, whatever else?
Anyone who wants to stalk me can do so on Facebook at https://www.facebook.com/dazrandall or Twitter @darren_randall :D
Anything else you're dying to mention and I have merely forgotten to ask?
Keep an eye out for Dark Vale, coming soon!
Thanks for the interview!
Thank you, Michael. Hope I haven't prattled on too long....