Your webseries Under the Doghouse - in a few words, what is it about?
Under the Doghouse is about all those moments in life when you do not have control. It is about that time when you wanted to let the girl know just how much you like her and you couldn't find the words, or when you had the shot at the perfect job and somehow blew it at the job interview. Through Pete, we get to laugh at those situations and just maybe feel a little better about them
What were your inspirations when writing Under the Doghouse - and is any of the series based on personal experiences?
From a comedy standpoint, I was highly influenced by things like Monty Python, Broken Lizard, Seinfeld, The Big Bang Theory & a deep and abiding feeling of personal pain... Maybe not so much of that last one, still you can find pieces of me as well as a few of my friends in the characters and situations. I was never nearly as hapless as Pete, but we all have those feelings of life slipping out of control and I harnessed that and blew it up.
Do talk about Under the Doghouse's brand of humour for a bit!
I think my humor is a combination of the dry and the absurd, with just a hint of intelligence hidden in the background for those people who might want a whiff of something smarter than an extended fart joke. Surrealism is a little hard to pull off on a low budget, think I did a decent job as things were moving along.
You also play the lead character in Under the Doghouse - so what can you tell us about Pete, what do you draw upon to bring him to life, and how much Bruce Nachsin can we find in Pete?
Probably more of me than I'd really want to admit to. Pete is a nice but somewhat hapless guy who really never comes up with the right answer or know the effective thing to do, you'd like him to win, but he really isn't likely, he just doesn't have the life skills. That isn't me in real life. But for some reason, it is something I portray well. Whatever that thing in me is that lets me pull that off is probably the same thing about me that makes a lot of middle age women want to sit me down, feed me a bowl of soup and ask me how my love life is going, I just speak to the inner Jewish aunt in most people. Pete is probably what you would get if you stripped me of all the life skills I have made after I turned 20.
What can you tell us about the rest of the cast, to what extent were you involved in casting, and why exactly these people?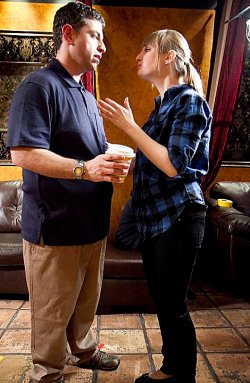 Bruce with Rebecca Lynch
Under the Doghouse was my very first production and like most first time producers, I ended up having my hands all over it. Most of my cast was taken from people I had met from various classes that I was taking at the time. There were a few roles, Lori Plattner as Pete's niece Sarah, and Rebecca Lynch as my lesbian friend that were written specifically for that person. Other roles I knew what I wanted and asked the appropriate actor I knew to be part. This was a very reassuring thing for my first time out since I had so many new and terrifying variables flying around that worrying about the quality of an entire cast I didn't know would have been bad, I could complete trust the people I asked. From there, we cast roles that I didn't have a ready-made fit for. I did most of the work of casting, with the exception of running the casting session, I had a female friend pretend to be the casting director and I was the person who signed the talent in and ran the camera. I did this for two reasons, the first was that in casting the Beautiful Boss Lady, the audition sides were both her talking dirty and then the business scene, I did not want any of the girls coming in to feel that it was going to be sketchy so having a lady running the whole session seemed like it provided a safer environment. Secondly, I did not want people to know that I was the producer and lead actor because then they would all have been sucking up to me the entire time, I wanted a chance to see how they were in real life, actors do strange things in the waiting room before an audition and I wanted a chance to make sure I had a chance to see that. In the end, I got a very talented cast that I could rely on.
Do talk about your directors for a bit, and how active/off-hands are you when it comes to creative decisions on set?
I have to admit that I was wearing a lot of hats by the time we got to set and was probably a bit overwhelmed, we also had a very packed shooting schedule so at first I was very hands off, especially the first weekend. It should be noted that my original director had also been an acting coach of mine so I had trusted him completely and deferred to him, even when I was personally unsure of his creative impulses, any questioning led to uncomfortable moments on set and I mostly went with the flow. However, by the second weekend I was feeling like I needed to exert myself and be more direct and mindful about how I wanted my scripts to play out. By the third weekend, we had a change in the director's chair and I was not afraid to make my desire known to the very talented man who stepped in and at that point I was trying to make sure that my vision was fully represented.
Do talk about the shoots as such for a bit, and the on-set atmosphere?
Mostly, we had a good time, despite the long hours. We had no money to pay anyone so we made damn sure that the food was really good, we had a very well stocked crafty table, complete with several homemade baked goods and a lot of the meals were home cooked; the end result being that the crew felt appreciated and cared for. Maybe I was just lucky but my crew gelled well and made a very effective team, they also took quite a liking to me and were willing to nearly kill themselves doing their best work. That isn't to say there weren't problems, we had last minute locations, equipment failures and of all things a snow storm in Los Angeles on the one day we were going to shoot outside but we tackled all these situations with relative grace. As far as the cast goes, most of them were a friend or someone I had worked with before, be it a class or some other project so I knew there would be chemistry.
The $64-question of course, where can we see Under the Doghouse?
Right now, the best place to see us is by following this link to Funny or Die: http://www.funnyordie.com/videos/28d0d1acbc/under-the-doghouse
Remember to share it, like it and most importantly, vote it funny.
You can also learn a lot more about our little show at: www.underthedoghouse.com
What can you tell us about critical and audience reception of your series so far?
My mom likes it, does that count? So far, people are enjoying it. As of today, we have been voted 74% funny at Funny or Die. I get very complimentary emails and anyone I have personally shown it to has laughed out loud. And we're just in the first episode.
Any hints where the series might be heading to narratively in future episodes? And any future projects besides/beyond Under the Doghouse you'd like to share?
Depending on how this season does, we might have some further adventures of Pete. I think if I am doing a second round of videos, it would focus on Pete's attempts to learn to be a real man. Have it less about dating and open it to more physical situations. I have outlined a complete second season. Otherwise I have a few things in my mind, I have a bunch of random sketches I have been thinking about using as the basis of a sketch comedy show. I have a few ideas for short films that I am planning on exploring with the DP from Under the Doghouse. I am also on the cusp of starting my own charity efforts in the area of job eduction for Veterans
As far as I know, you have entered the filmworld as an actor - so what can you tell us about your acting experiences prior to Under the Doghouse, and did you receive any formal training on the subject?
I landed into the acting realm by discovering that my original choice to pursue fine woodworking in college was not going to work out, mostly due to my abnormally high allergic reaction to most wood dust and so I ended up needing to switch majors quickly and landed on the communication track. I wouldn't go so far as to call it a formal training but I took a few semesters at school, which lead to community and regional theatre. As I was doing that, I also found other places to learn myself a thing or two. At one point or another, I studied Method, Chekhov, improv, cold reading, voiceover, Alexander and despite all evidence to the contrary: singing. I spent a lot of time on the East Coast playing either cruel and threatening characters, or very nice and sweet ones, there wasn't much in-between. For some reason, I was usually cast as some kind of foreign person, usually with a strange accent I had to pick up quickly before the show opened... I was never from "here", I was always from "somewhere over there..." - wherever over there might be. I did a few movies and TV shows on the East Coast before I got into the union and then had to face the choice of moving either to NYC or Hollywood, I went with the place where the threat of having to shovel snow was at its lowest.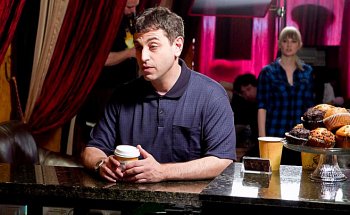 What made you pick up writing and producing for Under the Doghouse?
Like most people who make their way out West to make it as an actor, I wasn't really clear what that would entail, aside from knowing that I would need an agent. After a few years of not much happening, I decided that I was tired of waiting for someone to come along and hand me my "break." I knew what my marketable roles are and I wanted to have something that could showcase me at my castable best. I also wanted to show that I could make what amounted to a 3 camera sitcom shoot and make it happen. I had always talked about getting involved in production but the truth was that I had no idea what that meant. Doing Under the Doghouse gave me the opportunity to throw my very own film school, mostly by trial by fire and learn a lot about the nuts and bolts of production.
How would you describe yourself as an actor and as a writer?
As a writer, I think I find the comical and the surreal in every day life situations. A bit like a lighter version of Douglas Adams or Terry Pratchett, with a little bit of a crispy darker crust. As far as being an actor, I think of myself as one who feels that story is king and doesn't believe that any acting choice you can justify is the necessarily the right choice.
Actors, writers, filmmakers who inspire you?
I'll just list a few. To start, from the strange and bizarre things they would commit to the screen, to the amount of control they managed exerted on their projects, to all the individual success each member had gone on to, I would have to say my biggest influence would be Monty Python, especially Terry Gilliam. Charlie Kaufman would be another; his writing has such a unique skewed view of the world. Spike Jonze and Christopher Noland bring such a sense of style and intelligence to all their work. The actor whose career has been the most inspirational to me would have to be Steven Tobolowski, character actor extraordinaire; not only did I have the honor of learning and working with him, the man has led an incredibly interesting life and the vast amount of different characters he has played has been amazing.
Your favourite movies?
My favorite movie of all time was The Life of Brian.
Otherwise the list looks like: The Dark Knight , Usual Suspects, Laurence of Arabia, Seven Samurai, Million Dollar Baby, Being John Malkovich.
... and of course, films you really deplore?

Feeling lucky ?
Want to
search
any of my partnershops yourself
for more, better results ?

The links below
will take you
just there!!!

Find Bruce Nachsin
at the amazons ...

amazon.com

amazon.co.uk

amazon.de
Looking for imports ?
Find Bruce Nachsin here ...
Something naughty ?
(Must be over 18 to go there !)

That's an interesting question. My tolerance for crappy movies is pretty high, however I remember needing to walk out of Bee Movie around the 35 minute mark and demand my lost time of life back. I wanted to rip my eyes out and stomp on my brain while watching the first Transformers, not that the cartoon had ever been a multilayered exposition on man's transcendent relationship with ever more intelligent machine life. Similarly Indiana Jones and the Crystal Skull did for my childhood love of the Raiders franchise that Episode 1 did to my deep love of Star Wars.
Your/your series' website, Facebook, whatever else?
Come watch Under the Doghouse at & vote us funny: http://www.funnyordie.com/videos/28d0d1acbc/under-the-doghouse
To learn more about the series: www.underthedoghouse.com
Otherwise you can find out more and contact me: www.brucenachsin.com
www.facebook.com/brucenachsin (come be my friend!)
Twitter: @brucenachsin
Anything else you are dying to mention and I have merely forgotten to ask?
I gotta say, you are pretty thorough, thanks for profiling me and spreading the word on Under the Doghouse.
Thanks for the interview!