Your new movie Adira - in a few words, what is it about?

A coming of age drama about a young Jewish girl who flees from the grasp of the Gestapo and is forced to survive in the German wilderness.

How did the project fall together in the first place?

Irene: After successfully completing two previous films, one of them award winning, we just allowed the momentum to drive us forward. We felt inspired by the rich cultural history of Kansas City, specifically a summer kitchen at my mother in laws, which was built in the late 1800's. After writing the script, it was easy to find enthusiastic and capable people to help us bring the film to life.

Irene, what were the inspirations for writing Adira, how much of this is based on actual fact, and how much research went into this?

Irene: I sometimes feel like I was born in the wrong era. My husband and I share a passion for the past, especially the 1940's. Growing up, I loved to learn about WWII, and some of my favorite books were from the point of view of children who (fictional or real) faced insurmountable odds through terrible times, such as the Holocaust. Number the Stars and Diary of Anne Frank were a huge inspiration for the film. Even though Adira is a fictional story, it is based on actual events endured by millions of Jewish children. The "hidden children" of the holocaust were separated from their parents in order to escape imprisonment and eventually death. The parents willingly gave their children up in order to save them, and most of them were never reunited. That really moved me. I researched the era and the many stories of these "hidden children" extensively because it was extremely important to me to honor them.

With Adira being set in World War 2 Germany - what kind of an effort was it to get the era right?

Irene: Getting the time period right was the most important aspect of this journey. We needed the audience to believe 100% that they were in WWII Germany. The greatest struggle was finding the wardrobe. It's quite expensive to get authentic wardrobe and accessories. We partnered with WW2 reenacting groups and various costume shops. Kansas City is so full of history that picking out locations was just a matter of researching and selecting the right look. With help from our associate producer, Roger Denesha, we were able to locate and lock down The Harris Kearney House Museum in Westport. The museum was completely set dressed, so all we had to do is bring the actors in and we were ready to roll.

What can you tell us about your directorial approach to your story at hand?

Brad: I saw an opportunity to tell a real story and that was my main focus. Everything we did had to feel like it was really happening. It had to feel like we were right there with Adira as she struggled to survive. We weren't afraid to let a shot play out. Having longer takes really allowed the talent to explore and for us to build very genuine moments between them and their surroundings.

Irene: I agree. We wanted to approach it in a way that people felt the pang of the separation and the struggle of survival as if it could happen to any one of them in present day. That was really important to us. We wanted parents to feel like Adira was their child out in the woods alone and children to feel the sadness of potentially never seeing their parents again. The actors were great at bringing forth their own experiences and emotions into the characters to make them more relatable.

What was the collaboration between the two of you like during the making of Adira?

Brad: I would be lying if I said that we agreed on everything. But being very different in the sense of personality and skill sets, we were able to balance each other out. We had a very tight schedule and we used at times a minimal crew and would take on multiple responsibilities. For example, while Irene was going over wardrobe and discussing the scenes with the talent, I was working with our DP on camera placement and blocking. Our roles would alternate depending on the scene. We both had the same overall vision and goal in our minds for the film, but if there was a scene that one of us had a stronger vision they would sort of head that up.

Irene: It was thrilling, exhausting, and sometimes tense. There is nothing more rewarding than being on the same page with someone most of the time and having an open line of communication without fear of severe repercussions. It's a lot like working with your best friend or your roommate. When we didn't see eye-to-eye it was tense, but that was mostly because we didn't discuss something beforehand, and that was rare. I plan on making movies with Bradley for the rest of my life, so I'd say it was a successful collaboration.

Do talk about your key cast, and why exactly these people?

Irene: For me casting was the most exciting part. I had gotten to know these characters very well during the writing process and I got to personally hand pick from a great selection of actors. Each one brought something amazing to the table. Andrea Fantauzzi was a fresh face with an old soul, Seth Macchi was an awesome undiscovered talent, Jeffrey Staab and Christie Courville were warm and genuine, Eriik Pratt was stern and frightening, and Davis DeRock and Jacob Scribner were honest portrayals of "good guys". One of my favorite characters was Nazi Private Nast played by Roger Denesha. Roger was amazing to work with and we could tell right away during the audition that he was special. He fully committed to the role, even learning and practicing his German so that he could be as authentic as possible. On top of that, he took on the associate producer role and helped us lock down locations, wardrobe, and props. He was so passionate about the project that it made the experience that much more enjoyable.

The film was produced in Kansas City, right - so how did you find the right locations there even, and what was it like filming there?

Irene: Filming in Kansas City was a real treat. It is a culturally and historically rich city, teeming with amazing locations that are full of character and charm. It wasn't very hard to find locations that fit the WWII era since a lot of the architecture is from the early 1900's. As filmmakers, it was a dream to find two interior locations that were already outfitted completely with authentic antique furniture. It aided the production so much to be able to just set up and shoot and take advantage of the beautiful and authentic setting.

What can you tell us about the shoot as such, and the on-set atmosphere?

Irene: I think it was like experiencing Christmas morning every day. It was exhilarating, and even though some of the days were long, we had a great crew who never complained and rallied on. We were unified through the power of the story. I think we all wanted to do the story justice and pay tribute to those who did and didn't survive the Holocaust.

Brad: It was hot… and buggy. And I loved every second of it. We spent a lot of time in the summer kitchen, which wasn't insulated and didn't have AC. Other than that it was a good addition to our workout routine. Regardless of the weather or conditions, our team was very focused and professional.

The $64-question of course: When and where will the movie be released?

Adira will be released this year from Sunset Undiscovered.

Any future projects you'd like to share?

Irene: Aside from another feature that we are currently developing, we have several scripts ready to be filmed. We are currently in pre-production for a drama/thriller set in present day that touches on depression, anxiety, and loneliness; more specifically that which affects the spouses of those serving in the military.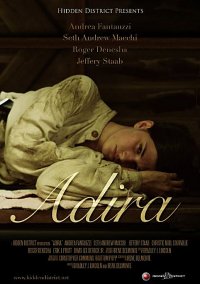 Feeling lucky ?
Want to
search
any of my partnershops yourself
for more, better results ?

The links below
will take you
just there!!!

Find Adira
at the amazons ...

amazon.com

amazon.co.uk

amazon.de
Looking for imports ?
Find Adira here ...
Something naughty ?
(Must be over 18 to go there !)

How did the two of you first meet even, and what can you tell us about your previous collaborations?
Brad: We met when I was in film school via mutual friends. When we met, a large portion of our conversations consisted of movie ideas and our goals and dreams as storytellers and filmmakers. Irene's parents worked in television for many years, her father a writer and her mother a TV personality, as well as her uncle who is a filmmaker. I think the reason we clicked so well and so quickly early on was the passion of the entertainment industry. The project we first collaborated on was for a 24-hour film competition in Orlando, FL. Irene wrote and was also our talent and I ran the camera, edited and directed. Working together as a team was a very natural step for us to take.
Your/your movie's website, Facebook, whatever else?
Facebook: https://www.facebook.com/adiramovie/
Twitter: https://twitter.com/AdiraMovie
Trailer: https://www.youtube.com/watch?v=sojmHFR1j40
Anything else you're dying to mention and I have merely forgotten to ask?
We would like to thank everyone who contributed to the making of this film. It wouldn't have been possible without them. We would like to encourage everyone to support independent film. It is a true labor of love. Every film made is a direct expression of the filmmaker's hard work, time, and dedication. Watching independent films is like looking at the original Mona Lisa instead of a Mona Lisa print, it comes straight from the artist.
Thanks for the interview!