Your new movie The Device - in a few words, what is it about, and what can you tell us about your character in it?
The Device is about two estranged sisters who come back into each other's lives and have to face some dark family secrets together. All the while, my character Abby, one of the sisters, is starting a new life with her fiancé Calvin. Abby struggles to make sure everyone else is alright, even while she is crumbling apart inside.
What did you draw upon to bring your character to life, and how much or Angela DiMarco can we find in Abby?
Abby and Angela are both strong women. Family is important and our fiancé/husband means the world to us. I think you will see a lot of myself in the Abby, all families have secrets, I too have a sister, and have buried a parent I felt detached from.
How did you get hooked up with the project in the first place?
My husband David S. Hogan [David S. Hogan interview - click here] and I have our own production company, Mighty Tripod Productions. We asked Jeremy Berg and John Portanova [Jeremy Berg and John Portanova interview - click here] to write and direct for us when we entered the 48 Hour Horror Film Project. Our short film, Trauma, won awards and continues to be a short film success. The night we finished our 48 hour film, Jeremy and I sat in my car for over an hour talking. He started talking about The Device. He wanted me to be his lead actor and I said yes. I loved being part of the process from the beginning. I was there to read with the actors who auditioned, including my husband who did have to audition for the role of my fiancé, Calvin. I had no say in the casting, it was John, Jeremy, and Matt, who cast David and Kate Alden [Kate Alden interview - click here] as Calvin and Rebecca. Mind you, I gave them my opinion of course.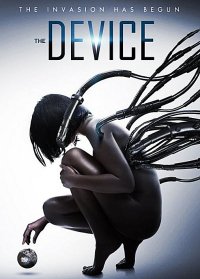 Since the film's also about alien abductions - your personal thoughts about the subject?
This is one of the main things Jeremy and I talked about that night when he first mentioned the film to me. I have had experiences that I would call paranormal. I also have close friends who have as well. I have never had the experiences that Abby goes through in the film, so it was an amazing challenge to dive into that.
What can you tell us about your director Jeremy Berg [Jeremy Berg and John Portanova interview - click here], and what was your collaboration like?
I absolutely love working with this man. We got to rehearse before filming, finding how deep each scene needed to go and what needed to be held back. I have an extreme emotional roller coaster throughout the film, and Jeremy is the kind a director who knew when to give me more and knew when to step aside and let me fly free. Jeremy is one of the few film directors I have worked with where, when I saw the finished product, it looked like what I thought it would be. He's also a supportive director, which actors need, not overbearing but he lets you know when you are moving in the right direction. Jeremy is also an amazing friend, which I am honored to be able to call him that. A family man, a creative man, and one I look forward to working with for many more years to come.
What can you tell us about the shoot as such, and the on-set atmosphere?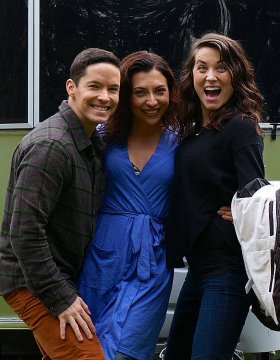 David S. Hogan, Angela, Kate Alden
It was incredible! Seriously. There was no drama, everyone was excited about the film and gave 120%. I love working with my husband, and we've never been able to dive into such dynamic film roles together. Where Calvin and Abby start in the film is very different from where they end up. This pushed me in a way that had me worried if any of it would come back home with us. David is such a professional, he completely embodied Calvin, but above and beyond that, he is a loving husband. So when we got home, Calvin was gone, David had returned, and we were excited for another day of filming! We also had to have some pretty sensual scenes together, that was a first to have so many people and a camera in the room with us ;)
Another fun relationship on set was that with my sister, Kate Alden [Kate Alden interview - click here], who plays Rebecca. We've never met, so we obviously had never worked together, let alone played family. It just came naturally. We often would break into song, which may have driven the crew crazy, but that didn't stop us for the full two weeks of filming. Now whenever I see Kate we cannot help but break into our melodic ballad "sssiiisssttteerrrsss, sisters who need sisterssss".
Any future projects you'd like to share?
I am currently working on the feature film Brides to Be. We started principal photography a couple weeks ago, and we will take a break until we finish in early December. This is a feature film that was born from the short film, Together Forever. After the short film hit over 300,000 views on YouTube, the writer/directors Lindy and Kris Boustedt thought it would be smart to continue the story. It's about two women, Robin, who I play, and her girlfriend, Jenna, who have just gotten engaged. Brides to Be will take place the day before the wedding in the mansion they've chosen to say "I do". But the demons and dark forces within the house will do everything to rip the ladies apart. So although the short film is a beautiful love story, I'm excited to dive into a feature that has those elements but also a great element of the horror genre.
To see Together Forever: http://youtu.be/bCk734TED_k
To see the mood reel for Brides to Be: http://youtu.be/NmnK7PH0GRI
What got you into acting in the first place, and what can you tell us about your education on the subject?
We were poor growing up, my mom raised me and my sister on her own. So I would constantly create characters and scenarios to entertain myself and my family. I always loved to make people laugh, and would push myself to build challenging characters. I was eight years old when a talent agent saw me doing one of my many impressions. At the time, my favorite impressions were Robin Leach, Hulk Hogan and Pee-wee Herman. The agent asked my mom if she ever thought about me acting... The rest is history.
My first feature film was at 10 years old, it starred Shirley MacLaine and Teri Garr. My mom never became a stage mom, she knew I had fun doing films, plays, and commercials and that's what was most important to her.
I went to a public alternative school of the arts that was K-12. Then on to college for my BFA, leaving by my junior year to move to LA and live the dream. It was a mix of dreams and nightmares but since then I have learned the most by performing, creating, teaching, and being. I am proud to say I am a teaching and performing artist and I wouldn't want it any other way.
Can you still remember your first time in front of a camera, and what was that expecience like?
After I signed with the agent, I booked several commercials. They were so much fun and everyone was always nice to the cute little wacky Italian girl. But the most incredible experience in front of the camera was when I booked my first film. The feature film Waiting for the Light. I was only 10 years old and it felt like a dream come true. I was most excited to meet Shirley MacLaine, my mother loved her and therefore so did I. I had a small role, and a few lines to the lead girl of the film. I remember I flipped out when I saw I had my own trailer with my name on it, and wardrobe. On my way to set I walked by Shirley. She asked me if I'd ever done a film before. I told her that I had not. She then stopped walking and said "well, you are here now, so the role is yours, don't be nervous and just have fun." This was the best advice and I have carried it with me to this day. Then ACTION! I was sitting in the back of a truck, we did two hours of coverage on such a small scene and I felt like a movie star for the day.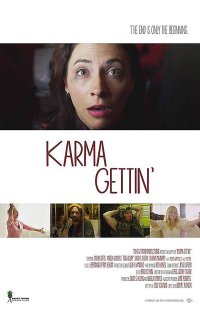 What can you tell us about your filmwork prior to The Device?
I have always loved horror, suspense and thrillers. I was a Wes Craven addict at a very young age. I wanted to know how they created Freddy, did they really drink blood in The Hunger, and any Stephen King film was an inspiration. When I lived in Los Angeles I met director Sven Pape. He later cast me as the lead in Hollywood Kills, a graphic horror film about a serial killer who takes your dreams and makes them your death. As the leading lady, I was tortured the most but not killed, so it was AWESOME! The FX and make-up team were a blast to work with. I had 52 needles "embedded" into my body, this took over 4 hours each day. I had to be wheeled to set so the needles wouldn't snag from me walking. I also had to have a full cast/mold of my face for the removal of my eyelids later in the film. I was finally behind the scenes and saw how it's really done.
I am not always screaming in pain or running from the supernatural. I was a loving mother in both Switchmas (Starring Elliott Gould and David DeLuise) and By Gods Grace (with Cameron Deane Stewart).
But HUGE things come in little packages too! I have had much success and attention from my short films as well. Such as Trauma, Karma Gettin', Watch and Together Forever.
As far as I know, besides movies, you've also done quite a bit of stagework - so how does performing on stage compare to acting in front of a camera, and which do you prefer, actually?
I will always love the Theatre. I remember as a kid being in the ensemble of The King & I, Annie, Anything Goes, and then I started being cast. From Emily in Our Town to Adelaide in Guys & Dolls. In college, when I studied for my BFA, that was all Theatre training and no acting for the camera. Personally, I didn't gain much insight, technique or guidance in college. It just wasn't for me, I needed more hands-on and wanted to be working. HOWEVER, I met a senior, Bridget, who taught me Comedia Del Arte. She was like a mentor to me and I was her Pedrolino muse. We did many projects together and my need to make people laugh only grew.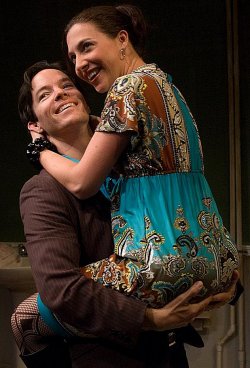 with David S. Hogan in 13th of Paris
For me the stage is like nothing else. You get to dive in the deepest to the character, with weeks of rehearsal and then weeks of performances. It's LIVE, so what you say is what is said, no CUT, no retakes, you are truly living in that moment and BEING. I love the rush I get right before I first step out onto the stage. And my heart always swells with emotion each night I bow. When I moved back to Seattle I had the honor of steadily working for 15 years in all level of Theatres, from fringe to the large Equity houses. The fringe shows were some of my grittiest roles to date. I recently became an Equity member, the Theatre union. Now I don't have as many opportunities, since there are only few Equity Theatres and contracts in town. But when I do get back on stage, I feel like I am home.
Film tends to have little to no rehearsal and you can and will do a scene, a line, a look, over and over again. This is both a challenge and thrilling. I continue to try and LIVE in the NOW in film, as I do on stage.
Television, that's a whole different beast. I recently filmed an episode of the NBC series, Grimm. One minute you're waiting, the next thing you know they're rushing you to set, you get to your mark and ACTION!
I now have found a balance between all three mediums, and I love each of them for different reasons.
So how would you describe yourself as an actress, and some of your techniques to bring your characters to life?
I would like to consider myself a giving scene partner, I try to make sure that I am listening and responding in a way that is truthful to the given circumstances. I also try to always have fun, and make sure those around me are too. Even if it's a dramatic or horrific film, we need to know when it's okay to exhale. If you have a chance to work with me, you should expect that I will come prepared. I love diving into a script and by doing so I always memorize first, then I am free to play and explore when doing the scene.
Actresses (and indeed actors) who inspire you?
There are quite a few, so I'll just give you one of each. &nbsp I love Claire Danes. I've loved her since My So-Called Life, and now Homeland. As an Italian but also just as an artist, I'm very expressive both with my face and hands. I love that Claire does not shy away from this. She isn't a pretty crier, she's real, always so raw and natural.
&nbsp
Sean Penn, his range never ceases to amaze me. Right when I think he's blown me away there's another role that tops the one before. Again, an actor who isn't afraid to be expressive, emotional and still is truthful within the moment.
Your favourite movies?
Again, there are many but here are some DiMarco #1 picks...
The Hunger, Serpent and the Rainbow, The Shining.
Anchorman, Bridesmaids, I Love You Man, 40 Year Old Virgin.
Margaret, Revolutionary Road, Boys Don't Cry.
The Triplets of Belleville, UP, WALL-E.
... and indeed, films you really deplore?

Feeling lucky ?
Want to
search
any of my partnershops yourself
for more, better results ?

The links below
will take you
just there!!!

Find Angela DiMarco
at the amazons ...

amazon.com

amazon.co.uk

amazon.de
Looking for imports ?
Find Angela DiMarco here ...
Something naughty ?
(Must be over 18 to go there !)

Ohhhhhhh ... people are really going to hate me on some of these ... I don't deplore them but I couldn't get through them ... Freddy Got Fingered, Insidious 2, The Tree of Life, Aliens: Resurrection.
Your website, Facebook, whatever else?
Website: AngelaDiMarco.Com
Twitter: @TheDiMarcoActor
Anything else you are dying to mention and I have merely forgotten to ask?
I will leave you with my two mottos and my favorite saying my mom still tells me when I'm having a bad day.
DiMarco Mottos:
#Don'tWaitCreate
Be Daring. Be Honest. Be Yourself. Be Mighty.
My Mom's saying: "One day we'll look back and laugh our asses off."
Thanks for the interview!
THANK YOU MIKE!