Your new movie Zombie Resurrection - in a few words, what is it about?
Jake: A zombie that can bring the undead back to life, and the plight of a small group of survivors as they struggle to come to terms with what this means for mankind.
What were your inspirations when dreaming up Zombie Resurrection - and what can you tell us about your collaboration during the writing process?
Andy: The idea of a Messianic zombie that can resurrect the undead, and essentially cure them of their zombism, came about through a particularly bizarre conversation that I had with my son one dinner time. However, it was't until Jake and I met up a few months later and he showed me some photos of this crazy abandoned mental asylum near where he was living at the time that we thought that this undead Jesus character might make an interesting premise for a movie. I mean, where else would you find the Messiah after a zombie apocalypse?
Jake: We watched Johannes Roberts' film F at Fright Fest in 2010, which was inspirational in many ways. It made us realise you didn't need huge sprawling locations and set pieces. A single location with enough drama, fright and, of course, gore would suffice. It's all about working with what you've got. Rammbock (Siege of the Dead) was also a big influence.
Andy: This was around the time when I got notice that I was going to get laid off from my day job. So, we took the opportunity to spend the days more productively sat in our local pub garden with a notepad talking over the narrative beats, characters and story arcs.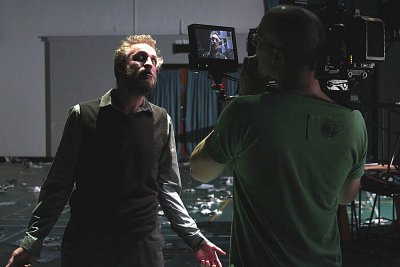 Jake filming the Zombie Messiah (Rupert Phelps)
Jake: We fleshed out our characters initially. We knew we wanted an ensemble cast, a real cross-section of UK society all thrown together through the turmoil of the apocalypse. When the world ends and the dust settles, everyone's in the same boat. I was living in Brighton at the time, and Andy would send me through pages of script for review and feedback. We worked like this for a few months as Andy pieced together a first draft screenplay.
Andy: But at the time we had no idea that we were going to be making the film ourselves. We figured that this was one of those high-concept ideas that would draw a bit of attention on InkTip. Until it got to a point where we thought - why don't we have a crack at this ourselves?
Jake: The early drafts were certainly more ambitious. But then we got realistic with what we could achieve and set about tweaking the screenplay for a more modest budget.
Speaking of working together: How did that work out on set, and did you share responsibilities along a clear line or was it a more democratic process?
Jake: We had a very clear mindset of how we would work on set. We were pretty much living together 24-7 at this point, working crazy long days, and so we had a shared understanding of how the movie would look. From early on it was decided that I would be DoP and camera operator, and Andy would work with the talent. I studied Screen Production at University so (I thought) I knew what I was getting into.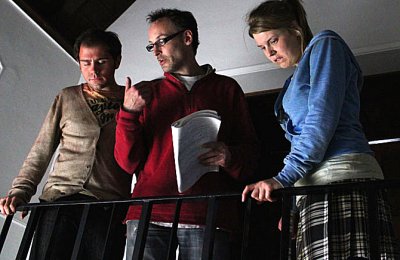 Andy directing Rachel Nottingham and Simon Burbage
Andy: I ended up being the one that worked with the actors because I didn't have any useful technical skills to contribute. We shot the film over 24 days, so you don't have time to be too democratic when you're on set. Because Jake and I naturally gravitated towards these two distinct roles, it made everything more efficient and less confusing for the cast and crew.
Jake: For the record, nothing prepares you for your first feature!
How did the two of you first meet even, and what made you decide to work together?
Jake: I first met Andy at a local filmmakers group where we would get together, shoot shorts, meet other filmmakers, etc. Andy appeared in my final film for University and we just clicked.
Andy: Before we even became friends, we had figured out that we riffed really well together. There are plenty of people that can act as good sounding boards when you're chewing over an idea, but it's rare to find someone that's on the same bizarre wavelength, who'll happily drag you along a completely new tangent.
Jake: Then one day Andy called me up and said he was being made redundant at work, and would I be up for making a film. So I handed my notice in the next day and never looked back.
Zombie films these days are a dime a dozen - so what do you think makes yours special?
Andy: If you're going to make a horror film, make sure you have an Unique Selling Point. Horror is probably the hardest genre within which to innovate, and I'm not sure we would have started the whole enterprise if we didn't think we were doing something new.
Jake: We have a Zombie Jesus, and we have both fast 28 Days Later zombies and slow, shuffling George A. Romero zombies.
Andy: In the really great zombie movies, the undead aren't really the main threat to the survivors, it's other survivors. We tried to find characters that were going to be antagonistic to each other, rather than just relying on the zombie hordes for all the peril and conflict. Zombie Resurrection contains a cast of characters that you don't normally find in horror cinema.
Zombies and prosthetics and gore effects usually go hand in hand - so you just have to talk about the effects work on your movie for a bit?
Jake: We were keen to shoot as many in-camera effects as we could, with as few CGI shots as possible. We also knew we wanted some extremely rotten out looking zombies so hired a very talented SFX artist. Due to the budget several of the gore effects were one-take deals including a very nasty leg amputation and a 'glass shard abortion' which to this day still makes me wince.
What can you tell us about your key cast, and why exactly these people?
Andy: There were a couple of actors that we subconsciously cast almost as soon as we met them. Eric Colvin (Sykes) is a good case in point - when he started reading for Sykes, his was exactly the voice that I had heard in my head as I was writing his dialogue. Jade Colucci, as well, although she did turn up to the audition dressed as Harden: tracksuit, hoopy earrings, the full shebang. She did point out at the end of the audition that this wasn't her usual attire.
Jake: Jim Sweeney (Mac) is literally the exact look, sound and size as our initial concept character. When we saw his showreel we looked at each other in disbelief; we probably watched it about ten times in a row with our mouths wide open. In real life Jim is the kindest and coolest guy... we kind of feel bad that we made him swear so much!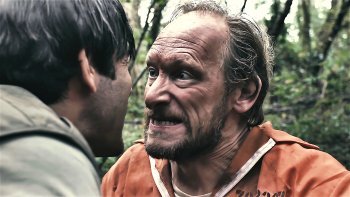 Eric Colvin
Andy: Because everybody is thrown into a pressure cooker together for a month of their lives, if there are conflicting personalities in the group it can make for a strained atmosphere on set. And we totally lucked out - an awesome group of people.
Jake: All the cast and crew were exceptional, we were extremely fortunate to be working with such a great bunch.
A few words about your wonderful main location, and what was it like working there and how did you find it even?
Jake: Our main location was a fully working school, during the summer holidays. We had looked at hiring a few 'abandoned' properties but the prices were astronomical and most of them didn't have power or toilets. Shooting in a fully functioning building and dressing it down meant we had everything we needed.
Do talk about the shoot as such, and the on-set atmosphere?
Andy: We shot over 24 days, doing 6-day weeks. When I got home after the first night on set I felt that I'd strapped myself to a rocket, and now I had no choice but to hold on for another 23 days; it didn't help that the first 3 weeks were all shooting at night, so everybody's body-clocks were knocked out of whack.
Jake: This was our first feature and as such it had a STEEP learning curve. I lost about 20 lbs during the month that we shot through a combination of exhaustion, stress and just being on my feet with a hefty shoulder rig all day, every day. That said, the on set atmosphere was great, and we had a superb crew who all bonded really well (two of the crew members are actually now engaged).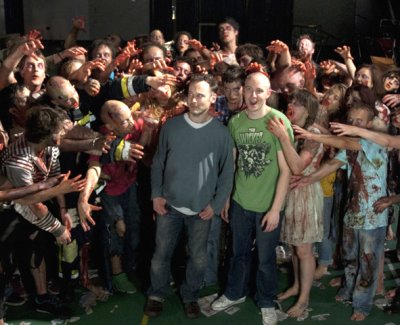 Andy and Jake surrounded by their zombies
Andy: It wasn't till a few months later when we watched some of the footage that our EPK director Chris Marley had shot behind the scenes that we realised just how much silliness was being had away from the camera.
What can you tell us about audience and critical reception of Zombie Resurrection so far?
Jake: Zombie Resurrection has been out in the UK for just over three months now and so far it's had a good reception. People seem to like the Messiah / zombie Jesus idea, and the gore has also had a lot of great response.
Andy: It's a very strange feeling to be sat in an audience, watching people laughing at jokes you wrote two years earlier.
Any future projects you'd like to share?
Jake: There are a number of ideas floating around, and a couple of scripts in development. Nothing we want to blow the lid off just yet but certainly more horror on the horizon.
What got each of you into filmmaking to begin with, and did you receive any formal education on the subject?
Andy: I got into it because I love writing screenplays, and have an MA in Screenwriting. And in the UK, at least, it's really hard finding someone else that'll make your film for you.
Jake: I studied documentary video production at Winchester University. In terms of what got me into filmmaking I always loved the action, the drama and sets, the cameras and lighting. I just love good stories.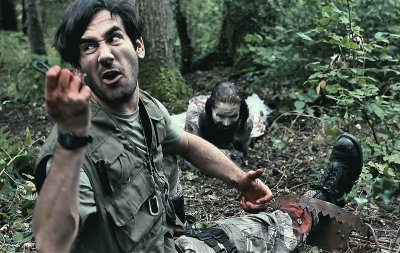 Joe Rainbow
How would you describe yourselves as directors?
Andy: We put in a crazy amount of work before the shoot, but on set we deliberately kept the direction fairly simple as we didn't have the luxury of time. We tried to get into a position where we weren't thinking as producers while we were shooting, but that does require you to be extremely well-prepared and pragmatic ahead of time. So I would say 'disciplined'.
Jake: Getting a feature made is such a huge amount of work, so I'd definitely say 'motivated'. There's highs and lows and I think we both worked well to keep each other sane throughout the process - although maybe we were a bit insane in the first place'
Filmmakers who inspire you?
Jake: Guilermo Del Toro, Michael Mann, Johannes Roberts, Gareth Edwards, Alfonso Cuarón, Tim Burton, Guy Ritchie.
Andy: Sam Raimi, Joss Whedon, Darren Aronofsky, Hayao Miyazaki. We contacted a bunch of independent UK filmmakers while we were in pre-production for advice and guidance, and most of them were extremely generous with their time; people like Johannes Roberts, Bruce Windwood and Jim Eaves [James Eaves interview - click here].
Your favourite movies?
Jake: A New Hope, The Empire Strikes Back, Children of Men, The Beat That My Heart Skipped, Collateral, Big Fish.

Feeling lucky ?
Want to
search
any of my partnershops yourself
for more, better results ?

The links below
will take you
just there!!!

Find Zombie Resurrection
at the amazons ...

amazon.com

amazon.co.uk

amazon.de
Looking for imports ?
Find Zombie Resurrection here ...
Something naughty ?
(Must be over 18 to go there !)

Andy: Well, I grew up in the 80s - the high-water mark for horror films. Before CGI came along and made everybody's lives easier, there were a few years of the most extraordinarily invention: The Thing, An America Werewolf in London, A Nightmare on Elm Street. I love Day of the Dead (even more than Dawn of the Dead), and the first REC movie was fabulous.
... and of course, films you really deplore?
Jake: A gentleman never tells, but I will say I am not a fan of how CGI and visual FX are driving some films (particularly big budget productions) over story and well-developed characters.
Your/your movie's website, Facebook, whatever else?
https://twitter.com/charmed_apoc
https://www.facebook.com/pages/Charmed-Apocalypse-Pictures/179648708740650
Thanks for the interview!