Your film Gimme the Loot - in a few words, what is it about?
It's about two teenage graffiti writers from the Bronx that go on this two day summertime adventure all around NYC.
What were your inspirations when writing Gimme the Loot - and to what extent can you relate to the graffiti subculture your film depicts?
I grew up in New York and was tangentially involved in that world, both with some friends and some work I had done, but I am no graffiti expert. I really wanted to tell a story about these kids who have these harder, tough lives but aren't necessarily miserable people, they're just kids ultimately, and I felt graffiti was a great jumping-off point to tell a fun story set in that world. But we worked very hard on making the graffiti elements, both visually and in terms of the story, authentic, and worked with this amazing, legendary graffiti writer named SP 1.
With Gimme the Loot being your feature film debut (at least according to my information) - how did the project actually come into being to begin with?
Well as I stated, I wanted to make a movie set in this world but with a tone not normally seen in that environment. And then I felt that the story lent itself to low budget, first time filmmaking with non-professional actors. So the story excited me, but it also really fit into how we could make the movie in terms of production.
For a film about graffiti artists, there is surprisingly little actual spraying in your movie - would you care to elaborate?
Well, graffiti is a jumping-off point for this NYC based adventure. A movie about graffiti artists doing graffiti, I don't know, that doesn't interest me. It's essential to who these characters are, but cinematically it can get tiresome. In general, movies about artists, it's tricky too have too much watching someone paint or draw or write or whatever the art is, unless the art is very performance based in itself, like singing or dancing.
Still, it was essential that the graffiti - both the art and genreal culture - be very authentically portrayed and we worked extremely hard and long on that. And they do paint, draw in their pads, catch tags and stickers, etc. There's a moment where they're checking out other people's work. They steal paint. It's actually fairly regular, just as more of a background thing, an everyday part of their lives, and not the focus of scenes except in the very beginning. But that's what it is like to be a graffiti writer. They do a big piece in the beginning, but over the course of two days the typical writer isn't going to go out and paint seven or eight blockbusters, yet the art is always being practiced, and we do show that I believe fairly regularly throughout the movie to be honest.
For the most part, your film at least looks as if it was shot guerrilla-style - is that true, and what can you tell us about the actual shoot, and the locations you used?
We wanted everything about the movie to be authentic, from the graffiti to the language to the locations themselves. We shot in close to seventy different locations around the city, mostly in the Bronx and Manhattan, and yeah, we took a guerrilla-like approach of just showing up, acting like we belonged, and shooting the movie on the streets we're from. Not every shot was officially "guerrilla" but that vibe was there throughout and important to how we were capturing the story we were telling.
Your musical score ... you just have to talk about your rather surprising choice of tracks for a bit?
Yeah, well thank you (I think!). I had that as a really early instinct, to use these older rock gospel tracks and older R&B songs. It's part of setting the tone, that we're on an adventure, that this is going fun and probably not what you'd expect from an "inner city graffiti movie". But we also have a super wide range of music, including reggaeton, hip-hop, old jazz, disco, funk, etc. Just capturing a certain spirit, and also I should note that many of the songs that sound like old tracks are really the work of my amazing, amazing composer, Nicholas Britell, who is basically a magician in terms of both composition and production. He did everything from those old jazz songs, to Booker T type R&B stuff, to a dancehall track. Insane, insane stuff, he's the man and we love him very much.
I wrote about Gimme the Loot that it is "not at all unlike the best movies of Eric Rohmer" - a comment you can at all live with, and how would you describe your directorial approach?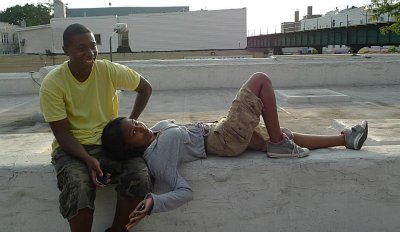 Ty Hickson, Tashiana Washington
You're amazingly the second person who has said that and I'll take it, I'm not sure I exactly get it, but sure, why not? Maybe in terms of the conversational element or also the aspect of travel being essential to the story? I don't think of him as a direct influence though.
What can you tell us about your leads Tashiana Washington and Ty Hickson, how did you find them and what made them perfect for their roles?
Some people think I just found Malcolm and Sofia, that these are those kids. They are most definitely not, although they did grow up in NYC and know people like that. But no, Tashi and Ty are extremely talented young actors who are very focused and dedicated and extremely different than their characters. Tashi is very glamorous and soft-spoken, Ty is a very grounded and charming young guy.
You also have to talk about scene-stealing Meeko and his character?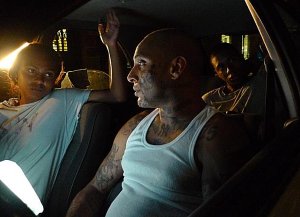 Tashiana Washington, Meeko, Ty Hickson
Yes, thank you. I met Meeko through my cousin and just knew him for a bit. I definitely wanted to put him in the movie but I was very taken with how talented he is as an actor the more I worked with him, so I kept expanding his role. He is an extremely natural, gifted actor, both capable of being comedic, which he mostly plays here, but also I think he has a wider range than one might think just from looking at him. I think he's the real deal, great instincts, very dedicated, smart guy that has just this unbelievable look (tattoos on his face, etc).
A few words about the rest of your cast and crew?
I would watch out for the third girl from the left in the party scene. That girl thinks she's the queen of the neighborhood, she's got the hottest trike in town.
Uh, yeah, these kids all showed up and were so talented and game for what we were doing and in all seriousness I owe them forever. They're very special, charismatic and I'm excited for people to discover them.
As far as I know, Gimme the Loot has so far been shown only at a few festivals. So what can you tell us about audience and critical reception so far?
Actually, we've had quite the festival run. I we've played at over 30 film festivals. It's just tremendous to be able to show this very local, sort of "small" movie that we made from our own experiences and communities on this greater stage. To play the movie around the world, in places like Cannes and Argentina and India, etc. is sort of surreal and overwhelming and yet also deeply touching. I was definitely curious if the movie would translate but it seems to have gone over really well in these foreign countries, in particular in France and the UK.
Let's go back to the beginnings of your career: What got you into filmmaking in the first place, and did you receive any formal training on the subject?
I've wanted to do this since I was a little little kid and have pursued it since then, but no formal training.
What can you tell us about your filmwork prior to Gimme the Loot?
I co-directed a music video with these cats from Chronikill about a plastic penguin that fucks their girls so they get the plastic penguin and beat the shit out of it. Just torture the poor bastard. So basically, torturing and killing penguins. And we also made a short film that played in some cool festivals, it's called Killer but there's no penguin in it, that's probably a negative but I still like it in spite of the lack of penguin content.
Any future projects you'd like to talk about?
Not particularly if that's ok.
How would you describe yourself as a director?
Handsome and charming, just an absolute joy to be around. Guys want to be me, girls want to be with me. I'm not sure that's true at all or that you could find even one person who would agree, but it's how I describe myself. My mom once said, "You're not that bad, sort of", so that pretty much validates my self description I guess.
Filmmakers who inspire you?
So many but I would say Robert Altman, Woody Allen, Ernst Lubitch, Fritz Lang, Sergio Leone. Also, Stanley Kubrick, he was alright too I guess.
Your favourite movies?

Feeling lucky ?
Want to
search
any of my partnershops yourself
for more, better results ?

The links below
will take you
just there!!!

Find Adam Leon
at the amazons ...

amazon.com

amazon.co.uk

amazon.de
Looking for imports ?
Find Adam Leon here ...
Something naughty ?
(Must be over 18 to go there !)

First of all, let's slow down with the "u" in favorite over there. I'm beginning to suspect you're British. But to answer your question, Barry Lyndon. Empire Strikes Back. Those are both great. Days of Heaven is amazing and really inspiring. Trouble in Paradise. Tootsie's awesome, almost underrated. Again, Altman and Woody Allen. Of the past ten years or so I would say Margaret, There Will Be Blood, several Coen Brothers movies, Spike Jonze's work, Birth, etc.
... and of course, films you really deplore?
I don't really deplore any movies, at least not that I can think of. That's too strong of a negative emotion to have about movies. I deplore things like murdering babies. There's no movie I can think of rising to that level of shitty as murdering babies.
Your/your movie's website, Facebook, whatever else?
gimmethelootmovie.com - and we're on Facebook too.
Anything else you are dying to mention and I have merely forgotten to ask?
Gimme the Loot is not my favorite Biggie song, my favorite Biggie song is Kick in the Door. But Kick in the Door isn't the best movie title for what we're going for I guess.
Thanks for the interview!
Thank you, sir.