Hot Picks

Pursuit of Freedom
Pulled from Darkness


USA 2022
produced by
George A. Johnson, Kary Johnson, Lonnie Norris, Connie Norris, Stelio Savante for Homesick Media, Story Light Productions
directed by George A. Johnson
starring Jessica Koloian, Stelio Savante, Robia Scott, Sharonne Lanier, Brayden Eaton, Tenley Kellogg, Elias Kemuel, Mark Lowry, Robert Amaya, Mike Markoff, Mimi Sagadin, Paul Kandarian, Anna Terry, Todd Terry, Pete Berwick, Johnny Halloran, Garry Nation, Rachel Thomas, Bobby Easley, Brett Varvel, Steve Shermett, Theo Bray, Javier Colon, Olga Petrosyan
story by Lonnie Norris, screenplay by George A. Johnson, music by Damon Criswell

review by
Mike Haberfelner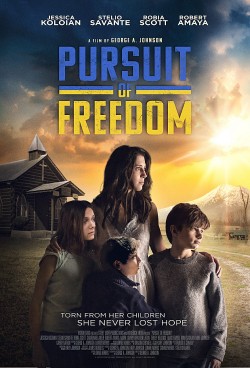 Ukraine: After her husband (Mike Markoff) lost all their money gambling with a Russian gangster, the gangster's syndicate kidnap Anna (Jessica Koloian) and force her into prostitution in Amsterdam. They'd probably enslave her children (Brayden Eaton, Tenley Kellogg, Elias Kemuel) as well, but Anna's mother (Mimi Sagadin) has the good sense to make an escape with them and drive them to Armenia, where she hands them over to their aunt Ovsanna (Anna Terry), who might live in poverty but has enough compassion to take the kids in - at the risk of kidnapping according to Armenian laws, and thus the children have to remain in hiding at all times.
Three years have passed since then, and Anna has fallen terminally sick, so much so that her abductors can no longer make money of her, so they just dump her at the side of the road to die - but she's picked up and gotten to a hospital, where her condition slowly improves, thanks to God-fearing nurse Naomi, who takes special interest in Anna, soon learns her story and makes it her mission to re-unite her with her children. That's easier said than done though, as Anna's mother has since died without disclosing the whereabouts of the kids to anyone, Ovsanna is very good at hiding them, for both her and their own sake, and everyone believes Anna's dead anyways, so nobody's looking for her. What makes things even harder is that Anna doesn't have any ID on her and is in poor health, which makes travelling out of the Netherlands near impossible. But Naomi doesn't give up on her ward, and through her church connections she tracks down a compassionate Armenian church worker, Bedros (Stelio Savante), who will knock on any door just to re-unite the little family. But before that can be, there are some major obstacles to overcome ...
Now I won't lie to you, the church-angle of this movie is somewhat overplayed, and sometimes even detracts from the drama, especially since all "miracles" are as man-made as all the bad that happens in the film - but the film's fixation on religion aside, this is a rather compelling drama, and one that shows both depth and range regarding its story, not just fixating on one or maybe a handful of aspects of the plot but going for an epic scale. And a very competent ensemble carry the film rather beautifully. And if only the Jesus references were toned down, this could have been a really good film, too.