Hot Picks

Eye Without a Face


USA 2021
produced by
Ramin Niami, Karen Robson (executive), Somme Sahab (executive) for Sideshow
directed by Ramin Niami
starring Dakota Shapiro, Luke Cook, Vlada Verevko, Rebecca Berg, Ashley Elyse Rogers, Evangeline Neuhart, Benedikt Sebastian, Sarah Marie, Shekaya Sky McCarthy, Alexandra Sarah Truman, Patrick Zeller, Spencer Trinwith, Monica Cho, Sharareh Shahbazi, Katharina Baron, Rhys Raiskin, Danielle Hope Abrom, John Ousley, Garret Williams, Leticia Contreras, Nestor Tapia, Jullian Champenois (voice), Justine Miranda (voice), Kami Zargham (voice)
written by Ramin Niami, music by Charlie Clouser

review by
Mike Haberfelner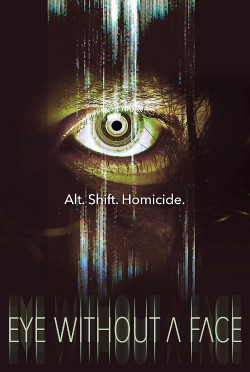 Henry (Dakota Shapiro) is grossly agoraphobic and socially awkward, and he compensates for all of this by watching a bunch of women via their webcams he has hacked into - not for sexual purposes, he even turns their cams off when they undress, just as some ersatz social life - not that that would make it right of course. Eventually, his roommate Eric (Luke Cook), pretty much the only person Henry actually meets all day, stumbles over Henry's secret, and while he's understandably shocked, he cares too much for Henry to give away his secret, but tries to encourage him to have social contacts again - to the point that he invites one girl whom Henry watches, Ella (Sarah Marie), over for drinks - without her knowing that she's rather literally on Henry's radar. That meeting doesn't go as well though when Henry has a severe panic attack.
Henry's favourite among the women he watches is dark haired beauty Laura (Vlada Verevko) - up until he thinks she has drugged one of her frequent male guests and fed his flesh to her friends at a dinner party. When he tells Eric about this though, Eric thinks he's crazy - that is until they watch her have another male companion and put something in his drink. They text the police who arrive just in time - only to find out Laura's secret ingredient is ginseng. That's a relief on one hand, but on the other now Laura knows she's being watched, and she threatens Henry directly via her camera. Things get worse when first Ella, and later Tessa (Ashley Elyse Rogers), another girl on Henry's "watchlist" are brutally murdered, and somehow Henry gets videos of both murders. Of course his chief suspect is Laura - but then Eric decides to pay Laura a visit in the flash, and the two really hit it off, right in front of her camera. But why did she bring a knife to the party?
Even if the resolution of the piece might not come as quite as much of a surprise as intended, overall this is a really cool thriller, especially since it manages to make its rather far-fetched premise 100% believable, and manages to make its deeply flawed protagonist totally relatable, despite his at best questionable actions. And while a very clever script sees to it that the tension remains high throughout, a strong small ensemble cast keeps things grounded throughout, making this pretty awesome genre entertainment.