Hot Picks

Cube: Ichido Haittara, Saigo

Cube


Japan 2021
produced by
Akiko Funatsu, Satoko Ishida, Vincenzo Natali (executive), Shigeaki Yoshida (executive) for Aeon Entertainment, GyaO, Pony Canyon/Shochiku
directed by Yasuhiko Shimizu
starring Masaki Suda, Anne Watanabe, Masaki Okada, Hikaru Tashiro, Takumi Saitoh, Kotaro Yoshida
written by Koji Tokuo, based on the film Cube by Vincenzo Natali, music by Yutaka Yamada, visual effects by Imagica, Digidelic


review by
Mike Haberfelner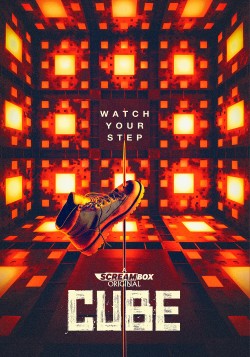 Five strangers, Yuichi (Masaki Suda), Asako (Anne Watanabe), Shinji (Masaki Okada), Hiroshi (Takumi Saitoh) and 13 year old Chiharu (Hikaru Tashiro), find themselves huddled up in a rather nondescript square room with nothing but exits on all or its sides and top and bottom - all exits leading to other square rooms exactly like the one they're in. None of them have the first idea how they got in here, now how to get out, but they soon start out to find the exit, even if their trip takes them to one room of the same design after the next - and some of the rooms are booby-trapped even. Eventually they happen upon Ando (Kotaro Yoshida), a pensioner and prisoner just like them, and slowly they develop a mathematic formula as to which rooms are booby-trapped and which actually might lead to the outside - while they also learn more about each other, and how their fates are connected after all. But not all of them take lightly to their situation, there's Ando who has fits of rage, there's shinji who breaks more and more under the stress of the situation, there's Chiharu who distrusts all grown-ups and there's Yuichi who has been traumatized by a past experience, a trauma that comes to the surface eventually - and none of this is the best prerequisite for good collaboration and pulling on the same string to get out of the place ...
Back in 1997, the Canadian movie Cube became an almost instant cult classic, thanks to its rather absurd and yet highly suspense-inducing premise more than its fairly conventional storyline and cardboard cutout characters. Now obviously this remake coming in almost a quarter of a century later, can't compete with the original in terms of originality, being based on the exact same premise, but it's got its plot and characters down much better, keeps up the absurdity of the situation better, gets away without giving things away too soon, and ultimately feels much more a whole than the earlier film. And a strong cast really carries the film while the directorial effort is atmosphere- and suspense-heavy to boot, making this into one of the most interesting remakes in recent years.
If this has gotten you interested, Cube streams exclusively on screambox.com.