Your new movie The Last Halloween - in a few words, what is it about?
Mark Thibodeau: It's the story of four trick-or-treaters making the rounds on Halloween night while the world is falling apart all around them. The nature of the catastrophe is not important. It's the fact that things are falling apart that matters.
Marc Roussel: My elevator pitch has always been the story of four kids trick-or-treating through a post apocalyptic wasteland on Halloween night.
How did the project come together in the first place?
Marc: Mark, who you should know is my oldest friend and writing partner on several short films and my new feature script, sent me a draft of a comic book script and a rough layout out of its panels one day to get my opinion. I thought it was fantastic and fell in love with the concept of these kids trick-or-treating through a post apocalyptic landscape. It felt like a great premise for a short film and I think Mark instinctively knew this when he sent it to me as I'd been looking for the right horror-themed project to do after my earlier short film Remote. His story excited me enough that I immediately started writing a four-page screenplay based on his unfinished comic.
With Mark's blessing I sent it to my Red Sneakers Media producing partner, Ron Basch. He loved it and saw the great potential in creating something on a bigger canvas than our other films. He suggested we apply for a production grant from BravoFACT, a Canadian short film-funding agency. Our last film, The Sweetest Hippopotamus, was funded through them and he thought The Last Halloween might be something they would respond to, and lucky for us they did.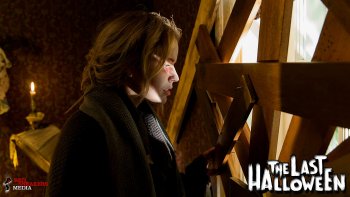 photo by Michael Helmer
Mark: After I sent Marc my rough plot breakdown for the comic, he quickly shot back with a nearly complete screenplay, and we basically ping-ponged drafts until we got something we both liked. Some original ideas were abandoned, while some of the ideas Marc came up with actually ended up making their way into my finished comic story. More than anything else we've ever done, I think The Last Halloween was probably our smoothest, most successfully realized collaboration. And I think it really points the way forward for us in terms of future projects.
Mark, what were your inspirations for the comicbook The Last Halloween is based on?
Mark: I know it sounds cliché, but the story was sparked by a dream that I had, which is how I get a lot of story ideas. In this dream, I was a kid again, trick-or-treating. But I could tell that there was also something awful taking place somewhere on the periphery. And my friends and I continued trick-or-treating, regardless. I woke up, plotted out a basic 8-page story, scanned that, and then emailed it to Marc. Then I started drawing. It ultimately took a lot longer to finish the comic than I hoped it would. I think the film was shot, edited and scored by the time I put the finishing touches on the last page! Aside from that, Marc and I are life-long fans of Halloween. It's our favorite holiday, and it's a rich source of imagery, which we would have been fools not to use. Witches, ghosts, devils… there's a reason why these images are so archetypal. Beyond the initial nugget of inspiration, however, I think what I really wanted to do was tell a story exploring the idea of Halloween as a sociological phenomenon in our contemporary culture, which is itself apocalyptic in so many ways. I mean, terrorism, environmental collapse… pick your poison! I think it's all too easy to forget that, in this day and age, the simple act of opening one's door to a stranger can be seen as an act of courage. And on Halloween, we're expected to do that, over and over again. And to our credit, most of us still do! I think there's something beautiful about that.
What kind of a challenge was it to adapt the comicbook to the screen, and did you make drastic changes and ommissions?
Mark: The film is surprisingly faithful to the comic, except when we reach the "final house". The encounter between the trick-or-treaters and the survivalist couple, Kate and Jack, is far more complex and fleshed out in the film than it is in the comic. That's great, and it's pretty much all Marc's doing, with a few tweaks from me. There was even some improvisation and on the spot script changes – some of it necessitated by technical issues – and thankfully all of our actors were up for the challenge.
Marc, what can you tell us about your directorial approach to your subject at hand?
Marc: From the very beginning the goal was to capture the essence of Mark's early comic sketches so I spent a lot of time working out the visual language of the film with my director of photography Michael Jari Davidson, production designer Ashley Corley, costume designer Allie Thompson and my make-up team of Jessica Whyte and The Butcher Shop. We wanted an old school aesthetic and used Halloween, Escape from New York and The Warriors as reference points. The entire film was shot on a 50mm anamorphic lens and on Steadicam (which was a blessing as it saved us so much time).
Unlike most Halloween-themed films, we didn't have the traditional imagery everyone is familiar with like pumpkins, decorated houses and candy, so the challenge was to make it feel like a Halloween set film using lighting to evoke an eerie October vibe. The costume designs and make-up for the kids had to feel handmade, as if they were scavenged out of the detritus of our decaying world. It was also our way of going back to a time before the commercialization of Halloween, when parents used to make their kids costumes using found materials instead of buying them superhero getups in the stores.
Our post apocalyptic setting, with Chatterbox' vandalized house and Jack and Kate's fortified house, allowed us the opportunity to create what were essentially meant to look like haunted houses in the film.
With the monsters that show up at the end it was important to have practical make-up effects. Our goal was to not augment them with visual effects, and The Butcher Shop executed them so flawlessly that we did not have to resort to CGI.
Once the look of the film was nailed down, I then focused on the emotional core of the story. Like Mark mentioned earlier, the scenes with Kate and Jack in the comic needed an extra dimension, especially when it came to Kate's disappearance after the kids' arrival. It needed a little more meat than just the consequence of Jack's choice between trick or treat posed by the children outside. Ron and Emily, who play Jack and Kate, both wanted a stronger back-story for their characters and Mark and I fleshed it out with them, which was fun. Their scene together allude to some dark and heartbreaking history in that house and really informs their last moments together.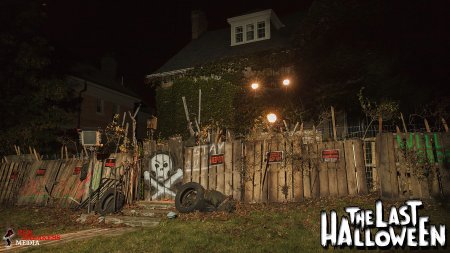 photo by Michael Helmer
Ultimately, it was important that the film be more than just a stylishly shot monster movie, and I think we achieved that.
What were the major challenges from a production point of view, and how easy/hard was it to create a post-apocalyptic world on a (presumably) low budget?
Marc: The Last Halloween was by far the most challenging experience I've ever had making a short film. I don't think we could have made it any more difficult for ourselves… we had guns, a post apocalyptic setting, prosthetic make-up, visual effects, a large cast including four kids, a location with no power, a drone copter on a windy evening and a three day shooting schedule with one of those being a night shoot. Thankfully we had no animals! Luckily we had a tight, experienced crew and actors who were prepared for anything. Our entire budget is on the screen thanks to my producers Ron, Greg Machula and Jessica Menagh.
Mark: I think two factors were key. First, we lucked out on the locations, as our co-producer and leading man Ron Basch found two big, gorgeous old houses in a quiet corner of Toronto that could serve as three separate locations by dressing one of the back yards as a faux front yard. They were going to be demolished soon so we were able to dress them up to look suitably post-apocalyptic without having to worry about making them pretty again once we'd finished. Second, we had a killer crew, who worked tremendously hard for us. It was Marc's first time working with DP Michael Jari Davidson, who made our film look fantastic, and of course as always Marc's right hand man Greg Machula, and his assistant director and a producer, proved to be worth his weight in gold, as always. But everyone from the production and costume designers, to the guys setting up lights and hauling equipment around just went above and beyond.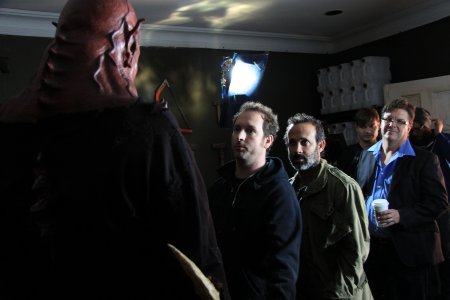 Adrian G. Griffths (as The Demon), Marc Roussel (director), Ron Basch (as Jack), Michael Jari Davidson (director of photography)
photo by John Nicholls
What can you tell us about your key cast, and why exactly these people?
Marc: Ron Basch was my first choice to play Jack. He's been in practically all my films so we have a short hand and trust each other. He worked his ass off and nailed the tortured character who has lost all faith in humanity. Emily Alatalo, who plays Kate, was someone that was on my radar after seeing her in If A Tree Falls and Neverlost, plus Ron and Jessica had just produced a comedy feature called My Ex-Ex that featured Emily and were able to get her the script. She and Ron worked really well together. Emily had some very complex emotions and resentments underpinning her scene with Ron that I thought she played beautifully.
Julian Richings (Supernatural, Cube, The Man of Steel) was a last minute blessing thanks to a friend who got him the script. In fact, knowing that we could get the script to Julian allowed us to really beef up the scene his character is in. Originally, the kids arrive at the second house of an emaciated man who offers up a half eaten bird as a treat. The character had no dialogue. We couldn't ask Julian, a classically trained actor with a great voice to not speak! So we created Chatterbox, a disease riddled survivor squatting in a dilapidated house who incessantly talks to himself and possibly the ghosts of his past before the end times ravaged his mind and body. Mark came up with the Chatterbox monologue, that's all his, and I really credit it with securing Julian for us. He loved it and it was a real thrill standing on set with him, watching him play this crazy character. He added another layer to our destroyed world that really set the tone for what was in store for Jack and Kate later in the film.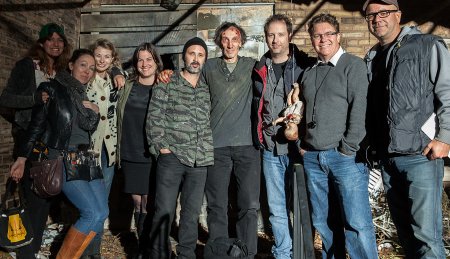 Allie Thompson (costume designer), Jessica White (makeup artist), Ashley Corley (production designer), Jessica Menagh (producer), Ron Basch (as Jack/producer), Julian Richings (as Chatterbox), Marc Roussel (director), Michael Jari Davidson (director of photography) and Greg Machula (producer)
photo by Michael Helmer
Mark: The kids, the monsters, our leads; I love what they all did for us. On a personal level, I consider their performances to be some of the greatest gifts that I've ever received. And of course, Julian Richings was awesome. It was a genuine pleasure just watching him interact with Marc, Michael, Greg, and the kids.
Do talk about the shoot as such, and the on-set atmosphere!
Mark: The first night – which, unfortunately, was the only night I was on set – was plagued by a number of technical snafus, some involving generators. These are, for the most part, unavoidable when dealing with the kinds of budgets we have to work with. However, if we'd had anything less than a solid gold technical crew on our side – who were able to roll with the punches and improvise solutions to some pretty serious problems – I honestly suspect the film might not have seen the light of day.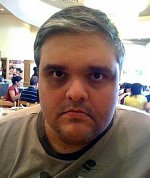 Mark Thibodeau
Marc: Despite the technical hiccups on the first day, the remainder of the shoot went as smoothly as it could with limited time and money. The hardest part was shooting in mid-October, on our Thanksgiving holiday, in a house with no power or even a working washroom, but I think that all added to the atmosphere of the setting, especially when the generators would go down and plunge the house into darkness. The place was scary looking when lit by Michael's moody lighting so you can imagine how creepy it was in pitch black!
A few words about critical and audience reception of The Last Halloween?
Mark: It's played at dozens of festivals, some very big and important international festivals, like Screamfest LA, Samain du Cinema Fantastique in France, Sitges International Film Festival in Spain, Mexico's very cool Feratum Festival, Beyond Fest in LA, where our film was the short feature before they screened John Carpenter's Halloween, with Carpenter in the audience! Which was great, because we thank him in the credits. I hope he noticed! There have been too many great festival screenings to list them all. So many people got to see it on the big screen over the last year and a half… I think almost as many who have streamed it online via YouTube! And the positive reviews from the online horror community have been awesome. Of course, recently winning iHorror.com's fan-chosen Best Horror Short of 2014 really put the wind in our sails.
Any future projects you'd like to share?
Marc: Ron and I just co-produced, alongside Zach Green [Zach Green interview - click here] from Fatal Pictures, Richard Powell's [Richard Powell interview - click here] new short film Heir that stars Bill Oberst jr [Bill Oberst jr interview - click here] and Robert Nolan [Robert Nolan interview - click here]. It'll have its world premiere in June at Fantasia International Film Festival in Montreal.
As for what's next for me? Getting a first feature made! Ron and I still have hope for the Remote feature and are working on financing. Mark and I are working on a couple of new scripts, but we don't want to jinx them by talking them up just yet.
Mark: But that doesn't mean we'd turn down any offers to work on, say, the next installment of The ABCs of Death! Hey, Mr. Timpson! Drop us a line up here in Toronto! Feel free to reverse the charges even!
You have collaborated on a few other film projects before The Last Halloween - so what can you tell us about those, what's your collaboration usually like, and how did the two of you first hook up even?
Mark: As Marc previously mentioned, we basically grew up together and have always fed into each other's interests and energies like some crazy synergistic feedback loop. There's a deep level of mutual comprehension. We get each other's jokes and understand each other's frames of reference. For example, we've recently had a number of narrative breakthroughs on the project we're spending most of our current time on, and it's been incredibly exciting and rewarding to be part of that. I think we compliment each other in a great many ways. Plus, I love the guy. He's family, as far as I'm concerned. It's always been like that between us.
Your/your movie's website, Facebook, whatever else?

Feeling lucky ?
Want to
search
any of my partnershops yourself
for more, better results ?

The links below
will take you
just there!!!

Find The Last Halloween
at the amazons ...

amazon.com

amazon.co.uk

amazon.de
Looking for imports ?
Find The Last Halloween here ...
Something naughty ?
(Must be over 18 to go there !)

Mark: We do have a Facebook page, but you can find basically everything – including links to the online film, contact information, and the complete 8-page comic story – at www.thelasthalloween.ca.
https://www.facebook.com/thelasthalloweenshortfilm
Anything else you are dying to mention and I have merely forgotten to ask?
Mark: Only that, for the first time in a long time, I'm actually really jazzed about the future prospects for the new projects that we're working on!
Thanks for the interview!