Your new documentary Halloween Obsessed - The Misconception of Witches - in a few words, what is it about?
Halloween Obsessed - The Misconception of Witches represents 4 different modern-day Witches. Each explains how they incorporate the practice into their everyday lives. Our goal is to dispel the myths that have lingered for centuries of what it truly means to be a Witch.
Now how did the project fall together in the first place, and what drew you to the subject?
During Covid, my producing partner/husband and I decided we would delve into documentary work more, and chose a subject we love, Halloween, to start with. Neither of us has shot or edited prior (other than promotional work), so there was a big learning curve on the Black Magic pocket camera and Premiere Pro editing suite. We partnered with some of our favorite film partners, who also happen to be Halloween fans, brainstormed topics and chose The Misconception of Witches because two of them are modern day witches and the rest of us are fascinated in the practice. There are two more episodes due out this year dealing with the paranormal and haunted houses.
What can you tell us about your major co-conspirator and researcher on The Misconception of Witches, Barbara Dolny-Bombar, and what was your collaboration like?
Barbara is a writer, filmmaker, and award-winning producer of projects for commercial and public television. In addition to writing for broadcast, her articles and short stories have appeared in numerous publications. She's also a longtime practitioner of a nature-based spiritual path, and infuses her magick into everything she creates. Honestly, we could not have pulled off the film without her guidance in story and research. She was the perfect partner for us entering this new medium. We're lucky to have her on our team!
Some of the facts about witches you've learned when making The Misconception of Witches you were previously unaware of?
Most of the facts I was unaware of! For me, the journey of telling this story has resonated in a way I did not expect. I've never been a religous person. In fact, I would always say I was more spiritual, but after learning more about the practice of witchcraft and the lifestyle of modern day witches and pagans, I feel closer to that path.
Are there some stories about witchcraft that actually didn't make it into the final cut of The Misconception of Witches?
There was a lot of material from our practitioners. Close to four hours in total without the research, so yes, a lot of that didn't make it into this 40 minute episode.
What can you tell us about your directorial approach to your story at hand?
As a director / production designer, and enthusiast of the holiday, visuals and color were my primary focus. You can't always control that in documentaries, but one particular thing I wanted to accomplish was keeping the color palette close to fall and Halloween colors. This obviously helps this story since witches are very earth centered as well. When searching for imagery, that played a big part of my selection. I also wanted it to have a magical feel, so there are a lot of VFX pieces that my husband and editing partner, Mark Cardone, added that gave it a whimsical feel.
Do talk about your interviewees, and why exactly these people?
Barbara Dolny-Bombar and Rae Davis are very good, long-time friends of mine so that was the start. Roger Lockshier was a friend of Barbara's that she was able to talk into joining, and Dalea Faulkner is the daughter of another of our producing partners from our previous feature film, Turnover. When we chose to interview Rae, who really considers herself more of a pagan or solitary witch, that was the first time she openly discussed being a witch with me. We've been partners in many films and co-hosts of a podcast called Bat Chat. I knew she was not religous and lived a lifestyle closer to paganism, which goes to show how cautious people are about their personal lives even though modern day witches are coming out of the "broom closet" more and more! With Dalea, I was seeing social posts that led me to believe she may also be a witch and sent her a private message on Facebook. She was thrilled to talk about her practice and let me know she had considered broaching the topic herself either through a thesis or book. We had hoped to get a few more different types of witches (Green Witch, White Witch or even the mother of witchcraft, Z Budapest), but ultimately we had a lot of material and felt the four we had were enough for this episode. Hopefully in the future we can delve a bit more into it with those type of guests.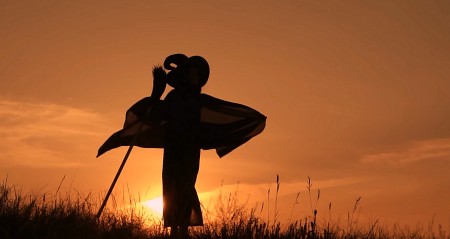 What can you tell us about the shoot as such, and the on-set atmosphere?
We are really operating on minimal to no budget, so Barbara arranged her shoot and Roger's in N. Carolina. Mark and I shot Rae's interview at her house in N. California and Dalea filmed herself after we had a lengthy discussion and I sent her a list of questions. Each of the shoots had only a few people involved at most and so they were pretty calm and relaxed.
The Misconception of Witches is only the first episode of the series Halloween Obsessed - so do talk about the rest of the series and the topics picked up in later episodes for a bit!
Yes, The Misconception of Witches is our pilot. The next episode deals with people who live with the paranormal, followed by an episode all about home haunts and professional haunted attractions. Those are due out this year. Next year, we will be doing an episode on the fascination of horror, another dealing with people who live a Halloween lifestyle, and the final deals with the business of Halloween.
The $64-question, where can The Misconception of Witches be seen?
Right now, we have released it early on our Vimeo channel at this link: https://vimeo.com/ondemand/witches It will be available on Amazon Prime and Tubi later this year. For any of your fans that want to see it, use this promo code to see if for free: SMT
Anything you can tell us about audience and critical reception of The Misconception of Witches?
It recently won an Indie Spirit Award and was nominated for Best Documentary Featurette and Best Documentary Director at the Idyllwild Int'l Festival of Cinema. It's been getting great reviews critcally and from viewers which can be seen at our IMDB page: https://www.imdb.com/title/tt13073378/ratings/ - we would love to hear your fans' thoughts if they see it as well!
Will there ever be a Halloween Obsessed season two - and/or other future projects you'd like to share?

Feeling lucky ?
Want to
search
any of my partnershops yourself
for more, better results ?

The links below
will take you
just there!!!


Ultimately, we're hoping it gets picked up by a larger company that can increase it's exposure. Until then, we will keep putting out approximately three shows per year.
Your/your series' website, social media, whatever else?
All of our info can be found here: https://www.runawayproductions.tv/halloween-obsessed
Anything else you're dying to mention and I have merely forgotten to ask?
We are still looking for people to interview for our Hallowedding episode, so if any of your fans were married on Halloween or have had a Halloween wedding, have them contact me to share their special day. This is part of the Lifestyle episode I mentioned above.
Thanks for the interview!
Thank you!I appreciate you offering.