Your new Halloween special Malvolia's Halloween Game - in a few words, what is it about?
Malvolia is having her annual "Invite Only" Halloween Party... But that doesn't stop Jessie from finding the party address online and crashing it. Like always, Malvolia has some tricks, other than treats, up her sleeve that Jessie never sees coming...
With Malvolia's Halloween Game being about a fan being in the wrong place at the wrong time, is any of this based on your experience with your own fans/partycrashers (and/or wishful thinking maybe)?
Personally, I believe that everything happens for a reason… I had a strict upbringing and always followed the rules. So, nothing like this has ever happened to me. However, one regret I do have it when I was in high school, classmates used to break into Danvers State Hospital at night to look around. I never went, terrified I would get into trouble or arrested for trespassing. If I could go back, I would and go. That place has ALWAYS fascinated me. Bummer it is an apartment complex now.
(Other) sources of inspiration when writing Malvolia's Halloween Game?
Honestly, I write scripts around what I have and actors that I know and love working with. I knew I could get a house with a possible garage. I played upon what happened to the characters from the previous specials and I just wanted to have fun. Malvolia has never "died" before and I'm sure would LOVE that feeling, so, I played with that idea a bit.
You do a Malvolia: The Queen of Screams Halloween special every year, and of course it pretty much comes with the character, but what does Halloween mean to you personally, and any fun Halloween stories not yet committed to the screen?
Halloween has always been a memorable time for me. My mother made me countless costumes and it was always a fun time collecting candy and walking around with friends. I'm still wavering if this was the last season or not… I haven't thought that far to next season if there would be one. I usually just write as I go.
Do talk about Malvolia's Halloween Game's brand of both horror and humour for a bit!
I've been told that I have a witty sense of humor. When creating the character, I based her off of Vampira and Mortica Addams. Both beauties have a dark, humorous side to them. But I wanted to go darker. Thesarus.com is my bff and I try to think twisted, dark, and evil when I write.
You also play the title character in Malvolia's Halloween Game, a character you've been playing for quite some years now - so what do you usually draw upon to bring Malvolia to life, and how has she developed/grown over the years?
She's definitely grown on her own over the years. We started her out as campy, but I knew I never wanted to stay there. I just kept bringing the dark. Evil, cunning, malicious… I thrive off of it!
What can you tell us about the rest of your cast, and why exactly these people?
Hunter Johnson and Richard Trejo have been my OG's with Malvolia. They have been around since Day 1. So, whatever they want to do, whether it is to write, direct, or act – they always have first dibs. Hunter, Brialynn Massie, Charles Chudabala, Thomas Haley, Lara Jean, and Sheri Davis have all created their characters before on the series – so I brought them all back in their wildest forms! As far as Sarah Schultz, I had originally written the part of "Jessie" with another actress in mind. When I saw that actress was in NY for a longer period of time (I thought she moved home, but she was just there for vacation) I put out a Facebook post (I really only like to work with friends or friends of friends for Malvolia. I know they will show up, are hungry for work, and will share the project on social media) and a couple girls jumped at the chance, but I have known Sarah and have wanted to work with her for a long time, so Sarah won the role! Again, everything happens for a reason! Reyna M. Velarde is someone I've known in the genre for a bit, just haven't been able to work with her yet. And Carter Allen is a friend of Reyna's who gladly stepped up for some fun!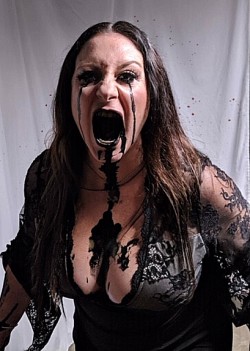 You also have to talk about Malvolia's Halloween Game's director Paul Stephen Edwards for a bit, and what was your collaboration like?
Paul is like that guy who may not know everything about me nor know how I am feeling in a moment, but already knows how I am feeling. I worked with him on my short film Slit, and we have a chemistry like nothing I've ever experienced before. He has a moodiness to him that he knows how to grab the emotion from the script and will make everything hauntingly pretty. Like you're right there with us, not just watching us. Paul is a loyal collaborator and friend. He's more talented than people give him credit for. I like to showcase people's talents on Malvolia that no one allows them to do other wise.
A few words about the shoot as such, and the on-set atmosphere?
We're all friends and we always have a ton of laughs. We shot over two scorching hot days at Paul's house in Long Beach. I was in a car accident in the morning of day 2 and by the time I was able to get to set, they had started filming and moved along. So professional and such a stress reliever for me. By the end, it was a fun day! The kids were a joy to work with. I love their energy and they point of view.
The $64 question of course, where can Malvolia's Halloween Game be seen?
www.youtube.com/c/malvoliathequeennofscreams or direct link: www.youtu.be/Qe8XO07Xzes
Anything you can tell us about audience and critical reception of Malvolia's Halloween Game yet?
It was a different feel to Malvolia, but then again, every special and every episode is different. I don't like to stick to one feel. I like to keep it fresh and terrifying!
What's in the cards for future episodes of Malvolia: The Queen of Screams, and any other future projects you'd like to talk about?

Feeling lucky ?
Want to
search
any of my partnershops yourself
for more, better results ?

The links below
will take you
just there!!!


I announced on January 1st, 2020 that I will be doing a Malvolia Horror Anthology. Not so much hosting, but it will be all acting. Telling her backstory and other creepy tales about her. I'm excited. As for season 4, not sure if I'll return…
Your/your series' website, Facebook, whatever else?
www.youtube.com/c/malvoliathequeenofscreams
www.facebook.com/queenmalvolia
www.instagram.com/queenmalvolia
Thanks for the interview!