Your new movie Paranormal Farm 3: Halloween - in a few words, what is it about?
Paranormal Farm 3: Halloween sees myself and Taz return to the farm to finish the behind-the-scenes documentary - in doing so we wanted to tie up all loose ends from the other two films.
Paranormal Farm 3: Halloween is a direct continuation from the first two Paranormal Farm movies - so was the concept intended as a series from the get-go, and how do you think the third film complements but also differs from the first two?
Part One was supposed to be a standalone found footage film, but as soon as this film captured the imagination of its viewers we discovered we had some hardcore fans who were asking for more, so parts Two and Three were crafted for them. That being said we had so much fun making these films - I always say if you have fun making the films this emulates onto your audience.
What were your sources of inspiration when writing both Paranormal Farm 3: Halloween and the series as a whole? And do talk about youf movie's approach to horror!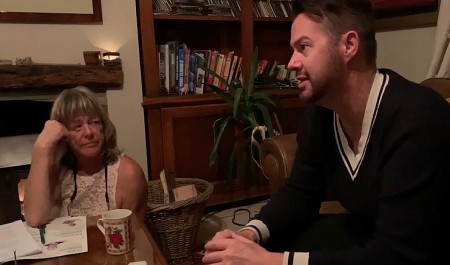 with Lucy French
When crafting Paranormal Farm 3: Halloween I knew it had to remain meta in its approach, what I capture on the iPhone has to feel like Iím shooting a behind-the-scenes documentary, this footage has to appear unedited and authentic, but still tell the necessary story. My challenge was to ensure it does not play out as a punchy polished film, it had to feel choppy, raw and engaging. And I donít take for granted for a viewer to arrive at the final resolve throughout this trilogy, a viewer has to invest over 5 hours, which is a big ask, however with new data highlighting habits of binge viewing behaviours, I knew it was imperative for my audience care about and believe in the characters, but also in the story itself. I hear from many fans who really are invested in our characters and really feel invested in the actual investigation itself. I am flattered that so many viewers have not only committed to the trilogy but are asking for another chapter. This delights me that people embrace the films with the heart and spirit that was intended.
There are many salutes to horror films I have loved over the years. Part Three pays tribute to Carrie, Halloween, but the biggest twist in part three is that the trilogy sits in the same universe as our previous film The Spiritualist, this was a big talking point among many of our hardcore fans who have seen our wider catalogue of horror films.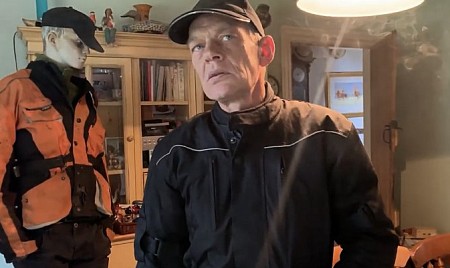 Darren Earl Williams
All three Paranormal Farm movies were shot found footage style - why, and how do you feel this approach to filmmaking has evolved from film to film (if at all)?
The power of found footage is how it transports the viewers from their armchairs to the farm, it's designed that they are the investigator and quite often one step ahead of the investigation from mine and Tazís characters, the biggest step change in style was from part one where you think your watching found footage to the other parts where we acknowledge part One was in fact a film, and parts Two and Three were us making a behind-the-scenes documentary to support the film, thatís when the meta approach really turned itself on its head. Also in parts Two and Three Taz does most of the camera work which places me further into the documentary and gives me a partner in crime.
You used the same farm for all three Paranormal Farm movies - so have the films at all affected the location, and what was it like filming there time and again?
The farm has a true place in my heart, coming from a farming background myself itís a landscape Iím familiar with and have some of my fondest childhood memories from. I feel farms that are vast in size can make you feel isolated and can often be brutal, so these are the perfect qualities for horror. Although it was great to have a familiar setting for us and the audience, it was important that in each film, we discover a wider community so each film feels bigger and introduces us to other country folk.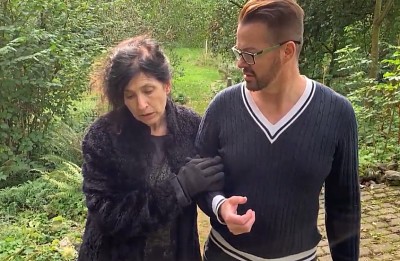 with Caroline Burns Cooke
What can you tell us about Paranormal Farm 3: Halloween's key cast, and why exactly these people?
Darren Earl Williams and Lucy French really do play themselves on their farm. I always love capturing authenticity, if you film interesting people then the audience become interested. So casting them is a no brainer, the same with Harvey. Part of the appeal is the fact the audience really donít know if they are just brilliant actors or it's real, that has always been the biggest compliment to us all as that was what we strived and hoped for, myself and Taz just love telling horror stories, we are kindred spirits and just love scaring each other, many of the jump scares in part Three are real where we just played tricks on each other so we capture genuine reactions. Then we have the actors, which really made me think about our approach in using actors along non-actors. Fortunately I knew who would be the perfect blend from the outset and I got all three actors needed to bring the drama. I knew part Three was all about drama and resolve so it had to lean into a Murder She Wrote climax and I needed elements of naturalism and moments of melodrama which Robert Gray, Caroline Burns Cooke and Nicole Faraday provided in bucket loads. I have directed Robert and Caroline in previous films and loved Nicole in Bad Girls and Emmerdale Farm - I guess that's a winning formula for Paranormal Farm 3: Halloween.
A few words about the shoot as such, and the on-set atmosphere?
I can only describe these as passion projects, when I step onto Lucy and Darrenís farm I transend into another world, a word with no boundaries and open to 5 days of play and creativity, I go back to a childlike state, have fun, it's liberating making a film from a passionate space and not a storyboard in sight. I grow as a director and performer on the farm, itís amazing what some fresh air and allowing yourself to be vulnerable can do. I think because we have fun with these films people have fun with them. Its only currency these films are created on is love, fun, friendship and plenty of heart that what makes them original and connect with the audience.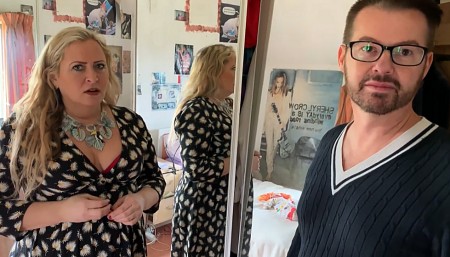 with Nicole Faraday
Anything you can tell us about audience and critical reception of Paranormal Farm 3: Halloween?
Iíve been blown away with the reviews we have received - in my career as a writer director/producer Iíve noticed when my films connect with its intended audience, but Iíve never really had a following like this, I have students wanting to make a documentary about the films, people connect with me on social media telling me of their marathon days when they meet with their friend and have a trilogy screening marathon. Social media has shown this franchise a lot of love. It makes me happy that these films have a wide appeal beyond found footage. Iím not saying its everyoneís cup of tea, after all there are people who prefer coffee, I only make these films on the request of the audience, when they have enough then I'll focus more on my other films.
Will there ever be a Paranormal Farm 4, and/or any other future projects you'd like to share?
Well some people say The Spiritualist is part four as thatís the timeline of the films that exist in the same universe. All I can reveal now is Paranormal Farm 3: Halloween ends with a phone call where we have been asked to investigate a haunted house in Hollywood, so will Taz and myself be able to turn down shooting our first Hollywood film? Ermmm no lol, and there has been a real death in this house so Iím sure there will be some ghosts coming out the closets over there. There is a couple other films I aim to direct , one on Rose West and a thriller set in Brighton, all depending on funding etc.

Feeling lucky ?
Want to
search
any of my partnershops yourself
for more, better results ?

The links below
will take you
just there!!!


Your/your movie's website, Facebook, whatever else?
Anything else you're dying to mention and I have merely forgotten to ask?
Just if anyone likes the films please write a review on Amazon or tweet about it.
Thanks for the interview!