Hot Picks

Zombie Cats from Mars


USA 2015
produced by
Montetré, Ryan Cloutier (executive) for Mwb3 Problems
directed by Montetré
starring Bransen Sands Koehler, Estevan Muñoz, Bobby Bridges, Joon Rhee, Cheyenne Shaw, Ernest Adams, Janae' Werner, Stephanie Leet, Eric Pease, Edward Zopf, Benni Harper, Brad Stein, Kathryn Bennett, Greg Fish, Josh Edward, Josh Mackey, Julie Marie Howard, Donovan Etzel, Jonah Kersey, Sean Sitton
written and music by Ryan Cloutier, special makeup effects by Samantha Nylen, Sierra Rockett, visual effects by Josh Mackey

review by
Mike Haberfelner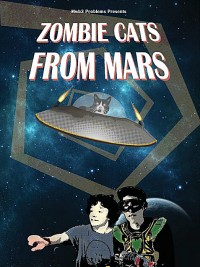 Starting with the crazy cat lady (Janae' Werner) down the road, a small US American town is shattered by a series of killngs that are so bizarre (and in fact pretty diverse) that the police can't even come to the conclusion if a serial killer's at work or the murder rate has just gone up due to some freak coincidence. Thing is, no conclusive clues are found at whichever murder scene, and there are never any witnesses. Only youngster Billy (Bransen Sands Koehler) thinks he knows what's going on, since he has seen a UFO landing, a cat escaping from same, and has gone through the town records to come up with the answer: All the local cats have been turned into killers by killer cats from Mars out to take over earth, and can only be stopped by holy water - and yeah, right, likely story, which is why the authorities don't believe him one bit (and are all killed by cats as sort of retribution) and he sees himself forced to turn masked vigilante to save the city on his own ...
Ok, Zombie Cats from Mars is by no means a great film in the traditional sense of the word: It has been made on a really low budget and thus suffers from many technical issues. And I have to admit, in the beginning the movie runs out of the promise its title makes pretty quickly, seeming like a one-trick pony outstaying its welcome ... and eventually everything turns in the film's favour: It's really once the premise of the film is set up, the longer it goes the better and funnier it gets, as bizarre details are thrown into the mix, the movie starts to make more and more fun of itself (without going too moronic), and it surprises with fittingly silly plottwists (like Billy turning into a wannabe superhero) and a Twilight Zone-like ending.
Now definitely not a film for everyone, but a great party flick of the alien invasion variety all the same ...