Hot Picks

- Nox 2019
Venial


USA 2014
produced by
Joe Ciminera for Hexane Productions
directed by Joe Ciminera
starring Tiffany Browne-Tavarez, Julia DeGregorio, Madison VanDeusen, Joshua Pickel, Julie Notwicz, Joe Ciminera, James Sferrazza, Frank Riano, Robert Arensen, Gianna Ciminera, Alexa Ciminera, Amanda Belen Martinez, James Terriaca, Thomas Bencivenga, Mike Valva, John Formica, Shirley Powell, Patrick Antonecchia, Keeler Jay Verson, Timothy Schweitzer, Nicole Rosenberg, John Basedow, Bob Socci, Frank Socci, Gene McParland, Dennis Carter, Tom Mastrianni, Corey I. Fader
written by Joe Ciminera, music by Kevin MacLeod, Matt Brunson, FreddyFool

review by
Mike Haberfelner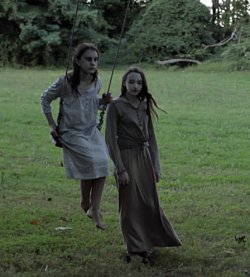 After receiving the news that her husband (John Basedow) has fallen in the war, Claire (Tiffany Browne-Tavarez), a so far devout Christian, denounces God. This might not sound like much, but soon her three kids (Julia DeGregorio, Madison VanDeusen, Joshua Pickel) start to witness weird occurences in the house - in a word, ghosts. But while that might seem plenty upsetting, the really upsetting thing about it that their mom refuses to take them seriously and tries to calm them. Instead she just scolds them and leaves them alone with their fears - which gets them into enough of a rebellious mode to call on the church for help. The local priest, Father O'Brien (Robert Arensen) sees little cause for alarm, just seeing a woman stricken down by grief. But his assistant, a trained exorcist (Joe Ciminera) decides to return to the house a couple of days later with two colleagues (James Sferrazza, Frank Riano) to perform the proper rites to cleanse the house ... but alas, they never reach their destination, being killed by ghosts trying to get there.
Children have been disappearing in the neighbourhood in recent weeks, a Constable (Mike Valva) questions Claire about the well-being of her kids, a conversation that starts out as purely routine, but Claire's behaviour grows increasingly weird so the constable can't help but start suspecting her.
Learning about the goings-on in the house from her (benign) ghost friends, a local psychic (Julie Notwicz) decides to take the newly vacant post of maid at Claire's estate, and the psychic soon finds out that the place is more than just a little haunted, but also that there's something seriously wrong with Claire, as if she was influenced by beings from another realm. Oh, and then there are her children, who are in mortal danger ... if it's not already too late ...
A very powerful and atmospheric supternatural thriller that might not have all the answers to what's going on ... and that, really, is part of its strength, it is about the creepiness of the situation, so what good would explaining it away do? Add to this a strong yet subtle directorial effort that makes the most out of often very little, and a chilling central performance by Tiffany Browne-Tavarez, all set in front of pretty great and moody locations, and you have simply got yourself a pretty good movie!