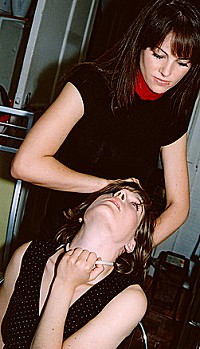 Maja Loom strangles Sandra Lüdke
On Halloween, Bianca (Maja Loom) recieves a surprise visit from two intruders in Halloween masks who tie her up and gag her, only then do they unmask themselves to make themselves known to her as her old schoolmates Babs (Katja Kontschieder) and Maria (Sandra Lüdke) - the schoolmates rich daughter Bianca always looked down on. Now though they want to pay her back all the mental pain she has caused them, by first torturing the PIN of her credit card out of her. Then Babs, the more level-headed of the two, decides to go shopping to max out the credit card of Bianca, while she leaves Maria with their captive. Left alone with Bianca though, Maria more and more falls apart and before long proves to be a regular mental case. But despite being almost constantly tortured by Maria, Bianca somehow manages to free herself, upon which she tries to strangle Maria to death. Babs arrives just in time though, and together, she and Maria once again manage to overpower Bianca. Then they torture her some more while getting totally wasted on the champagne Babs brought home from her shopping trip. When they get sleepy, they tie Bianca to her bed and lie down next to her. In the middle of the night though, another intruder in a Halloween mask shows up to strangle Babs and Maria to death ...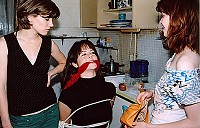 from left to right:
Sandra Lüdke, Maja Loom, Katja Kontschieder
Of course, The Halloweenies is another variation on the Unhappy End!-series main theme (and director Michael Huck's favourite theme for that matter): Women tieing each other up and torturing each other. That however is not to say that Halloweenies isn't an interesting (and well-made) featurette, a fine and mean psycho-drama with Déborah Behrens perfectly cast as the victim and Sandra Lüdke showing once again her capability in playing a psycho-bitch (just the roles these two women played in Huck's Last Laugh actually). And you can almost depend on Michael Huck's storytelling skills to spice up his already familiar story with a few surprise plottwists to make it fresh again ...