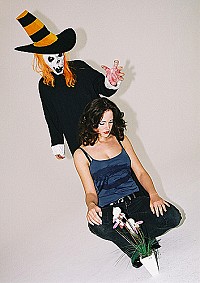 Maja Loom
A model (Maja Loom) arrives at a photo studio for a shoot, only to find it empty - and be attacked and knocked out by a figure in a cheap Halloween mask soon afterwards. When the model comes to again, she finds herself tied up and gagged, and her assailant reveals herself to be a girl she went to school with (Sandra Lüdke), whom she and her friends played pranks on though, who has gone a bit insane because of that ... and who now wants her revenge. The revenge involves cutting the model up a bit, then tickling her to death - literally.
How that works: By tying the model's feet to a noose around her neck, then tickling the bare feet to such an extent that she slowly strangles herself - and since miss model is extremely ticklish, this works, too.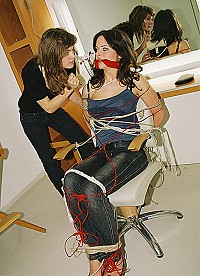 Sandra Lüdke and Maja Loom
Despite its story's premise, this is not so much a slasher movie, survival horror or torture porn but a psychological drama that centers around the war of wits between the two women - who both do a great job, especially Sandra Lüdke, more and more losing it in the course of the plot, is positively frightening. Only the ending of the film is a bit of a letdown, since it doesn't pack quite the punch it should have, and lacks the surprise twist that made most other Unhappy End! episodes so enjoyable. Yet it was exactly this episode that was (in an entirely re-edited version and with added storylines) extended into a feature film called - you guessed it - Last Laugh ... which was a brilliant idea, if there ever was one, as the feature gives the story (which has become a story arc) a whole new dimension, eliminates the neeed for a surprise ending, and increases the effectiveness of Déborah Behrens' death scene - without being any more graphic than in the featurette.
But while the feature film is preferable to this here featurette, this is still very much a watchable and enjoyable film on its own.
This film can be ordered directly from the director via email - MichaelMHuck@aol.com (preferred) -, phone - +49 30 / 345 1338 - or the production company's website - http://www.gator-group.de.