Hot Picks

- Ivy 2017
Todd


USA 2021
produced by
AJ Belongia, James Catizone, Travis Cecil, Emily Ann Cecil, Joanna Fang, Aaron Jackson, Lisa Wassel, Aaron Warren, Hans Hernke, Peter A. Lees (executive), Steven M. Smith (executive), Trace De La Torre (executive), Christopher S. Begley (executive), Doug Wall (executive) for Pain Productions, SFN Productions, Dangerous Curves Productions, Am I The Butterfly, Greenway Entertainment
directed by Aaron Warren
starring Aaron Jackson, Hans Hernke, Laura Stetman, Clare Lopez, Jason Menz, Rhonda Cusumano, Savannah Grace Elmer, Eliana Ghen, Michael Winslow, Mercedes Gutierrez, Calvin Waldau, Robert C. Barnes, Vinny Burruto, William Henderson
story by Aaron Warren, screenplay by James Catizone, music by Mark D'Errico

review by
Mike Haberfelner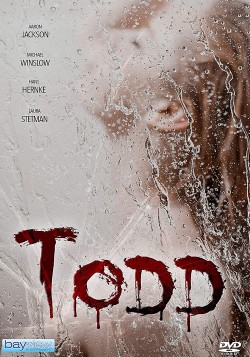 Todd (Hans Hernke) is a man with enough psychological and social problems that others classify him as "weirdo", so in a way it's a good thing that he has sessions with psychiatrist Dr. Miller (Aaron Jackson) - but what's not so good is that he never takes Dr. Miller's advice to try and find a job and to socialize, instead just wants the doctor to change his prescription every other week. And Dr. Miller doesn't take their sessions too lightly, either, as they build up frustrations inside of him, which he eventually acts out on his wife Kate (Rhonda Cusumano) and daughter Ashley (Savannah Grace Elmer) - besides taking to drinking at Jake's (Michael Winslow) bar.
One day, Todd (literally) bumps into waitress Amy (Laura Stetman) in the streets, and he takes to her almost immediately - which leads to him paying frequent visits to the restaurant she works at, but after a time also trying to find out where she lives. Now Amy's a wannabe actress, with dreams of one day going to Hollywood, so when she one day meets an actual "movie star" (Jason Menz), she's a total pushover and lets him seduce her in no time - without getting anything in return.
Todd is not happy with Dr. Miller's treatment anymore, and leaves his care after a disagreement. But he now tries to find out where Dr. Miller lives - and with Todd under no medication and without psychiatric supervision, he's just a ticking timebomb ripe to go off ...
Now while this movie sure makes generous use of psycho thriller tropes, it's by no means your run-of-the-mill thriller, basically because it doesn't center its story around suspense setpieces, instead develops its characters to the fullest, and this way manages to create a proper feeling of unease, which unloads itself in the finale in a rather unexpected way. And thanks to a very subtle directorial effort and a strong ensemble cast, this tactic works out very well, making this one rather cool if disturbing genre piece.