Hot Picks

- Nox 2019
Seeing Evil


USA 2018
produced by
Jason Henne, Christopher Leto, Robert Norman (executive) for Reaper Films
directed by Christopher Leto, Jason Henne
starring Taylor Girard, Rebecca Hope, George Vricos, Annabelle Vega, Sean Michael Gloria, David E. McMahon, Robert Norman, Steve Heinz, Dustin Seabolt, Justin James, Lee Alicea, Patrick Weston, Lisa Sherman, Rob Dicaro, Lisa Streetman, Tracy Roese, Ian Longen
written by Jason Henne, music by Tanner Hand, Thomas Pursifull

review by
Mike Haberfelner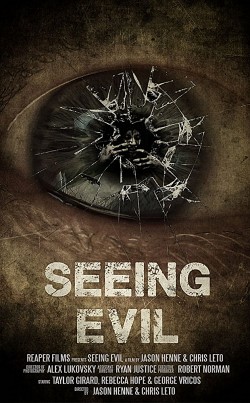 A couple of years ago, Will (Taylor Girard) has lost pretty much everything to his addiction, including his job, his family, his home, and he has lived the life of a bum since. But then something happens, he's struck by lightning - and while this doesn't leave any physical damage to speak of, it does change him: On the plus side, he suddenly has complex talents he has never acquired, like he's able to play the piano like a concert pianist, and he can fix laptops with the crudest of tools. On the negative side though, he starts to see ghost-like people nobody else can see, and they freak him out, to say the least.
Anyways, totally against expectations, Will is offered a job as a party pianist by some rich guy by the name of Donovan (George Vricos), and the change also gives Will the courage to try and make up with his wife Carrie (Rebecca Hope), who after initial reservations lets him into her home and heart, and the two fall in love all over again. Life could be happy - if it wasn't for these strange apparitions Will continues to encounter, and the couple's attempts to get to the bottom of things leads to nowhere. And then there's of course still the party Will has to play at, and it's no wonder things come to a head right then and there ...
Now here's a clever little movie, one that seamlessly weaves together elements of a ghost story, a conspiracy thriller and a psycho drama without ever losing its story in the process, and yet succeeding in keeping the audience surprised throughout. And of course, a competent cast, and a directorial effort that gives its actors and story enough room to breathe only help to bring the movie's point across and keep the audience involved in the story and guessing what might happen next.
Worth a watch for sure.