Hot Picks

Rabid


Canada 2019
produced by
Paul Lalonde, John Vidette, Michael Walker, Charlie Dorfman (executive), David Gilbery (executive), Larry Howard (executive), Martin Andrew Lyon (executive), Paul McGowan (executive) for Back 40 Pictures, Twisted Twins Productions, Media Finance Capital
directed by Jen Soska, Sylvia Soska
starring Laura Vandervoort, Hanneke Talbot, Ted Atherton, Benjamin Hollingsworth, Mackenzie Gray, Stephen Huszar, Stephen McHattie, Edie Inksetter, Heidi von Palleske, Tristan Risk, C.M. Punk, Greg Bryk, Jen Soska, Sylvia Soska, Tara Yelland, Lily Gao, A.J. Mendez, Joel Labelle, Amanda Zhou, Jesse Griffiths, Vanessa Jackson, Ava Close, Diana Diaz, Dion Karas, David Chinchilla, Lucas Meeuse, Phil Borg, Avaah Blackwell, Allison Feliciano, Hillary Daley, Daniel Chichagov, Lynn Lowry (in photographs only)
written by John Serge, Jen Soska, Sylvia Soska, based on the film by David Cronenberg, music by Claude Foisy

review by
Mike Haberfelner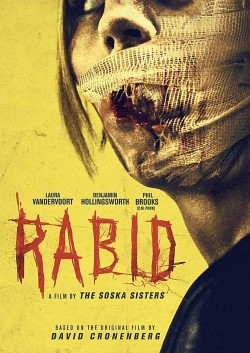 Rose (Laura Vandervoort) is a slightly mousey fashion designer working for eccentric fashion mogul Gunter (Mackenzie Gray), but she's at best mediocre, and usually the butt-end of everybody's jokes. Her best friend, model Chelsea (Hanneke Talbot), worries about her and decides to set her up with good-looking photographer Brad (Benjamin Hollingsworth) behind her back, but when Chelsea finds out her "date" with Brad has actually been fabricated, she leaves the scene in a hurry on her moped - and is run over by a car ... and the accident leaves her face grossly distorted, to the effect that her mouth is sewn shut to hold the pieces together. She considers herself a monster, and even Chelsea's assertions to the contrary can't convince her otherwise - and then she learns about a new method of restoring skin tissue developed by one Dr. Burroughs (Ted Atherton) that promises to make her beautiful like never before. Problem is, the method is still in its experimental stages, is highly controversial as it is, and might be dangerous - but Rose is ready to try virtually everything ... and Burroughs' method works better than expected, it not only makes her look more beautiful than ever, it also boosts her self confidence, wit and crativity, and just like that, she becomes Gunter's favourite designer for his forthcoming collection. And hey, she even starts to have an actual relationship with Brad. But of course, all of that comes with a price, as at night, Rose goes on the prowl, attacking and biting those who feel attracted to her, from pompous soap star Dominic (Stephen Huszar) to misogynist low-life Billy (C.M. Punk). Now that alone is bad enough, but what's worse is she gives all these people some new form of rabies, rabies that soon starts to spread at an alarming rate all through town. Of course, the authorities see it best to hush things up, but Rose knows something's very wrong - but hasn't time to worry about it since the presentation of Gunter's new fashion line is imminent, and her main design is about to close out the show. With rabies spreading in her circles though, this can only mean one thing - disaster!
One of the few instances of a remake done right, and that's basically thanks to the Soska sisters: For one, they really and intimately understand body horror (even if they've not made a body horror film since the groundbreaking American Mary), they admittedly adore David Cronenberg but don't even try to ape him or his 1977 film Rabid, but infuse the basic story with much of their own predilections and their own dark humour. And all the same, they don't even attempt to hide the film's a remake, hiding many a reference to Cronenberg's work as such (including photos of genre icon Lynn Lowry, star of Cronenberg's Shivers, posing as pics of Dr. Burroughs deceased wife) in the film while effortly taking the film its own way. The result is a very well-written and put-together but above all bizarrely fun shocker that proves the Soskas as filmmakers in their own right even if they handly a remake, a remake that's perhaps not "better" than the original but really manages to stand on his own, also of course thanks to a very solid cast and fittingly grotesque effects work, especially in the finale.
Totally worth a look!