Hot Picks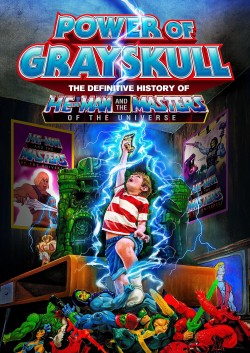 He-Man and the Masters of the Universe was a pop-cultural phenomenon of the 1980s that made its transition from toys to comics to an animated series (plus spin-off) to feature film to (temporarily) vanish into obscurity by the end of the decade. But who invented the franchise, who came up with the characters and backstory? The truth is, nobody in particular - but no, the answer is more complex than that. Back in the late 1970s/early 80s, toy manufacturer Mattel, maker of Barbie, had lost out on a deal of making Star Wars action figures and turned down a deal to produce merchandise for Conan the Barbarian as it was an R-rated movie not in line with the company's family-friendly image. But taking cues from both these movies they developed a series of action figures living in a sci-fi/fantasy world that could strike a chord with the kiddie crowd - but since action figures alone are worth little without context, Mattel would add picture books and comics to each pack - which is where a muddle-up crept in, since nobody actually invented He-Man and company but he was developed by several designers, those tasked with doing the companion books developed their own mythologies, differing wildly from each other. On came DC Comics, who saw potential in the characters and ran several He-Man stories in the pages of DC Comics Presents (including a cross-over with Superman) to some success that ironed out the mythology, which was followed by animation studio Filmation striking a deal with Mattel to develop the now legendary animated series He-Man and the Masters of the Universe - a sort of first, as it was the first series specifically developed to sell more toys. Soon this series was followed by She-Ra: Princess of Power - both as toyline and on the small screen, and the franchise grew and grew until things culminated in the Cannon-produced live action film Masters of the Universe starring Dolph Lundgren and Frank Langella in 1987. But not only was this movie not free from flaws, also the interest in the property has already begun to wane - but an iconic character like He-Man isn't one to die anytime soon ...
It really doesn't matter if you've ever been a fan of He-Man and the Masters of the Universe (in whatever shape or form) - and for the record, I haven't -, this is a fascinating documentary, as it manages to not only tell a rather extensive history of the birth and evolution of the franchise, it also offers plenty of insight into modern, corporation-driven myth-building, not in the least by its many interviews of all sorts of He-Man creators, collaborators, and even Dolph Lundgren and Frank Langella, and it doesn't sugarcoat to hit a high note with toy collectors but remains honest throughout - and at the same time it manages to capture the fascination of the franchise, despite its admittedly derivative and hodge-podge mythology.
Definitely worth a look, especially if you've grown up in the 1980s.