Hot Picks

Mysterious Circumstance: The Death of Meriwether Lewis


USA 2022
produced by
Amye Gousset, Robbie Fisher, Morgan Cutturini, P.J. Leonard, John Schneider (executive), Alicia Allain (executive), Michael Mosca (executive), Clark Richey (executive) for Six Shooter Studios, Fisher Productions, Starling Road Productions, Maven Entertainment
directed by Clark Richey
starring John Schneider, Evan Williams, Sonny Marinelli, Amye Gousset, Billy Slaughter, Lance E. Nichols, Marcus Dupree, Rider Mayo, Josh Whites, Jamie Fair, Keandre Wicks, Chad McMahan, Cotton Yancey, Clark Richey
written by Clark Richey, music by Dalton Grant, song by Evanescence

review by
Mike Haberfelner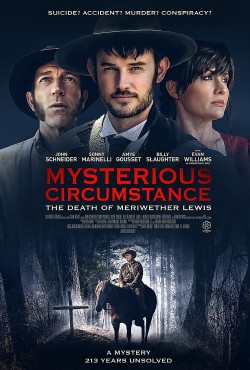 In his time, Meriwether Lewis (Evan Williams) was a famed explorer of the West, his main claim to fame being leading the Lewis and Clark Expedition that explored the territory of the Louisiana Purchase from 1804 to 1806. He was also a dear friend of President Thomas Jefferson. And yet inm 1809 he died from gunshot wounds in a remote inn 70 miles off Nashville called Grinder's Stand, with the death initially being ruled a suicide.
In 1811, ornothologist Alexander Wilson (Billy Slaughter), who claims to be an old friend of Lewis as well as the president, stops by Grinder's Stand to interview the inkeepers. Now Robert Grinder immediately takes himself out of the story by claiming he wasn't even present that day, his wife Priscilla (Amye Gousset) more or less retells the official story, that Lewis arrived at the inn in a very confused, depressed state, with his escort Neely (John Schneider) nowhere to be seen. After he sent his entourage (Lance E. Nichols, Marcus Dupree) to sleep in the shed, he had a bit too much to drink at dinner, retired to his room, and shot himself - twice. When inquiring some details though, Wilson notices slight irregularities in Priscilla's story, and her husband starts to act noticeably more hostile the longer the conversation goes, so in his head, Wilson makes up his own theories of what could have happened: It might have been a simple robbery, or a crime out of jealousy, or evensomething politically motivated. But with Priscilla as the only witness, he'll never know which of the stories he has made up is closes to the truth ...
Now with its repeated retelling of a story with slight and not so slight differences, this movie of course is more than a bit reminiscent of Akira Kurosawa's Rashomon (which has actually been remade as a western, The Outrage, by Martin Ritt in 1964), but to this film's credit the similarities to Kurosawa's masterpiece are only very superficial, with the true story nature of this movie removing it even further from the Japanese film. And taken on its own terms, this is actually a pretty good old West mystery which might happen on a pretty small scale, but the scale makes the story very intimate, which in turn increases its impact. And a direction making the most of its sets and locations as well as a grounded ensemble cast lending believability to their roles make this a very cool film.