Hot Picks

Karate Kill


USA / Japan 2016
produced by
Mitsuhiro Okazaki, Chiaki Yanagimoto, Naoki Kubo executive for Mamezo Pictures
directed by Kurando Mitsutake
starring Hayate, Asami, Kirk Geiger, Katarina Leigh Waters, Tomm Voss, Mana Sakura, Miki Kawawa, Jeffrey James Lippold, David Sakurai, Akihiro Kitamura, Tia, Carlee Baker, Bill Posley, Masaya Kato, Noriaki Kamata, Shin Shimizu, Toshiya Agata, Oji Osuga, Jin Park, Kotomi Miyashiro, Akihiro Haga, Takashi Nishina, Ben Dukes, Antuone Torbert, Yoichi Okamura, Marco Garcia-Ballare, Tomio Aoki, Kazuhiro Nanba, Ryosuke Iwamoto, Drew Fitzsimmons
written by Kurando Mitsutake, music by Dean Harada, action director: Keiya Tabuchi, karate coordinator: Hayate

review by
Mike Haberfelner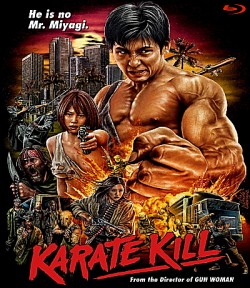 Kenji (Hayate) is worried, having not heard from his sister Mayumi (Mana Sakura) in a long time - and since he's her sole relative, and she has gone to study acting in the USA on her own, he starts to worry - and thus he decides to fly over and check on her. And it's not long before he starts to worry, as he finds out the place where she used to live is a run-down crack den, and she has worked as a hostess at a seedy night club. Kenji tries to get informations about her whereabouts at the night club then, but these guys aren't willing to talk and would rather beat him to a pulp. Good thing then that he's a karate master, so he manages to beat everybody in the club to a pulp (or worse) and does find out what he has come for - he just doesn't like it much: An organisation called Capital Messiah has kidnapped her and is now holding her captive at their Texas headquarters. The problem is that the organisation's boss is a cult-like leader, and he's into brainwashing girls to make them do his bidding in every which way, then having them star in snuff movies in the victim role for internet Dollars.
So it's down to Texas for Kenji, where he soon notices that everybody's carrying and his karate as it is is no match for guns. Thank God then he crosses the way with gunwoman Keiko (Asami), the only woman who ever escaped from Capital Messiah, and now she wants revenge - and Kenji might just be the missing piece in her plan to have just that, while she at the same time is able to teach Kenji how to evade bullets. So after some training they ought to be an invincible fighting machine, right? Right, but when they enter Capital Messiah's camp, they walk into a trap - and Mayumi's an active part of it ...
Now one thing's for sure, Karate Kill won't win any prices when it comes to subtlety - and quite frankly, it hasn't set out to and that's a good thing: Basically, the film's a great reminder of grindhouse martial arts movies of the 1970s and similar videostory fodder of the 1980s and 90s, from both sides of the Pacific really. And not so much in style either but in story and anything-goes approach: Basically, realism never factored high in these movies, the stories were simplistic with the lines between good and evil drawn very clearly, the fights were brutal and bloody, and the body count high - and a few hot babes never hurt, either ... and the same's true for Karate Kill, and even if this film seems to take itself very seriously, it can't denie the fun of its makers telling its story.
If you're at all into B-action cinema, this is one you're bound to like!