Hot Picks

Horno


USA 2009
produced by
Nicole Williams for Cinema Threat Productions
directed by Terrence Williams
starring Carlos Javier Castillo, Frank Merchant, Jesselynn Desmond, Mitch Ryan, Ingrid Nicole Kennedy, Oceana Christopher, Terrence Williams, Audrey Orozco, Nicole Williams, Kenneth Dunn
written by Terrence Williams, music by Greg Stanina, Juan Reyes, special effects by Nicole Williams

review by
Mike Haberfelner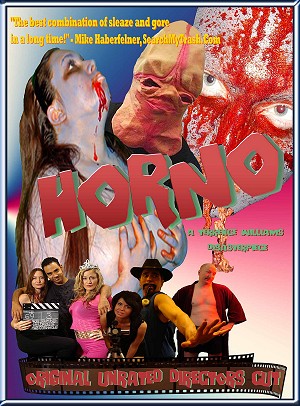 Horno - available at
Ron (Carlos Javier Castillo), a small-fry porn director of Ed Woodian enthusiasm but unfortunately also his talent (and don't forget, Ed Wood has directed porn as well [Ed Wood bio - click here]), is convinced he's destined for something bigger and thus makes his next movie a horror-porn-blend, a genre he dubs horno. On set, he has to deal with all the usual problems of a story-driven porn production, like an entire cast devoid of any and all acting talent, a camerawoman (Ingrid Nicole Kennedy) falling in love with one of the actresses (Oceana Christopher), actors (Frank Merchant, Mitch Ryan) with erectile problems, and the like. Things really get out of hands though when his male lead Dick Nasty (Terrence Williams) not only has his dick bitten off by his girlfriend (Audrey Orozco), who has turned into a zombie after taking some new drug, but Dick is also turning into a zombie himself, starting to kill his castmates - who also turn into zombies of course ...
As Ron's cast and crew (which were skeletal to begin with) get smaller and smaller, he by and by finds out the source of the zombies, the very drug his (gay) male leads take to get it up in a hetero scene. And ultimately, to get out of the whole story alive, Ron has to kill his best friend, who's just on the verge of turning into a zombie - but fortunately he has caught the whole thing on camera and is able to sell it to his producer as the film he was intending to make. The movie becomes a phenomenal success, but unfortunately, Ron has forgotten that one of his male performers-turned-zombies has escaped the set to roam the streets ...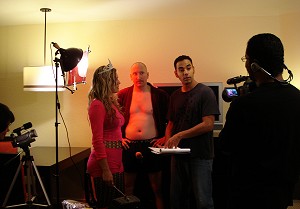 Before saying anything else, I feel obliged to state that Horno is not a hardcore porn-and-gore show but a tits-and-ass film with some shocks thrown in. Having said that though, Horno is the funniest combination of sleaze and gore in a long time, a movie that works so well because writer/director Terrence Williams, a filmmaker firmly rooted in independent horror, knows this world quite intimately (and actually, his own film Revenge of La Llorona shows quite a few parallels to this one) - and he seems to have a great time poking fun at it, from the opening scene of a silly porn shoot (for a movie incredibly titled Jevoha's Witness Anal Sluts) and Ron the film director whose talents never match his artistic aspirations to the many scenes where the actors in the film-within-the-film fight their way through the incredibly silly dialogue and the big egos of the undertalented porn cast. Add to this a cast that's really in on the joke and is having a good time and a direction at ease with comic timing and not shying away from blood and guts either, and you've got one fine piece of sleazy and gory fun.
If you want your own copy of the film, Horno is available at http://www.cinemathreat.com/horno