Hot Picks

The God Inside My Ear


USA 2017
produced by
Joe Badon, Daniel Waghorne, Joseph Estrade for Joe Badon Laboratories
directed by Joe Badon
starring Linnea Gregg, Dorian Rush, Collin Galyean, Alex Stage, Kevin Lajoie, Kendra Unique Wills, Devin Ladner, Lucas Boffin, Joseph Estrade, Kyle Clements, Philip Yiannopoulos, William Tokarsky (voice), Rhonda Laizer, Serena Thompson, Vincent Piazza, Stella Creel, Dylan Langlois, Michele Rossi, Johanna Katherine, Sophie Badon, Tevia Schroeder, Andre LaSalle, Linda Fried, Steve Smith, Jason Edward Johnson, Jason Kruppa, Christian Waghorne, Maggie Bowen, Sean Simone, David Cunliffe (voice)
written by Joe Badon, music by Joe Badon, Casey Contreary, Michael Walworth, Brian John Mitchell, Jason Kruppa

review by
Mike Haberfelner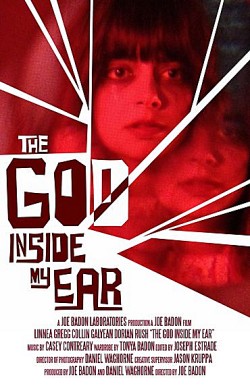 Fred (Joseph Estrade) has just broken up with his girlfriend Elisia (Linnea Gregg) to find enlightment, and that's a journey he doesn't want her to join ... and this is something that absolutely breaks Elisia - but breaks her in a very weird way, she really seems to go insane: She thinks she hears the voice of God, the neighbour's dog starts talking to her, as does a garden gnome she seems to be unable to get rid of, and a weird telemarketer starts to stalk her, calling all hours of day and night and becoming more and more threatening in the process. Her friends start to worry about her and try to help her in various ways, from getting her dates to treating her with hallucinogenic drugs, but nothing works in the least. Thing is, Elisia knows what she's going through isn't normal, and she actively seeks help, first from a weird doctor of parapsychology (Collin Galyean) then a shaman (Andre LaSalle) even, but nothing seems to work. But while Elisia might think she's going crazy, there might just might something going on in her world that's just - well, slightly insane ...
Ok, I'm the first to admit, the plot of The God Inside My Ear does not make perfect sense - but that's a good thing for a change, because the movie tells a truly unique story that's a surreal blend of melodrama, psycho thriller, horror, conspiracy theory flick and who knows what else, but it's told in such an engaging way that it totally succeeds in creating a world all of its own, thanks to a clever and subtle directorial effort that puts storytelling over spectacle invariably, but also thanks to a very strong central performance by Linnea Gregg, who really manages to handle everything thrown in her way and carry the movie.
Now granted, not a film for everybody as it demands quite a bit of suspension of disbelief, but if you like your entertainment slighty surreal, then this one's a must-see!