Hot Picks

¿Eres Tú, Papá?

Is That You?


UK 2018
produced by
Emma Berkofsky, Marina Barabanova (executive), Rebecca Randell (executive), Peter Hampden (executive), Norman Merry (executive), Sean O'Shea (executive) for Eres Tu Papa, Lipsync Post
directed by Rudy Riverón Sánchez
starring Gabriela Ramos, Osvaldo Doimeadiós, Lynn Cruz, Jorge Enrique Caballero, Eslinda Núñez
written by Rudy Riverón Sánchez, music by James Williams, Owain Kelly

review by
Mike Haberfelner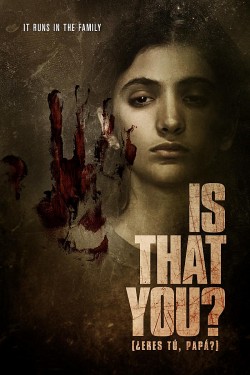 Somewhere in the Cuban countryside: Farmer Eduardo (Osvandlo Doimeadiós) is leading a modest life with his family, a life that has made him grow bitter, and as a result, he just isn't a very good person: He mistreats is one employee Carlos (Jorge Enrique Caballero), and he keeps his wife Alina (Lynn Cruz) locked up like cattle since she tried to run away to escape her miserable life. But Eduardo loves his daughter Lili (Gabriela Ramos), and even though Lili has a notion not everything her father does is right, she loves him back, unconditionally. So one day she tells him that it was Carlos that was to help her mum to escape - upon which one night Eduardo ties Alina up somewhere in the woods, then lures Carlos there under a pretense, in order to kill him before her very eyes to teach her a lesson ... only it doesn't work out that way, and ultimately it's Eduardo who ends up dead.
The next day, Alina and Carlos try to act as if nothing has happened to not arouse Lili's suspicions, but that's next to impossible, with Alina moving around freely and Eduardo not there anymore, it's pretty much impossible to fool a girl even as young as 13 for long. Desperate to find out what's really going on, she turns to a spiritualist (Eslinda Núñez) who teaches her a ritual to bring her father back (even if not in the form Lili had hoped). And this is where things start to really fall apart ...
Is That You? is a very unusual horror film for sure: Rather than going right for the jugular it's slowburn in approach, leaves room for interpretation, refuses to make a clear line between good and evil, and deliberately goes off-topic for social commentary, and tells its rather gruesome story in a very unexcited manner. And add to that a very atmospheric approach to things and camerawork that takes full advantage of its locations, plus a very competent small ensemble, and you've got yourself a winner for sure.