Hot Picks

Dream Round


USA 2020
produced by
Michael Saquella, Richard Grieco, Lisa Huston, Lenny Mesi, John Huston (II) (executive), Jason Lohman (executive) for Cactus Blue Entertainment
directed by Dusty Dukatz
starring Michael Saquella, Richard Grieco, Alexa Lohman, Heidi Kaplan, Greg Lutz, Babe McGuire, Ray Russo, Mary Ann Olson, Michelle James, Anthony Verducci, Jason Lohman, J.C. Marquez Pulita, Craig Matthew, Jacob Letman, Phil Sultzbaugh, Staceye Beatty, Madison Kerr, Shari Rigby, Michael Celsy, Steve Kerr, Craig Scartozzi, Crystal Waltman, Satoko Enomoto, Veera Räkköläinen, Dakota Paloma
written by Lisa Huston, Michael Saquella, director of photography: Colten Dietz

review by
Mike Haberfelner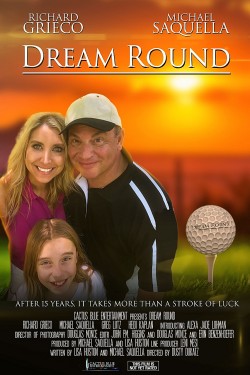 15 years ago, Joe (Michael Saquella) was a promising semi-pro golfer with the potential to go further - but then his wife and kids died in a car accident, and his dreams died with them. Now he's a grumpy old man living in a trailer park, spending most of the day on his porch drinking beer and listening to golf tournaments on the radio. He's pretty much lonely with the closest to him having a friend being fresh but well-meaning 10 year old Sarah (Alexa Lohman) passing by ever so often on her scooter checking up on him and asking him question after question until he chases her off - in good nature though, until she starts inquiring about his golf trophies, upon which he gets in a rage which actually scares her away. The next day, he's visited by Graham (Greg Lutz), a mysterious golf coach who pretty much pushes him to take up golfing again. And as one might expect, after a 15 year long break, Joe's golfing isn't up to scratch - but he finds his love for life again, reconciles with Sarah, and not only lets her see his golfing trophies, he also takes her to the course with him, and to a café he used to go to afterwards, where he catches the eye of waitress Jennifer (Heidi Kaplan), and in parts thanks to Sarah's interference, the two soon start dating.
Joe's golfing massively improves over time, so much so that he starts playing the resident pro Sean (Richard Grieco) - to lose against him time and again. But Sarah, Jennifer and Graham won't let him give up, until he eventually manages to beat Sean and enters the qualifying for the Arizona Open, to finally fulfill his dream to become an actual pro. But he's no longer the youngest, and that might be a goal a little too high to achieve ...
You don't have to know the first thing about golfing or even have a certain fondness for the sport to find Dream Round an uplifting movie - it's the sort of feel-good movie that works on a much more universal level, as even though the film's story might be a little too straight forward it's carried by likeable characters with relatable issues that are not resolved through spectacle but the resolution being the backbone of the movie, and a very subtle direction and solid performances realy help to bring this one to life in a very enjoyable way.