Hot Picks

Do You Believe... In Ghosts?


UK 2017
produced by
John H. Shelton for MrSheltonTV
directed by John H. Shelton
starring John H. Shelton, Adam Packard, Dylan Knight, Haunted Beatz, Karl Gibson, James Barnes, Kaz B., Dee McCullay, Dave DuBose, Bane Hellborne, Chris Clark, Mike Rhodes, Paul Williams, Andrea Dean Van Scoyoc
written by John H. Shelton, music by Kevin MacLeod, Haunted Beatz


documentary

review by
Mike Haberfelner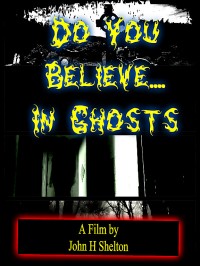 The title of this movie is certainly no empty promise, as most of the interviewees are asked just that. True, almost all say yes and tell their stories, so don't expect an answer to the question "Do ghosts exist?" - which of course isn't even the title of the movie. So for the doubters, no, the movie does nothing to rebuke the claims of those interviewed - but frankly, that would have gotten really old really fast (even for a convinced doubter like me) and done nothing to convince at least one believer of the non-existence of ghosts - or vice versa, would the film have gone the other way and tried to prove things.
Instead, Do You Believe... In Ghosts? trusts the power of its stories, augmented by cleverly used effects and music that prove above all else one thing, that John H. Shelton, himself a horror blogger for many years, really knows the genre and how to create atmosphere - and he also proves to be an able enough host to take his personality back enough to let the stories unfold on their own.
Now if you'd ask me, do I believe in ghosts more than before seeing this, my answer would be a resounding no ... but that said, I really enjoyed the movie still!
... and if this has gotten you at all interested, you can of course watch the full movie here: https://www.youtube.com/watch?v=Vtzm2zGHzCs