Hot Picks

Dächer meiner Stadt

Rooftops of My City


USA 2018
produced by
André Vauthey, Martin Hirschvogel, Maya Jasmin (executive), Terence Schweizer (executive), Bruno Schweizer (executive), Wlodzimierz Szost (executive), Makiko Szost (executive)
directed by Maya Jasmin
starring Terence Schweizer, Maya Jasmin, Matthew Gerrish
written by Maya Jasmin, music by Key Szost, title song by Daniel Richter


short

review by
Mike Haberfelner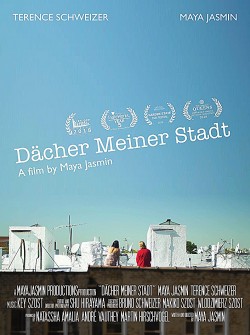 Musician Lena (Maya Jasmin) and actor Oliver (Terence Schweizer) have been living as opposite-side-of-the-street neighbours in New York for months now, long enough to consider the city their home, and they have seen each other chilling out on their respective rooftops often enough to exchange a few words every time they do - nothing big though, just polite small talk. Then though Oliver finds out that like him, Lena speaks German - which immediately forms a bond between them and they finally meet on one and the same roof ... for a beer, and to talk about their respective origins - he's from Switzerland, she's part German, part Polish, part Japanese - and what "home" means to them ...
Rooftops of My City is a very quiet movie that moves at a deliberately relaxed pace that gives as much weight to the pauses between the lines as it does to the lines themselves - and yet in the current climate of the changing attitutes of the political USA to immigration, it's also a very powerful plea for an open America that welcomes immigrants as it once did (after all, it is a nation of immigrants, essentially), for a nation that lets everyone dream the "American Dream". But this is a message not delivered by sledgehammer but in a subtle way thanks to a clever script, smooth direction, solid performances, and New York as a naturally great backdrop.
Worth a look for sure!