Hot Picks

Chimera


USA 2018
produced by
Maurice Haeems, Jay Sitaram, Eric B. Fleischman for Praxis Media Ventures
directed by Maurice Haeems
starring Henry Ian Cusick, Jenna Harrison, Kathleen Quinlan, Erika Ervin, Lawrence Sampson, Karishma Ahluwalia, Jennifer Gjulameti, Raviv Haeems, Kaavya Jayaram, Gautam Haeems
written by Maurice Haeems, music by Aled Roberts, special effects makeup and prosthetics by Ben Bornstein

review by
Mike Haberfelner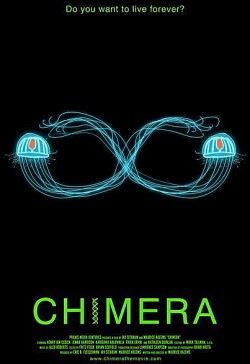 Doctor Quint (Henry Ian Cusick) is a brilliant scientist - and also a husband and father. And when bad fortune strikes and takes away his wife (Karishma Ahluwalia) and his children (Raviv Haeems, Kaavya Jayaram) show signs of the exact same condition that killed her, he goes a bit mental, throws himself into stem cell research, and to get stem cells, he makes a deal with ruthless businesswoman Masterson (Kathleen Quinlan), who has ways and means to get pretty much everything Quint needs - but as a price she wants him to heal her husband and make her young again, which might be achieved via DNA transplantation of a certain type of immortal jellyfish, something that might also cure Quint's children.

Quint is by and large a lone wolf scientist, whose closest companion are the memories of his dead wife, but his assistant (and occasional lover) Charlie (Jenna Harrison) really cares about him and forces her entry into his top secret research facility - and finds out he has since cryogenically frozen his children to only thaw them when a cure is found, and keeps a few (also frozen) pregnant women around to supply him with stem cells. Yet, Charlie stays around to keep things from getting out of hands even more - but getting out of hands they do nevertheless ...

Ok, so this film is full of (pseudo-)scientific gobbledegook which one with no insight in the matter cannot be expected to understand, it's loaded with moral questlins bound to go over one's head, and the events presented on screen are often out of sequence, and/or blend the protagonist's reality with his imagination, which is more than a bit difficult to follow ... and despite all this, and despite a deliberately slow pace, Chimera is a really tight movie, and one that really manages to draw the audience in even if they don't always understand what's going on. This is all thanks to brilliant and brilliantly structured writing that makes the confusing premise palpable, a very empathetic directorial effort, and a first rate cast.

Definitely worth your while!