Hot Picks

Los Blues de la Calle Pop (Aventuras de Felipe Malboro, volumen 8)


Spain 1983
produced by
Manacoa Films
directed by Jess Franco
starring Antonio Mayans (as Robert Foster), Lina Romay (as Candy Coster), Trino Trives, María del Mar Sánchez (as Mary Sad), José Llamas, Agustín García, Jess Franco, Juana de la Morena, Analía Ivars, Ricardo Palacios (voice)
written by Jess Franco (as David Khune), music by Jess Franco, Fernando García Morcillo

review by
Mike Haberfelner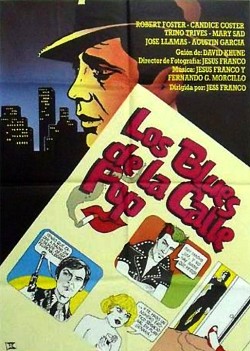 Mary Lucky (María del Mar Sánchez) hires world famous private eye Felipe Malboro (Antonio Mayans) to find her boyfriend Macho Jim (José Llamas) who has gone missing a few weeks back. She can't pay the rate he demands, but is all to quick to suggest to pay the difference in sex. Now Mary paints Macho Jim like a innocent saint, but when Felipe asks his friend and informer bar pianist Sam Chesterfield (Jess Franco) about him, he gets a whole other picture, that Macho Jim was a punk and drug pusher who's in a relationship with stripper Butterfly (Lina Romay). And asking too many questions, Felipe runs into a gang of punks lead by flamenco-dancing and knife wielding Impassive Carter (Agustín García) who give him a sound beating. But that's not to slow a world famous detective like Felipe Malboro down any, and the next day he already attends Butterfly's show, and even though he's ultimately chased away by her rich admirer Saúl Winston (Trino Trives), he starts to put the case together, and eventually finds out that Butterfly's actually Winston's wife and Winston is the chief supplier of drugs to the region. Felipe sneaks into Winston's home to have sex with Butterfly, and gets the whole story: Macho Jim is both her lover and Winston's lover and wants to this way take over the drug business. Of course this ends in disaster, Butterfly eventually stabs Macho Jim to death, then is shot, and Felipe thinks it was Winston, who later dies in a plane crash. Coming home, Felipe finds Mary in his bed who insists on paying up, and confesses it was actually her who shot Butterfly, and the whole case was actually just a ruse to get her close to Butterfly, a rival from their teenage days. Of course, after sex Mary's handed her just desserts ...
Los Blues de la Calle Pop is pretty much a comicbook come to life: The movie tells a simplistic story made up from genre mainstays, full of exaggerated characters, and blunt plottwists, and even many of the shot compositions look more like comicbook panels than what you'd expect from a movie. And all of this is what makes Los Blues de la Calle Pop work, it's an hommage to cheap comicbooks rather than a genre film, and this way director Jess Franco gets away with a lot, especially considering the low budget he had. But what the film lacks in certain departments, the director makes up in unusual, comicbooky camerawork, a healthy shot of (self-)irony, and a very cool jazz score. Now it's far from the best the man has ever done, but it shows his inventiveness and low budget ingenuity and deserves at least more recognition than it presently gets.
And by the way, there are no Aventuras de Felipe Malboro 1 - 7, it's just another of Franco's allusions to comicbooks.