Hot Picks

Bethany


USA 2017
produced by
James Cullen Bressack, Shannen Doherty, Kenneth Gust, Shahen Jordan, Shant Jordan, Ace Underhill, Zack Ward, Nathan Lorbietzki (executive), Jessica Lorbietzki (executive), Darren Holmes (executive), Abby Holmes (executive) for Grit Film Works, Varnish Bros., Synaptic Studios, Brilliant Screen Studios
directed by James Cullen Bressack
starring Stefanie Estes, Zack Ward, Tom Green, Shannen Doherty, Anna Harr, Leon Russom, Kevin Porter, Keith Jardine, Felissa Rose, John Murray, Tiana Whitley, Thomas Downey, Tommy Pistol (as Aramis Sartorio), Ellen Gerstell, Chrissy Cannone, Kirsty Hill, Jin Calello, Hunter Johnson, James Cullen Bressack
written by James Cullen Bressack, Zack Ward, music by Alex Csillag

review by
Mike Haberfelner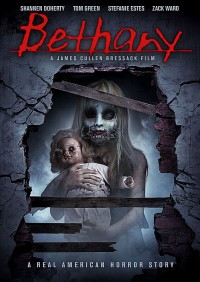 Claire (Stefanie Estes) had never had a good relationship with her mother (Shannen Doherty), who was beauty-obsessed and dragged her from one pageant to the next while giving her hell for every bit of imperfection, which kids are just prone to. But now that mum's dead, Claire and her husband Aaron (Zack Ward) decide to move back to Claire's childhood home ... and Claire feels immediately ill at ease at the house, especially since she hasn't yet come over the trauma of a stillbirth of her own, which even caused her to attempt suicide, and even though she's better now she's still a long way from doing well. Thing is, back when Claire was a child (and was played by Anna Harr), she had an imaginary friend, Bethany, who she believed lived in the walls - but now that she's back home, she thinks Bethany's still there to haunt her. This eventually leads to her hurting herself quite violently, and of course everyone else thinks it was just another (failed) attempt of Claire to take her life - but then her husband and her psychiatrist (Tom Green) find out there's something much more sinister and much more dangerous at work ...
Fan favourite Felissa Rose has a cameo as a realtor.
Bethany is a pleasently clever horror thriller of the haunted house variety that really manages to keep the audience guessing till the very end, relying heavily on a general feel, creepy setpieces and well-placed shocks rather than just spoon-feeding the viewer another ghost story with predictable ending. That's all thanks to a intelligent and nicely flowing script, a very compact directorial effort by James Cullen Bressack who seems to instinctively know when to hold back and when to go all-out to keep one on the edge of one's seat, and of course great central performances.
Definitely worth a look!