Hot Picks

Bandit


Canada 2022
produced by
Eric Gozlan, Jordan Yale Levine, Jordan Beckerman, Ryan Donnell Smith for Yale Productions, Goldrush Entertainment, Lucky 13 Productions
directed by Allan Ungar
starring Josh Duhamel, Elisha Cuthbert, Nestor Carbonell, Swen Temmel, Mel Gibson, Keith Arthur Bolden, Dylan Flashner, Olivia d'Abo, Michael H. Cole, Claire Bronson, Eric J. Little, Jessica Luza, Rachael Markarian, Leander Suleiman, Ian Hoch, Lorenzo Yearby, Chiara D'Ambrosio, Jacobi Hollingshed, Jason Vail, Ron Fallica, Ryan Cooper Thornton, Todd D'Amour, Christina Bach, Leslie Stratton, Dayna Beilenson, Jerry Ascione, George Adams, B.J. Winfrey, Greg Corbett, Megan Hayes
screenplay by Kraig Wenman, based on the novel The Flying Bandit by Robert Knuckle, Ed Arnold, music by Aaron Gilhuis

review by
Mike Haberfelner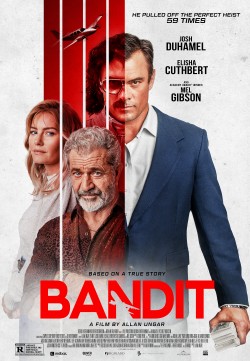 In the US, Robert (Josh Duhamel) was nothing but a small-fry crook, and he got arrested eventually - but managed to escape from prison and make it to Canada, where he assumed a new identity to try to turn a new leaf and make a honest living. And he partly succeeds even when he starts a relationship with Andrea (Elisha Cuthbert), a "good girl" by all definitions of the word, and before long they move in together and he impregnates her - and couldn't be happier to be a dad-to-be. On the other hand though, on the job sector, Robert is much less successful, he even loses his job as an icecream salesman through no fault of his own. But he has noticed one thing, banks in Canada are much less guarded than in the USA, and thus his first bank job goes without a hitch. So he comes up with the idea to rob banks all over the country, using not brute force but a combination of clever disguises, charm and sheer cockery to get the loot - no millions mind you, just the several thousands tellers tend to have in their drawers. But travelling all over the country is costly business, so he approaches local crime kingpin Tommy (Mel Gibson) to sponsor him, and the two become great friends before long. Of course, Robert hasn't told Andrea about his true profession and claims he's a security expert, and eventually she does find out what he really does to earn a living - and is much less shocked than she ought to be, basically since banks have ruined the lives of many friends and family members, and seeing how they're insured it's a crime without victim, and seeing him at work one day really excites her, so as long as he robs just banks, she's ok with it. What they don't know of course, trying to crush Tommy's organization, which works across state borders to escape prosecution, two cops (Nestor Carbonell, Swen Temmel) have launched a national task force, and they're hot on the heels of Tommy without him even knowing. They don't know Robert's identity yet but have tied his robberies to Tommy, and know his modus operandi, including where he's going to strike next - and at that heist, not everything goes according to plan, plus pregnant Andrea's water breaks ...
Olivia D'Abo plays Tommy's girlfriend.
This film is based on the true story of (at least) 59-times bankrobber Gilbert Gavan (a Canadian record), but fortunately it doesn't show, instead the story has been in a rather very loveable blend of crime drama and farce, told with a definite spring in his step, somewhat resembling some of Martin Scorsese's best crime epics, not so much in style but in pace and sheer entertainment value. And of course, a strong cast who also seem to have a good time on this really helps making this just really good genre entertainment, that despite its 2+ hours in length seems to fly by in a breeze, with hardly a minute of boredom.