Hot Picks

- Ivy 2017
Amber's Descent


Canada 2021
produced by
The Michaels (= Micheal Bafaro, Michael Mitton), Laurie McLay, Don Knodel, Sandra McLay (executive) for Absolute Independence, Sistar Films, Auspicious Pictures
directed by Micheal Bafaro
starring Kayla Stanton, Michael Mitton, Don Knodel, Nathaniel Vossen, Dione Russell, Colm Hill, Destiny Millns, Kirsten Khorsand, Sheron Russell, Jayden Shannon, Craig Paynton, Graham Daley, Sarah Seibert
written by The Michaels (= Micheal Bafaro, Michael Mitton), music by Mark Henning

review by
Mike Haberfelner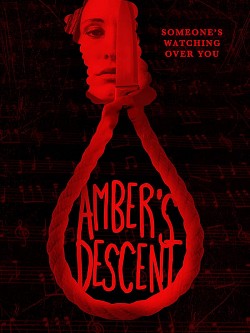 Ever since the suicide of her fiancé Mark (Nathaniel Vossen), pianist/composer (Kayla Stanton) hasn't been herself, so she figures moving into the country would do her lots of good - and help her finish her symphony. And at first, everything seems fine, really, the house she moves into is beautiful, with a piano that's first rate, the surroundings are suitably quiet for making music, and even the handyman who fixes things up around the house, Jim (Michael Mitton), seems a gentle and understanding soul. But ever so slightly, things start to fall apart, starting with Amber hearing noises where there aren't supposed to be any, doors open and close for no apparent reasons, Amber starts having nightmares/wet dreams about a young woman (Destiny Millns) that are a bit too real - and then it's not long before Jim wants to be more than just her handyman, and when she instead fires him he gets pushy. She tries high and low to find out the history of the house, but the more she asks, the vaguer answers she gets. Eventually, things get so bad that she has the house exorcised by the local priest (Don Knodel) despite not being a religious person herself. But that doesn't slow down the craziness happening around her one bit, and before you know it, she's on a downward spiral do insanity - or something even worse ...
A nice piece of haunted house thriller (even if the ultimate resolution suggests something else) that moves deliberately slow to properly set up its horrors and favours atmosphere over spectacle, but manages to keep one's interest throughout thanks to well fleshed out characters, a plot just cryptic enough to still remain comprehensible, and strong performances throughout from its small ensemble. And the resolution alone is almost worth the watch, but the way to get there sure is very rewarding as well.
... and if this has at all gotten you interested, feel free to click on https://www.bgpics.com/movies/ambers-descent-2/ to watch Amber's Descent on a platform of your choice.