Your new movie Dust Up - in a few words, what is it about?
So way out in the middle of the desert this eye-patch wearing yoga-doing ex-marine and his wanna-be Native American hipster sidekick have to help out a hot new momma and her baby because the douchebag husband/father got himself in way too deep with a psychotic cannibalistic drug-lord and his band of killer goons.
Sound fun? It is.
What were your inspirations when writing Dust Up?
I was in a huge western phase right when my mom moved out to the high desert of Joshua Tree, California. I was like, oh yeah, we GOTS to shoot something out here... the landscapes are astounding. So I was thinking the classic premise of a stranger showing up out of nowhere in the old west and helping a family in trouble, films like Hondo and Shane. As I was writing I was listening to the music of Spindrift, Gram Rabbit and Ted Quinn, which all a huge impact on the development of themes and characters. Finally I was creating the roles for my friends to play, so that had a huge impact on how the parts were written... very tailored to their personalities.
How would you describe your directorial approach to the story at hand?
What do we need to see to understand what is happening, both in story and in theme or subtext, at any point in the film? Let's make sure we cover that CLEARLY. And in conceiving that coverage, have the camera work or placement and performances enhance the desired feelings and information. I also don't want to over-direct any of the actors or key crew... keep them all in harmony but let them do their thing, hopefully never limiting them to my ideas. Finally in the editing phase, make it as tight as humanly possibly. MUST let certain moments and even whole scenes take their time but every second something must truly be happening to move the story forward.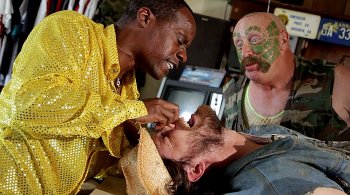 Jeremiah Birkett, Travis Betz, Al Burke
Dust Up does feature its fair share of gore and explicit violence. And since there are quite a few gorehounds among my readers - what can you tell us about the gore effects in your movie, and was there ever any line you refused to cross (for other than budgetary reasons)? And how important would you rate violence for your movies in general?
Tom Devlin, Andrew Wiersma and the whole 1313 FX-team rules. I've worked with Tom on several projects as an actor and he is the best so I was super stoked he hopped in the Dust Up saddle. I must give Travis Betz, who played Herman in the movie, lots of credit for how gorey we got. We were already in production and I was still trying to figure out how to shoot the final fight scene when Travis advised me to make it rain... to let Tommy D bring buckets of blood and shoot them all over the desert. I'm very happy we went that way. This whole project was about "going for it" in every aspect so when had to in this regard, too. Moving forward I believe there'll be some element of violence or at the very least action in most of my films... it's just so fun!
Amber Benson
What can you tell us about your key cast, and what made these people perfect for their roles?
As I alluded to above most of the roles were written with them in mind... in that regard many of the parts are inseparable from the actors playing them. We did have a casting session in which Amber came in and read and I was like, "Yes!" She was beautiful, funny, sweet, sincere, heartbreaking, strong and finally bad ass, just as we needed Ella to be. Ezra was recommended by Tom Devlin and he showed up one day in the desert, played and incredible dirt bag sheriff and convinced me to actually show... *spoiler alert!*... Jeremiah jizzing all over his face. That, my friends, is what collaboration is all about.
You also have to talk about your wonderful desert locations for a bit, and what advantages/challenges did filming in the desert pose?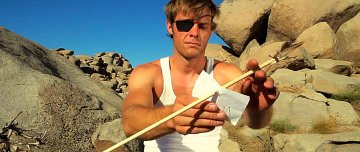 Aaron Gaffey
So hot. So far from everything. So little electrical power. So much production value by just showing up and having Shannon hit record on the camera. My mom got us all these locations from friends or friends of friends and they we so perfect, so ready to go, we had no production designer. We like to say God was our art director though some may argue Satan is a more likely crew member of Dust Up.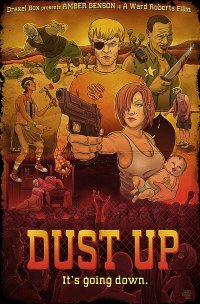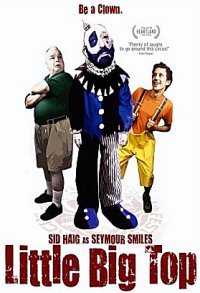 What can you tell us about critical and audience reception of your movie so far?
Overwhelmingly positive. I'd say the reviews have been 75% lovers and 25% haters even though I was expecting something close to 50/50. It is a very different film and right there you are going to lose a bunch of folks who can't put the movie into a mold of which they are already familiar. Still, those who have gone on the journey with us really seem to love the flick.
Let's go back to the beginnings of your career - what got you into filmmaking in the first place and did you receive any formal training on the subject?
My parents had a video camera around since my birth and we've been making stuff ever since. I did take some film and television production classes along with my theater training at Indiana University, which again was so much more about doing and learning rather than sitting in a classroom listening. I attended a summer course at NYU as an undergrad and while finishing my final project for that course my fate was sealed. I'd been up all night in an editing bay to cut a whole new film after my original one had been shot over by another student... yes, this was actual film... and was so exhilarated and satisfied with not just the result but the whole process that I knew I was hooked. For life.
What can you tell us about your first movie, The Boy Scout, and lessons learned from it?
Wow. So much. Folks say don't work with multiple locations, animals, kids or stunts when you are starting out, and we did all of those things in spades. More than anything it taught me just to do something bold and believe that if you commit to making the kind of movie you want to see then that will inevitably resonate with an audience.
Any other films of yours you'd like to talk about, and future projects you'd like to share?
For your readers who have old fashioned Netflix DVD rentals check out my first feature, Little Big Top, starring Sid Haig and Richard Riehle. They both do incredible work and it is set inside the Peru Amateur Circus back in my hometown in Indiana, which is one of the most unique places in the country. Currently am cooking up several fun scripts and hope to be making one of them very soon!
Besides directing, you also have quite an impressive acting resume. So what can you tell us about Ward Roberts the actor, and how come you didn't do any acting in Dust Up?
I LOVE LOVE LOVE acting. It is so fun. It is the visceral, instinctive extroverted ying to my writing & directing yang. Was fortunate enough to just have a fun role on Hawaii 5-0 and it just reminded me how much acting means to me. To this point in my career I'm most proud of the work I did on Travis Betz' films Joshua and Lo, both incredible films with roles for which any actor would kill. I did have a cameo in Dust Up so your readers will have to find that fun little gem.
Please do talk about some of the films and TV-shows you were in?
Along with the aforementioned I had super tiny roles in NCIS and CSI:NY, but I'm best known for being the MANswers-guy on Spike TV for 3 years. I called it my goofy-face gig as that was what is mostly required.
Acting and directing - how do the two compare, and which do you enjoy more, actually?
Acting is more enjoyable in the relaxed and happy fun good times sense. Directing is ultimately more satisfying as an intellectual and collaborative journey.
How would you describe yourself as a director?
Focused. Relentless. Intent of making something as good as it can possibly be under any given circumstance. More and more I hope I'm a good collaborator who can create an environment where everybody can bring their best work and trust I'll make sure it weaves into the overall tapestry.
Filmmakers, actors, whatever else who inspire you?
Coen Brothers, Wes Anderson, Tarantino are on my Mount Rushmore. I love Elvis, Wu Tang and Jack White. Kurt Vonnegut, Hunter Thompson and Cervantes rule. This list could go on for days. Ultimately my biggest influences are Travis Betz and everybody else we've been making stuff with over the last 13 years. My family inspires me every damn day.
Your favourite movies?

Feeling lucky ?
Want to
search
any of my partnershops yourself
for more, better results ?

The links below
will take you
just there!!!

Find Ward Roberts
at the amazons ...

amazon.com

amazon.co.uk

amazon.de
Looking for imports ?
Find Ward Roberts here ...
Something naughty ?
(Must be over 18 to go there !)

Raising Arizona is #1 all-time. Miller's Crossing is up there. Pulp Fiction, Rushmore, Network. The Good, The Bad and The Ugly, Ace Ventura, American Psycho, the original Batman with Michael Keaton and Jack Nicholson. This list could go on for weeks.
... and of course, films you really deplore?
This list could go on for months.
Your/your movie's website, Facebook, whatever else?
Anything else you are dying to mention that I have merely forgotten to ask?
The film is out on DVD and on digital demand platforms like iTunes and Amazon, so check it out peeps!
Thanks for the interview!
Oh no, thank YOU.