Your new movie Don't Blink - in a few words, what is it about?
I think of it as a psychological horror film. It's about how fear of the unknown affects different people in different ways. How do people react to something that they know is impossible? How do they handle that kind of primal fear?
What were your inspirations for writing Don't Blink, and how did the project get off the ground?
Zack Ward [Zack Ward interview - click here] put together the financing for the film. He's the reason the film exists. As for writing the film, I had the idea for years. I wanted to write a horror film with no "villain". The original idea was for there to be no blood and no killing… but the characters had ideas of their own as I was writing it, so the "no blood" thing flew out the window.
Don't Blink puts a rather original spin on the horror genre - care to elaborate? And is horror a genre you're at all fond of in the first place, and why (not)?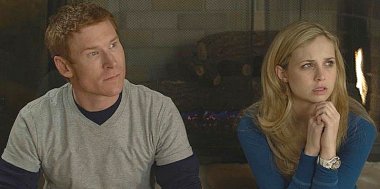 Zack Ward, Fiona Gubelmann
I love horror films, but I'm very rarely scared by them. Generally, I feel let down when I find out the "why" of what's going on. It the "not knowing" that scares me. When I saw Blair Witch Project, it was at a festival, and the buzz was that the film was actually found footage. They did a great job marketing it that way, in the very beginning (this was way before it came out in theaters). When I saw it, it scared the hell out of me, because in the back of my mind, a little part of me thought it might be real. You're never given a true explanation about what's happening in the film, and, as a result, the movie stuck with me.
Do talk about your directorial approach to your story at hand!
My favorite director is Hitchcock, so I've been particularly happy that a number of the reviews have mentioned that it was shot in a "Hitchcockian" style. I tried to use a bunch of high shots and slow tracking to give a sense of isolation and dread. My directing background is theater, so I'm more of an actor's director than a film school guy. I enjoy trying to help an actor get to the best performance possible.
What can you tell us about your cast, and why exactly these people?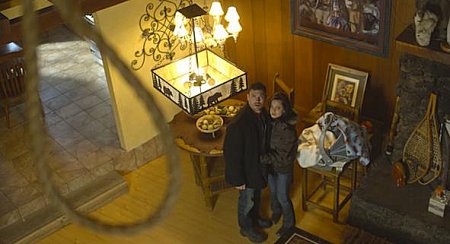 Brian Austin Green, Mena Suvari
I had a great cast. Zack Ward [Zack Ward interview - click here] was a standout, I think he gave one of his best performances ever in the film. Joanne Kelly had the role the moment she walked in the room. I actually wrote her ending monologue after she was cast, because I wanted to give her more to sink her teeth into. I'm glad I did, because she is phenomenal in that moment. She and Brian Austin Green did such a good job showing the effects of fear on them. Brian, by the way, is not only a great actor, but one of the nicest and coolest guys you'll ever meet. Mena Suvari was having such a good time on set, she stuck around a couple days after she wrapped. The whole cast was a dream to work with. They trusted me, and I trusted them. That makes all the difference in the world.
You just have to talk about your location of a bit, and what were the advantages but maybe also challenges of shooting there?
Ah yes, Ruidoso, New Mexico. I have a love/hate relationship with our location. It was perfect for the film, as it was remote and beautiful, but the weather was unpredictable and it was very remote. I get a kick out of some of the comments I've read on message boards, that the fact that the characters had no cell signal wasn't realistic… well, where we shot, we had no cell signal. No internet either. It made some aspects of the production more challenging, to say the least.
A few words about the shoot as such, and the on-set atmosphere?
It was great. The cast gelled perfectly, and for a low budget film, the producers did a great job making it seem like they had all the money in the world. The cast and crew were very well taken care of. The biggest problem was keeping animals out of the frame. In the movie, there are no birds or insects. So if one little fly flew into frame, it was a reshoot. We had a curious deer ruin a couple shots too.
What can you tell us about audience and critical reception of your movie so far?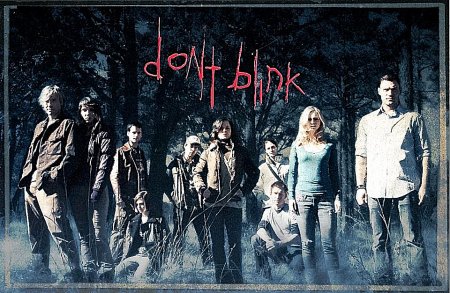 The critical reaction has been wonderful. The general audience is split, I think. The problem is the film doesn't give you all the answers in the end. Some people love that, some people absolutely hate it. My favorite example is on Amazon, where a reviewer talks about how great the acting, pace, tension and writing is, how the film is beautifully shot, and how the film kept him on the edge of his seat all the way to the end. He then gives it one star and says it is the worst film ever made, because the ending made him angry. When I wrote Don't Blink I expected some people to react that way. The only thing that bothers me is when they say that it's lazy writing, or that the writer obviously didn't know how to end the film. I know exactly what the "secret" of the film is. If I told it to you, you would watch the film and go, "Oh yeah, there's clues all over the place." I wanted to end the film the way I did, because I wanted the journey to be through the eyes of the protagonists. If they don't figure it out, then I don't spell it out. Believe me, we went back and forth over whether to add a scene at the end to explain everything. We even scheduled additional shooting at one point to do just that. In the end, however, we felt it was scarier the way it is. By the way, there are just as many folks who love the way it ended as there are those that hated it. If I ever do a sequel, I promise that an explanation will be in there.
Any future projects you'd like to share?
I just went out with a zombie comedy western called Dead Reckoning. Keep your fingers crossed. :)
What got you into filmmaking in the first place, and did you receive any formal education on the subject?
I was an actor since I was a kid. As I got older, I transitioned more into writing. I owned Acme Comedy Theatre in Los Angeles, and directed hundreds of shows there, (that's where I met Zack Ward, Robert Picardo, Lief Gantvoort and Curtiss Frisle). When I sold Acme, my goal was to direct my first film, and I started pre-production on Don't Blink six months later.
What can you tell us about your filmwork prior to Don't Blink?
I've written films for almost every major studio in town, but none of them have been made. That's the weird thing about being a professional writer; you can make a very good living and have practically nothing to show for it. I sold 6 pilots in 3 years, but if they don't make it to air, they don't stay on IMDb and no one knows you ever did them. I've been paid for six pilots and five feature films, but if you were to look me up, it's as if the only thing I ever did was Don't Blink. It's a funny industry.
How would you describe yourself as a director?
I'm an actor's director. That just means I spend more time with the actor preparing for the scene than I do setting up the shot.
Filmmakers who inspire you?
Hitchcock, Spielberg, Fincher, Nolan, Cameron…
Your favourite movies?
To Kill A Mockingbird, Shadow of A Doubt, Princess Bride, The Ring…
... and of course, films you really deplore?

Feeling lucky ?
Want to
search
any of my partnershops yourself
for more, better results ?

The links below
will take you
just there!!!

Find Travis Oates
at the amazons ...

amazon.com

amazon.co.uk

amazon.de
Looking for imports ?
Find Travis Oates here ...
Something naughty ?
(Must be over 18 to go there !)

Anything with a budget over 100 million that still manages to be boring.
Your/your movie's website, Facebook, whatever else?
I'm on Twitter, @travis_oates, feel free to ask me a question that I can answer in 140 characters! The movie is on Twitter, @DontBlinkMovie, on Facebook it's Dontblinkthemovie, and on Instagram it's Dontblinkmovie2014.
Anything else you are dying to mention and I have merely forgotten to ask?
I just want to thank everyone out there that has paid attention to our little independent film. If you liked it, go on Amazon and tell people. If you didn't like the film, feel free to complain. Remember, the name of the movie for you haters is Annabelle.
Thanks for the interview!
Thank you for asking!