Your new movie Words Like Knives - in a few words, what is it about?
Words Like Knives is about bullying, rumors, and the effect they can have on the mind of the victim. Emma, played by Kelsey Zukowski [Kelsey Zukowski interview - click here], is introduced as an average teenager with an average life. As the film progresses, the bullying she endures at the hands of classmates forces a deterioration in her mind, and the lines between reality and fantasy begin to blur.
How did the project come together, and how did you get involved?
Kelsey wrote a pretty amazing script and brought the idea up to me. I would be hard pressed to tell you a timeline on that, because it was during a period where Kelsey and I had like four projects going that we were mutually involved in. I was intrigued by Words Like Knives, because I love emotionally charged material, I love dealing with altered reality and altered perception (which I first explored visually in my film Asunder) and I'm a fan of challenging material that talks about taboo subjects. I was also drawn to the script because it addressed a fairly hot-button issue in the form of bullying, but rather than treat it like an after-school special with clearly drawn lines of right and wrong and a monologue-moral at the end, Words Like Knives delves into some pretty dark content and leaves the audience to make its own judgements.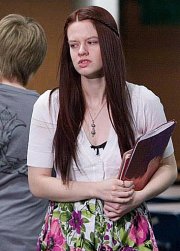 Kelsey Zukowski
Kelsey Zukowski did not only star in Words Like Knives, she also wrote the script [Kelsey Zukowski interview - click here] - so what was your collaboration like, and how did you two first hook up to begin with?
The collaboration was great. Kelsey and I worked hand in hand to ensure that the story was handled with sensitivity and care. The material is very emotional and personal, so we both took great care in presenting and considering our own ideas and each other's. Fortunately, Kelsey is a great writer and a sweet woman, so it all went incredibly smoothly. We learned to trust each other to do what was best for the project and I'd say it paid off.
As far as how we first hooked up? I don't even remember to tell you the truth. I know we worked together on Monster Mash and on What They Say, but I can't remember which one was first. I think we met at the Raymond Did It premiere in Rockford and talked about working together down the road and everything grew from there. One of the great things about the northern Illinois film scene is that everyone is connected fairly tightly, so we all sort of know each other, at least peripherally. The downside is that it makes questions like "when did you first work together" a little challenging to answer. I'm okay with that trade off.
You of course also have to talk about the rest of your key cast and crew?
I could do so all day! Words Like Knives was filmed by Tim Stotz, who was really able to plug in to what I wanted to accomplish with the shifts in reality and the emotional tone of the film. He and I have worked together enough on horror projects that we can dial into each other's wavelength pretty easily. Sean Tyler was our general purpose extra set of hands, acting as a grip and as a make-up tech, which was his first FX makeup experience (and which he and Katrina Roland did a fantastic job on). We also had Colleen Brown and Steve Heiden as grip/pa's and they made the set run very smoothly. It was a fast, grueling shoot with a ton of set ups and incredibly difficult material. We could not have done it without such an incredible crew.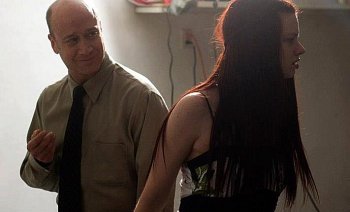 Michael Wexler, Kelsey Zukowski
In terms of cast, we were also blessed. I have worked with Melissa Revels on a number of occasions. She is a brilliant comedic actress and normally plays tough, strong, but hysterical characters. Playing a bullying bitch was a bit outside of Mel's normal range and it was good to see her stretch her boundaries a bit. It paid off.
Michael Wexler was incredible as well. He essentially plays two wildly different characters in the film, which is a challenge in itself. We really ran him through the wringer and he took it like a champ.
Valerie Meachum, I cannot possible say enough wonderful about. I've worked with her on three occasions and every time she has really shined through as a strong presence and a scene-stealer. She's a great talent. I'm looking forward to seeing her performance in the upcoming Witchfinder by Colin Clarke (www.facebook.com/witchfindermovie). It looks INCREDIBLE.
Even if it was not written by you, could you at all relate to the topics touched in Words Like Knives?
I think everyone can relate to the pain of social ostracism, bullying and having lies spread about you. I think that is sadly a very common experience. I can definitely relate to the concept of outside forces and stresses screwing with your head. I think everyone can find something to relate to in this film and I hope they can find something positive to take away from that. The material is very dark, very upsetting, but I think that there is ultimately a positive message. I think any time you point out the flaws in humanity, there can be a positive take-away from that. Hopefully someone sees this film and it moves them to think about how they treat other people and the impact their words can have on them. I also hope that this film can inspire those who have been victims to speak up and speak out. Part of the darkness in this movie stems from the fact that Emma bottles up and internalizes her pain. She feels like she has no one to turn to (another thing I'm sure everyone has felt at some point) and so she internalizes everything. The human mind can't take that kind of pressure. It's important to speak out against feeling victimized, and I think this film illustrates that, albeit in a worst-case scenario fashion.
How would you describe your directorial approach to your story at hand?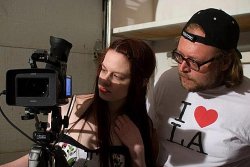 Travis with Kelsey Zukowski
I tend to be an "actor's director", placing a ton of focus on ensuring that the actor understands the head space that the character is supposed to be in and that the actor's expression, tone and body language convey that. It's a very collaborative process as far as I'm concerned and we were able to put together some very cool performances by working together to find those moments that drive the story. Visually, Tim and I worked very hard to create a sense of a shattered reality that represented the emotional trauma Emma was experiencing. There are several little details, that you may not even notice upon the first viewing, that contribute to the visual establishment of Emma's madness. I'm very proud of how that turned out.
What can you tell us about the shoot as such and the on-set atmosphere?
This was probably one of the most jovial and laid back sets I've ever been on. I think it had to be, because the material was so incredibly serious and we were all handling it so somberly, that between takes we just had to crack jokes and play around with each other to keep our sanity. Having said that, we all gave Kelsey a pretty wide berth between scenes so she could maintain her headspace. We tried to isolate her from the distractions and tomfoolery.
A few words about critical and audience reception of your movie so far?
I'm glad people have enjoyed it. I hope they continue to do so. I want to hear more! Feedback at the Facebook fan page http://www.facebook.com/RumorsCanKill and on the IMDB page http://www.imdb.com/title/tt2624690/ are welcome and encouraged.
Let's move on to your other new movie, Dry Spell - even if we've talked about that one in quite some detail a few months ago [click here], do bring us up to speed again, what is it about?
Dry Spell is a romantic comedy about a couple on the eve of their divorce. Sasha (Suzi Lorraine) wants to get back into dating, but when she hooks up with a hot guy (Steven Lee Edwards) she finds herself unable to perform sexually. She's dried up. Blaming her impotence on guilt for moving on before her ex-husband (Kyle Hoskins), she sets out on a quest to get him laid, so that she can move on with her life guilt-free. It's about divorce, dating, love and letting go of the past.
When we last talked about Dry Spell, the actual shoot was still a month or two in the future - so how did the shoot go, what were the expected and unexpected challenges, and what was the overall atmosphere like?
The shoot went incredibly well. New York City is such a wonderful place to shoot a film, especially a low-budget indie film. It's an incredibly accommodating town. We had a few issues with equipment rental and scheduling as well as some last minute scrambling to find locations, but in the end everything worked out phenomenally. Sean Tyler, my second unit director and general Swiss army crew member and I talk about it very extensively on the director's commentary that is exclusively available on the Dry Spell Indiegogo page: http://www.indiegogo.com/watchdryspell.

As far as the atmosphere, it was hands down the most fun I've ever had on a film set. Normally filming comedy can be very challenging. Comedy is technically demanding and requires very hard work and sometimes that means that everyone on set is so busy prepping and workshopping that they don't get to enjoy the experience. On Dry Spell everything just clicked in such a way that despite our rushed shooting schedule (we only had eleven shooting days over the span of two weeks to make the film) we still had plenty of fun. I attribute that to casting such excellent actors who also happen to be very funny people.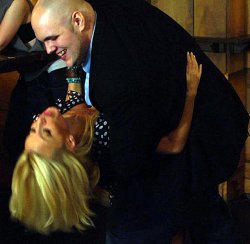 Rachael Robbins, Kyle Hoskins
From what I know, most of the key cast remained unchanged since we last talked - so how did this people actually work together, did you get the performances you wanted, and were there any surprises, performance-wise (of both a good and a bad nature)?
Most of the cast remains unchanged. Our two replacements were Rachael Robbins, who replaced Debbie Rochon [Debbie Rochon interview - click here] in the role of Mary, and Kris Eivers, who replaced Bob Bozek in the role of Dylan. Both the original cast members suffered injuries the week of the shoot (thankfully minor ones) and had to be replaced last minute. We were very fortunate with our replacement casts. Kris Eivers came in on no sleep and was jumping around and shouting to psych himself up and keep himself awake, but when the cameras rolled he gave us gold. Rachael Robbins is both beautiful and hilarious. She really brought a strong core and chemistry to Mary that worked out for the best for the film.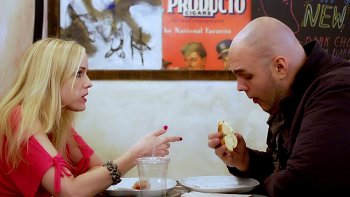 Suzi Lorraine, Kyle Hoskins
Kyle Hoskins [Kyle Hoskins interview - click here] and Suzi Lorraine [Suzi Lorraine interview - click here] both gave incredible performances. They exceeded my already high expectations and their on-screen chemistry is more potent than I could have expected. We filmed all of the emotionally challenging material first, then filmed the comedic scenes afterward, which gave Kyle and Suzi a chance to draw from the bitterness of their conflict and let that inform the friendlier material. As friendly as a divorcing couple may be, they are still getting a divorce, still in an antagonistic relationship, and I think that plays well in the film. Kyle has been through a divorce in his early twenties, so he was also able to bring all sorts of personal experience into the role that really fleshed out the character.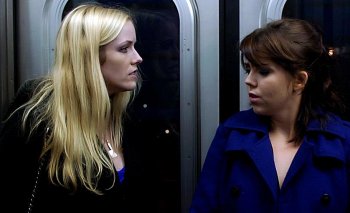 Suzi Lorraine, Amanda-Elizabeth Sawyer
Amanda-Elizabeth Sawyer [Amanda-Elizabeth Sawyer interview - click here] and Kyle are very close in real life, close enough that they frequently use similar expressions and facial expressions, which helps sell their relationship as siblings in the film. Amanda and Suzi hit it off immediately, which added truth and honesty to their characters' relationship.
Steven Lee Edwards, who I worked with previously on Raymond Did It, is hilarious in this movie, exceeding my greatest expectation. The last time we worked together, he had to spend most of the film in an agitated state of fear or anger, or he was covered in blood and gore. This time we got to explore character and do some physical comedy, which Steven is incredible at.
This could go on for weeks. The supporting cast is incredible and creates a strong foundation for the film to rest on. There is not a sagging performance in the film and I'm incredibly proud of everyone involved.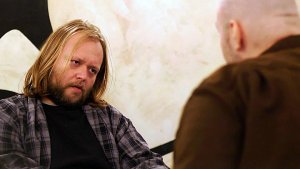 Travis with Kyle Hoskins
You also play a key role in Dry Spell - so do talk about your performance for a bit!
My character, Trey, is the wise fool. He's Falstaff. Kyle's single best friend, Trey is a textbook pothead slacker who tries to distract Kyle from his pain with strip clubs and debauchery. Underneath all of that, though, Trey is just trying to help his best friend get through a rough time.
It was a challenge to play the character, not just because of the partial nudity (yeah, awkward), mainly because while juggling the thirty other aspects of production, I'd neglected to learn my lines properly. I knew all the performance notes I wanted to hit, but my scenes took forever because I just didn't have my lines down. If any other actor showed up that unprepared, I'd have fired them, and If I could have fired me, I would have. But, in the final cut, I'm pretty happy with my performance, so I suppose it all worked out in the end.
With the film still a few days away from being released - how has Dry Spell been received by the critics so far?
So far we have had incredibly positive reception from the few critics that have reviewed it (we are on the lookout for more) and we were able to put digital copies out ahead of schedule (I know, who does that? Awesome thing about indie film: we get to make our own rules) so, we've gotten very positive response from fans. Hopefully that continues. I know the movie is not going to be everybody's cup of tea, but so far people really seem to dig it.
Any future projects you'd like to share?
Always! I am wrapping up postproduction on my first documentary feature film, called Kryptonite: Behind the Bar, which chronicles the first ten years of business of Kryptonite Bar in Rockford, Illinois. Focusing on the struggles that owner/operator Chris Wachowiak has faced both professionally and personally, I think it's going to be an interesting watch for anybody who has interest in owning their own business or chasing a dream. Information and updates will be made available on my Facebook page as well as the bar's website http://www.kryptonitebar.com/.
I'm getting ready to release new episodes of my superhero webseries, Legacy of the Masque, hopefully before the end of the month. Keep an eye on http://www.facebook.com/whoisthemasque for details.
I'm also in preproduction on my next feature film, Bloom, which will be a return to horror for me, though of a very different sort than Raymond Did It. The brief synopsis: "Lily (Aley Kreinz) wakes up in a seedy motel bathroom. The walls are covered in blood, her clothing is in tatters and the words "Forgive Me" are scrawled on the mirror. Horrified, Lily runs from the motel to her home where she begins trying to piece together the events of the previous night. Soon she begins experiencing changes in her body, her appetites and her attitudes. She stops going to work and begins to shut out friends and family as her humanity fades and she faces the possibility that she may be becoming something altogether monstrous."
We are currently putting together financing for Bloom and putting the final draft of the script together. Casting will begin next week for all supporting roles. We are putting the entire thing together on a very modest budget (targeting about $4,000) and aiming at an exclusively digital release, possibly augmented with DVDs for supporters if we turn to crowdfunding. Any parties interested in hearing more about the investment opportunity can reach out to me via Facebook or Twitter for more info.
Lastly, I've been doing a ton of tabletop role-playing game development lately. I've released a new cosmic horror/mystical game called Glimpse the Beyond, which is available in print and .pdf at http://rpg.drivethrustuff.com/product/109234/Glimpse-the-Beyond I'm also working on a second edition of my modern horror/urban fantasy game Contagion, which the current edition can be found at http://rpg.drivethrustuff.com/index.php?cPath=559_4012.

Feeling lucky ?
Want to
search
any of my partnershops yourself
for more, better results ?

The links below
will take you
just there!!!

Find Travis Legge
at the amazons ...

amazon.com

amazon.co.uk

amazon.de
Looking for imports ?
Find Travis Legge here ...
Something naughty ?
(Must be over 18 to go there !)

Your/your films' websites, Facebooks, whatever elses?
Words Like Knives Facebook page: http://www.facebook.com/RumorsCanKill
Words Like Knives Twitter: https://twitter.com/RumorsCanKill

To get YOUR copy of Dry Spell: http://www.indiegogo.com/watchdryspell
Dry Spell Facebook page: http://www.facebook.com/DrySpellMovie

My Facebook page: http://www.facebook.com/TravisLegge
My Twitter: https://twitter.com/TravisLegge
My official website: http://www.aegisstudios.com
Anything else you are dying to mention and I have merely forgotten to ask?
Just that it is Women in Horror month, so I'd like to give a big shout out to all the hard-working ladies in horror, especially the ones I've drafted for Dry Spell. I'd also like to encourage everyone to check out the Twisted Twins' annual massive blood drive http://www.twistedtwinsproductions.net/massiveblooddrive.htm and go donate blood. Donate once for me too, because I can't.
Thanks for the interview!
Thank YOU, sir! It's always a pleasure!