Your movie 4 Dead Girls: The Soul Taker - in a few words, what is it about?
The movie is about four girls who move into their first off-campus house only to find that it is owned by a Soul Eater.
How did the project fall together in the first place?
This film was a target of opportunity and peer pressure. We had just screened a short film at a film festival and foolishly announced we were going to come back the following year with a horror feature. At that time, we had no script, no outline and no money. We just knew we had to do a feature. Four months later, we had a script, storyboards, shot lists and some money. And we did end up screening at that festival the following year.
As far as I know, you wrote the screenplay based on a story by your co-director Mike Campbell - so what was the writing process like, and did you take many liberties with Mike's story?
First off, I always take liberties with Mike's stories. In this case, he had in mind a true horror film with slash and burn scenes. My take was more along the lines of "why can't we make this fun" (read: funny)? And, if you notice in the film, there is a lot of buried humor that no one (not even Mike) noticed in the script until they saw the finished product. Mike and I always work collaboratively. He says "landlord who kills college girls". I say "Nalusa Chito". He says "Soul eater who eats souls to stay alive." That's how we work when it comes to scripts.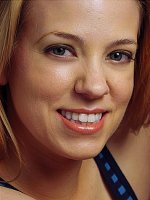 Ashley Love as Lori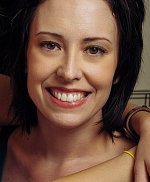 Leah Verrill as Pam
Of all the characters in your movie, who do you identify with the most? And who was the most fun to write?
I identify the most with Lori. She is the rock of the group of girls and goes out of her way to protect everyone. In a panic, Lori is calm, cool and collected. She could be me, except she's a girl... When it comes to who was the most fun to write, though, I have to go with Pam. Sassy and "in your face", she is the comic relief in a film that is, by all accounts, scary! In a dark room when it looks like the world is going to come to an end for the girls, she goes to make a sandwich. That's fun.
When it comes to directing, how did you and Mike Campbell share your duties, and considering you've worked quite a bit with one another in the past, what can you tell us about your other collaborations, and how did you two first hook up?
Mike and I first met in an acting class almost 15 years ago. We also both hail from Colorado, so there was an instant shorthand in how we communicate. In this film, Mike took the lead role of Devlin. That, of course, made him unavailable on set to do much directing during the actual shoot. His concentration was much more ahead of the shoot in coaching the other actors and during the edit process where I would get to a brick wall and he would have some wild idea that worked. I am much more a technical director than "touchy-feely" director. Mike is the touchy-feely guy. The first film we did together was a drama short called A Pornographer, which is about a guy (me) who solicits women on web sites for sex under the guise of being a porn director. Since then we have had at least a dozen shows ranging from a web series (Napoleon Bon Appetit), to a romantic comedy (A Connection), and to a high stakes action film (Renegade Alliance). I am usually the screenplay writer and editor. Mike is usually the story guy and director. We swap acting roles. We swap directing roles.
Since 4 Dead Girls is pretty much a one-location movie, you of course have to talk about the location for a bit, and what are the challenges but maybe also advantages of filming in a single location?
The location was my house. Everything that you see in the film is my house including Devlin's lair (the garage), the school, and the outdoor shots. The challenge, of course, is to make things move in a single location. How many times can girls run in circles in a house before that becomes boring? I give complete and total credit to the camera work on this. Rick Greenwood (our DP) makes hand held shots look like steady cam shots. He makes steady cam shots look like crane shots. Excellent camera work made the single location work. The bonus that you get from a single location is that you never have to move the crew, and you don't have to worry about tearing the place up because it's owned by the director.
Judging from your limited locations, limited cast and limited special effects, I think it's fair to say 4 Dead Girls was made on a limited budget - now would you have done anything differently with limitless funds?
We joked about this on set during the shoot. Why couldn't it have been 4 Dead Girls in the Bahamas - or in Hawaii, etc.? Maybe for the sequel? In this case, the screenplay was written for the single location because we knew we wouldn't have a lot of money to make this film. It was planned for. And I don't think the story would have actually been enhanced by a larger budget. The only thing a larger budget would have bought us would have possibly been some larger paychecks for the cast and crew and maybe some "name talent".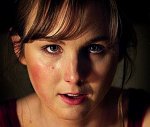 Katherine Browning as Lily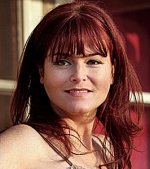 Tiffany S. Walker as Bianca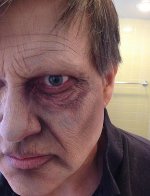 Mike Campbell as Devlin
You of course have to talk about your cast, and why exactly these people?
We hired people that we knew, and that we knew we could work with. It was like a family on that set. The only person who was hired who we did not know was the body double for Lily and even she was connected to me through another director friend I had. Most of the cast (Katherine Browning, Leah Verrill, Tiffany Walker, Bianca Lopez, and Mike Campbell) had been working together with me for the last 4 years in an acting class. We had a short hand and a knowledge of each other which meant no surprises on set. Ashley Love had come through a director who I trusted implicitly. My daughter (Courtney Johnson) played Sandy. Jonny Lewis and I had worked (as actors) on at least 5 other projects together and Ryan Paevey - our male eye candy - went to school with my daughter. The script was actually tailored to each of the people we knew would be in the roles. We cast the film at least a month before we started gathering a crew together. And, in hindsight, this was the smartest move we made because the cast had almost 3 months to prepare for the shoot.
Do talk about the actual shoot and the on-set atmosphere for a bit!
My first AD (Frederick Snyder) and I would have what we called "production meetings" in my backyard during the shoot which consisted of coffee, cigarettes and light banter. We all had a knowledge of what we needed to do, and we did it. The beauty of this shoot was that there were no attitudes. We never went into overtime. We were always on schedule. We never wasted time. And yet we still all had a blast doing this. When an actor wrapped for the shoot, there was always a round of "awww" and hugs and "we'll see you soon" from everyone. I run into cast and crew members from this shoot who still (almost 2 years later) say that it was the best shoot they have ever been on and ask me when am I making my next film.
What can you tell us about the critical and audience reception of your movie so far?
The critics have been very kind. I knew that this was not your typical modern day horror film going into it. It's more like a 1980's horror film upgraded to 21st century technology, acting and storylines. And the critics recognize that which I appreciate to no end! The audiences who have screened it absolutely get it. They laugh when they are supposed to. They go "eww" when they are supposed to. The scream when they are supposed to. Having seen plenty of horror films that seem to miss the storyline, or the acting is a little "off", this seems to be a pleasant change to typical slasher flicks that are out there.
Any future projects you'd like to share?
I have so many future projects that it makes my head spin a little bit. The big one that we have just started pre-production on is called The Golden Warrior. This is a fight film about a 12 year old, blonde haired, blue eyed girl who takes on a ninja army to save her family. Pretty much non-stop action. Larger budget. Think "Hit Girl" in the film Kickass and make her into the girl next door and you have the idea of what I'm aiming for.
As far as I know, you originally entered the filmworld as an actor - so what can you tell us about your acting career, your training, and your techniques to bring your characters alive? And what made you pick up directing eventually?
I started acting when I was about 8 years old. I was a noun. Actually, I was originally an adverb, but the kid who was the noun couldn't say the word "plural". From there, a B.S. in physics and a B.A. in theater at Colorado State University. About 9 years off from acting to get married and divorced (and raise 2 kids who are the light of my life). Then back hard into acting and writing with work in NYC and eventually to Los Angeles where I trained with Ivana Chubbuck, Stephen Book, The Groundlings, Margie Haber and a few other "greats" in acting training. In between all of that, I have done some very cool roles on film and TV. The main reason I got into the "behind the camera" work was to generate more work for myself. Hollywood does not hand you roles. In fact, I'd be on the streets if I didn't have a day job (scientist). So you have to create your own. I started with editing. Then I graduated to camera work, then producing, and then directing while still keeping all of those other skills. What those other skills do is make you realize what the acting role means. You can have a good actor and a horrible script. That makes a bad film. You can have a good actor and a good script but bad editing. That also makes a bad film. They all balance. And I always feel extremely confident when I walk into the room, look the director in the eye and can say to myself "I know what you are going through and I also know what you need".
Besides acting and directing, you seem to have worked in pretty much every other capacity in filmmaking as well - so what did you enjoy most, what could you do without?
Without question, I'm an actor first. I just love the ability to transform myself into something else. I have to say, though, that I enjoy the writing and directing more than I ever expected to. Both of these roles set the tone of what needs to occur on set. And if you set it up properly, more fun is had by all. The one role I have found that I really do not like is sound design. I know how to do it. I can make some very cool sound effects, reduce noise, etc., but if I could just pass that one off to someone else, I am pretty sure I would sleep better at night.
Do talk about some of the films you worked on (in whatever capacity) for a bit, and what made these experiences special?
Each film and TV show is a different experience. Most of each of these experiences is learning what not to do. I remember on the set of The 70's where I played a reporter - the crew was so exhausted (the AD told me that they had been working 16 hour days for over 5 weeks), they were barely coherent. On a TV show (I won't mention the name or the actress), the actress was clearly not having a good day and decided to take it out on the rest of the cast and crew that day. Not pleasant. On the other side of that coin was having a beer with Dustin Hoffman after his 8 hour day on set in his trailer, and a comedy film that I starred in (Office Ninja) where the crew could not stop laughing at the cast at the end of every take. Those experiences teach what is a good shoot and a bad shoot.
Actors, filmmakers, whatever else who inspire you?
Actors: Kevin Spacey. He rocks. Bruce Lee was also simply amazing by taking his skills and applying them to movies.
Directors: I better keep quiet on this one because I have a lot of horror stories (maybe new feature films) about directors.
Your favourite movies?
American Beauty, Lincoln, Argo, Enter the Dragon.
... and of course, films you really deplore?

Feeling lucky ?
Want to
search
any of my partnershops yourself
for more, better results ?

The links below
will take you
just there!!!

Find Todd Johnson
at the amazons ...

amazon.com

amazon.co.uk

amazon.de
Looking for imports ?
Find Todd Johnson here ...
Something naughty ?
(Must be over 18 to go there !)

Anything with a "2" or a "II" (or any other higher number) in the title. If it's a sequel, I just don't want to watch it. Original ideas are and sequels are not original ideas.
Your/your movie's website, Facebook, whatever else?
Facebook: https://www.facebook.com/therentalmovie
Twitter: @TheRentalMovie
YouTube Channel: http://www.youtube.com/user/therentalmovie
Anything else you are dying to mention and I have merely forgotten to ask?
Do you know any blonde haired, blue eyed 12 year old girls with a black belt? [Yes, I admit I totally forgot to ask that - the editor]
Thanks for the interview!