Since we have last talked about it [click here], your film Legend of the Red Reaper has finally wrapped. First of all, could you bring us up to speed on what the film is about?
You certainly nailed it in your review - I have nothing to add!
According to my information, you have shot Legend of the Red Reaper pretty much all over the USA and even in Italy - so what can you tell us about your different locations, what drew you to them, and how hard was it to combine all these into the homogenous fantasy world you created?
I began the shoot in Florida, when I lived there full time. As you know, the filming process was delayed, during which time I got cast in aJoe Hollow feature in NY [Joe Hollow interview - click here]. While filming, one of the crew offered to build me a waterfall for a certain sequence I wanted to do. Long story short, I got my waterfall (although not by that guy - by wonderful group of guys headed up by Chris Losicco).
Later, when I was cast in Zombie Massacre, I used my days off to get some atmosphere shots and grab an extra scene with Mike Mitchell [Mike Mitchell inteview - click here], a wonderful UK actor. Many of the Zombie Massacre crew assisted me with that (I don't know how, with the crazy filming schedule, but they did!) and that's how I ended up filming in Italy.
Finally, when I got back, my editor advised me that we needed pick-up shots. Since I already lived in Los Angeles, and so did Legend of the Red Reaper-star Christian Boeving, we cheated an LA location, and snuck in an extra scene to help sell the new story structure made necessary by the post-house who so kindly relieved me of TWO of my reels.
As far as I know, it was quite an lengthy and delayed process to get Legend of the Red Reaper over the finish line. Would you at all care to comment on that?
The list of the things that went South make for it's own story. Had I known JUST how difficult it was going to be, I may not have seen it through.
First, my best friend took off with $20,000 of my production money. I self-funded most of the film, and I don't come from money. I lost my house and cashed out all of my savings to make this movie, and that was a HUGE blow. They did it DURING production, and by my calculations that $20,000 actually cost me $38,000. I used my credit cards to make up the difference, then my savings. I ended up losing my house after that.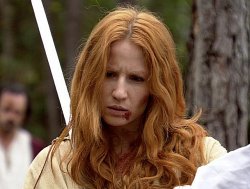 When the money dried up a significant amount of cast and crew went with it, including my producers, my original director and all of my crew. You can't blame them for that, everyone has bills to pay, and I was the only one with serious cash invested at that level. I got a rough cut of the movie done and realized there was very little in the way of plot, and nothing to offer in terms of character development. Also - the scenes yet to be shot STARRED the woman who'd stolen my money. So that was a problem. I taught myself screenwriting and re-wrote the script building as much plot and arc as the space would allow given what was already in the can.
During which time Irv Goodnoff, my friend and director of photography, passed away. Obviously it was a blow to the production's morale as well as the production itself. Fortunately, Jose Cassella came to the rescue with some sheer, talent, and his keen eye [Jose Zambrano Cassella interview - click here]. He studied Irv's style of cinematography, added his own unique touch, and when I raised more money (this time with a medical study and working as a pro-wrestler on weekends), we were up and running again!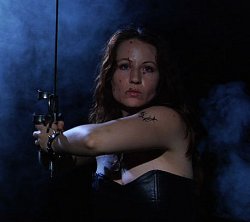 With Jose behind the camera I was able to knock out 90 new pages in 12 days. It wasn't easy, people had to be flown in, housed, and fed. Since I had NO producers I promoted my department heads - all of them - to associate producer and they never left my side. I was fortunate that people like Vicki Hildebrand, my wardrobe mistress, and Tim Hays [Tim Hays interview - click here], my head of make up and special effects - they never doubted me or the project. They were already in place from the beginning, and stayed with me knocking out every curve ball the production threw them. Then - people like Charles Cardwell and Michael Scheafer - who were just stunt guys - out of nowhere they stepped up and made magic out the worst of situations. You wouldn't believe what these guys could come up with. Most of my cast stepped up and donned another (or several other) hat(s). Two or three invested their own money. Justin Irwin became an acting coach AND a set dresser. Ruth Hays went from an extra to creating key wardrobe [Ruth Davis Hays interview - click here]. Barry Ratcliffe helped me recast [Barry Ratcliffe interview - click here]. David Garito did wardrobe and art department between shots, as well as set photography - it was incredible!
If you had the chance to do the movie again right away with all that you know now, what would you do differently?
I'd maintain control over the money and the script.
With Legend of the Red Reaper being a passion project of yours - how happy (or maybe sad even) are you to finally have everything wrapped and ready to show?
I'm relieved mostly. It's been the cast and crew that has kept me going. Their constant encouragement and belief in me and the project. If it wasn't for them I would have given up a long time ago. But the truth is, how can I look at myself in the mirror if I'm a quitter because things got a little difficult? I can't. That's not me.
For Legend of the Red Reaper, you have eventually also assumed directorial duties - why was that, and what can you tell us about your directorial approach to and the overall look and feel of the whole thing?
That's complicated. Without any disrespect meant, the directors I hired weren't ready for what I threw at them and all of them have gracefully stepped aside so I could do what needed to be done. If I'd known I was going to be directing I probably would have been too scared to come to set! But, I knew what I wanted from the actors, because I wrote the script. And I knew how I wanted the shots, so I wrote a lot of that into the script as well, so my DP would know. And then with the help my editors I put it all together.
Unlike most Hollywood fantasy, Legend of the Red Reaper features next to no CGI-effects - a conscious or a budgetary decision, and what can you tell us about the effects work on your movie?
There's much more CGI in the movie than I'd like, to be honest. I'm not a fan. I'm an actor first, and CGI - while great for the audience, is rip-off for the actor. We have nothing to act against! What's the fun in that?
You did your own stunts on Legend of the Red Reaper - so do talk about your stuntwork and the action scenes of your movie as such for a bit!
I did about 95% of my stunts. Towards the end, when I'd assumed most of the chief roles, I brought in a series of very talented young ladies to double me so I could be in two places at once (or just collapse). Patricia Dunn did a couple of nice fight scenes for me, in addition to doning a blonde wig and dying in place of an actress that failed to show up AND playing one of the main Reapers, Kat Kentes is a genius with a sword - one of the best I've ever seen! She doubles me for the scene where I disembowel a bad guy and then run after him - I stood by in my PJs and cheered her on! Mel Turner came all the way from VA to shadow and double me. There's a scene where the demons throw me around and torture me - some of that is actually her!
As you play the lead in Legend of the Red Reaper - to what extent can you identify with this character you have created?
It's me. I've evolved since the filming of it, but many of the scenes were parallels between me, or things in my life. I've mellowed quite a bit now that filming is over.
Do talk about the rest of your key cast and crew for a bit, and why exactly these people?
Never in the history of cinema has any filmmaker been so blessed with a cast and crew like these fine people. I get FAR too much credit for making some creative decisions and wearing a few extra hats - but make no mistake, I had a cast and crew of almost 200 people when all was said and done and every single one of them had a significant and meaningful impact on the fim, and I couldn't be more grateful.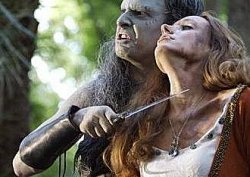 Rob Ray, Christina Daoust
Rob Ray, in particular, came out of nowhere - now here's a guy that took time to train with me between shoot days. He and Justice Maynard taught me some wrestling moves, some parkour - Rob got down on all 4s in the movie and let me jump off his back from a running start. Who does that?? But not only is he a physical genius, he also stepped up and recorded almost ALL of the dialog replacement for the movie (which was extensive!) - the dialog replacement sessions spanned 7 weeks, and some actors like Christina Daoust, David Mackey and Tom Nowicki [Tom Nowicki interview - click here] - all very busy working actors - had to come back twice! Without Rob there is no way there would be any cohesion in the movie. I changed so many lines in post to make the story make sense - you don't even know!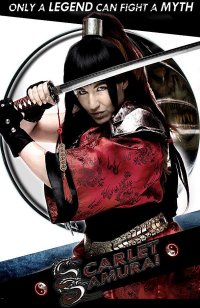 And then there was Sean Wyn [Sean Wyn interview - click here]. This guy came in during post production and saved the movie. I can't stress that enough. First, he re-cut my trailer during AFM after the first trailer wasn't so well received. THEN, he sat with me for 5 straight days and recut all of the action scenes in the movie - he also took care of all of my green screen replacement (which my post team told me couldn't be done). He co-composed the main themes and much of the musical score and placed ALL of the music when my original composer was unable to do so. On the LA side of things, he secured a high end recording studio for all of the dialog replacement HERE - and did all of this while producing Scarlet Samurai: Incarnation (which is why *that* movie isn't done yet - we kept getting pulled off of that one to finish this one) [Tara's Scarlet Samurai interview - click here]. He also, bless him, made sure to add back in a number of close ups of mine that got left out during the edit.
And of course Uwe Boll is like the emperor of everything that swoops in, gives his orders and heads back to Europe or Canada where he knocks out 14 more films, and comes back and wonders why Legend of the Red Reaper still plods along. Uwe is a great friend to women, film makers and independent cinema. He's the one that scooped up Legend of the Red Reaper and put a HUGE post team behind it - which is why the movie looks as good as it does. A lot of color and sound went into making all those pieces look like they're part of the same movie! Uwe knew what it would take to make that happen and he put his full weight behind the project and now we're done!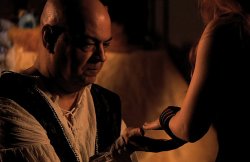 George Pérez
Your film features a rather amusing cameo by comicbook legend George Pérez [George Pérez interview - click here] - so how did you get him and what was it like working with him?
I met George a few years back at a Wizard World Chicago, while I was promoting the Red Reaper comic. George and I became fast friends, and he mentioned he liked to be involved with theatre. So - while I was re-writing Legend of the Red Reaper, one of my actors complained that he didn't get enough screen time, and so I wrote him in a few extra scenes. Of course said actor canceled on me 3 weeks before shooting. After I was done panicking, I realized the role could stand by itself - it didn't need to be THAT actor. And I instantly thought of George! He was gracious enough to accept the role, and as you saw did a WONDERFUL job with it. I giggled through his whole performance on every take. Many of my cast were quite smitten with him as well. No one could believe what a huge star we had on set. George doesn't know he's a star though, so it's fun to watch him blush as he signs autographs!
The $64-question of course: When and where will the film be released onto the general public?
That depends on where you live - BUT you can go to www.facebook.com/legendoftheredreaper to be kept up to date as we get release dates from the different territories.
As far as I know, you plan to not reduce Legend of the Red Reaper to the realm of film but will also be releasing a novel and comicbook. Please do elaborate!
I am co-authoring the novel with Alex Bledsoe, a very famous fantasy author. He's a delight to work with! We've just gotten a publishing offer, so now we have to finish it!
A few weeks ago I inked a deal for a double issue Red Reaper/Scarlet Samurai one off comic book with What the Flux. I just finished the new script for Red Reaper. Sean Wyn is going to write the Scarlet Samurai script.

Feeling lucky ?
Want to
search
any of my partnershops yourself
for more, better results ?

The links below
will take you
just there!!!


Will there ever be a Legend of the Red Reaper II?
Maybe :)
But not if I have to fund it myself!
Any (other) future projects of yours you'd like to talk about?
I'm excited about Scarlet Samurai: Incarnation - the world's first 1/2 Asian, 1/2 Jewish, lesbian superhero [Tara's Scarlet Samurai interview - click here].
Your/your movie's website, Facebook, whatever else?
Link to buy tickets to the world premiere: http://www.centralfloridafilmfestival.com/Tickets_RedReaper.html

... and this one for the IndieGoGo campaign so I can buy back my house: http://www.indiegogo.com/projects/red-reaper-universe/x/397292
Finally, Facebook: www.facebook.com/legendoftheredreaper
Thanks for the interview!