You are currently working on the movie The Dark Psychosis. Care to tell us what this movie is about?
Sure. The film starts with a bunch of bored country youths who dare each other to go to an old womanís home in the woods, whom they believe to be a witch. When they find her living in an old trailer in the forest they are warned to leave or risk their sanity. She tells them she has found a portal to another dimension, The Dark Psychosis - A place so terrible and haunting, that it will rot your brains and destroy your soul. The youth run back into the night except for one. The oldest of the group waits patiently for the old woman to leave and quietly enters the trailer. Inside he finds old television sets piled on top of each other, glowing from an unknown source. Suddenly the largest of the TVs begins to pull the young man towards it and he is thrown into its void. Enter the Dark Psychosis, a rollercoaster of 6 original and strange stories of horror and the bizarre.
How come you decided to do an anthology movie?
Well I like making short films. After finishing my first feature, Demons|Among|Us, I was keen to doing something quick and with no pressure, just for the hell of it. My SPFX man, Nick Kocsis and I loved playing with gore so much in the feature we thought it would be great to just do a full on nonstop gorefest of a short filmÖ.and Sickie was born. Funnily enough it got a better reaction from some people than the feature did. So we did another one, Greedy Guts, this time with a more comedic edge but still gorey and with a strange storyline I wrote while in Amsterdam (enough said). Both shorts won Best Film in different short film festivals here in Australia. So an idea began in my mind as a way to bring a bunch of stories together. I wanted to do something in the vain of the old Twilight Zone shows of the 60ís, but of course with horror, kinda like the Creepshow films but even more extreme and crazy. Something mental.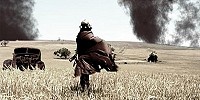 The film is something of a horror/sci-fi/comedy hybrid, right? Why this combination, and do you put an emphasis on any of these elements?
These are my favourite subjects. I love science fiction and I love horror. Both walk a fine line of what can be perceived real and what is fantasy. I think the horror genre allows so much room to move as far as story telling goes. You can get away with practically anything. And I think comedy is a good way to keep the material fresh and contrasting, plus I like to laugh just like anyone else.
When will the movie be ready, when will it be released, and where will it be released?
I hope to have everything finished by early next year (2009). We have three films completed and one in post production, so that leaves two more to be shot. Then itís a matter of shopping it around for distribution. If we donít get a deal that we are happy with then my production company Lost Art Films will do it independently. Go to www.myspace.com/thedarkpsychosis for up-to-date news.
Your first feature film (at least according to my knowledge) was Demons|Among|Us back in 2006. What can you tell us about that movie?
Demons|Among|Us was my first feature, shot over three years with a completely volunteer cast and crew. I also wrote, shot and edited it. Itís a horror about demons both in the real world and in our minds. It also features social/political undertones about the evils of mass consumerism, global advertising and religion. It also very silly and gory ha ha.
Demons|Among|Us was released in the USA by Troma. Do you feel any special affinity to that company and especially there house-style?
Well I grew up watching some of their earlier films like Toxic Avenger and Surf Nazis Must Die. I loved them. And I guess in their way, inspired me. Troma had an obvious style and attitude of film-making that was outside the Hollywood system and proved there was an audience for something very different. But as far as having a similar style myself? No, I think my films are quite different.
Your films all seem to have horror-themes. Is horror a genre especially dear to you?
Yeah, like I said before I love that fact you can get away with such crazy storylines in horror that you just couldnít do in any other genre. But to be honest, the bulk of horror films out there bore me, theyíre repetitive, non-original cash ins. Ahh donít get me started on remakes either GOD!!!
Also, your movies always seem to have a comedic edge to them. Why do you think horror and comedy mix so well?
It's good to have the contrast. Let the audience relax a little before you smack them over the head again. And often when we are confronted with things that are full-on and horrific, we laugh. And itís this response that fascinates me.
You are making your films in Australia. What can you tell us about the Australian indie-horror scene?
Well there seems to be a lot of low budget/indie horror being made here at the moment but itís a huge country so I havenít met any of the indie filmmakers personally. I donít know what there is to say about it really. Iím stuck up my own ass most of the time working on my own projects.
How easy or hard is it to get actors for indie-horror films like yours?
Its easy to find people, but getting good actors for no money is a different story. Iím lucky in that I work in Television as a cameraman, so I have some contacts and friends there that are happy to come on board. For a lot of the roles for the Dark Psychosis I actually held auditions advertised on MySpace.
What got you into filmmaking in the first place, and are there any films you've made I've just forgotten to mention?
Film is the greatest artistic medium of the modern age. How could you stay away? When it works, it's fucking amazing!
I done a bunch of other short films a long time ago but nothing worth mentioning really. I also have directed several video clips over the years and still enjoy doing the odd one. If the band is right and they trust you, the artistic freedom is fantastic.

Feeling lucky ?
Want to
search
any of my partnershops yourself
for more, better results ?

The links below
will take you
just there!!!

Find Stuart Simpson
at the amazons ...

amazon.com

amazon.co.uk

amazon.de
Looking for imports ?
Find Stuart Simpson here ...
Something naughty ?
(Must be over 18 to go there !)

Your and your films' website/mySpace/whatever else?
www.myspace.com/demonsamongusthemovie
The Dark Psychosis:
www.myspace.com/thedarkpsychosis
Directors who have inspired you?
Weir, Miller, de Heer, Hillcoat, Cronenberg, Lynch, Hitchcock, Kubrick, Gondry, Jackson, Anderson, Barker, De Palma, Raimi ... any one doing something original and unique and in their own style.
Favourite films, both recent and all time favourites?
Blue Velvet, Evil Dead, The Shining, Raising Arizona, Mad Max, just to name but a few.
Any movies you really deplored?
All these recent horror remakes. Please stop!!!!
At the moment, you're quite obviously in the middle of The Dark Psychosis. But are there any future projects lined up after that?
Iíve got a few feature scripts in the works. So any producers out there?
Anything else I've just plain forgotten to ask and you're just dying to share with us?
UM...I hate to get on a soap box here but Support Independent Cinema! I know its easy to download stuff from the net but if you donít buy the odd DVD then how can the film makers keep making films? We're not like a band that can tour around and make money. We need to sell DVDs or we are dead. Thank you to all the people who have supported us and our films over the years. You inspire us more than you know.
Thanks for the interview.
Thanks Mike ;)