You've only recently become the subject/protagonist of a documentary, Stu's Show - so in a few words, what is the film about?
A few words? OK, it's about my life and career and my finally meeting someone who loved me as much as I loved her and my struggle with the medical industry to keep her alive.
Now how did the project fall together in the first place?
CJ Wallis [C.J. Wallis interview - click here], the filmmaker, did a documentary in 2017 called Perfect Bid, which dealt with someone who helped a contestant on The Price is Right guess the exact price of his showcase by yelling the price from the studio audience. Not a big deal but when you hear about the backstory, it made for a tremendously entertaining film. I had CJ as a guest on my internet TV talk show because I found the film highly enjoyable and very fascinating. When CJ came over to do the show, he was intrigued by my show and what I done my entire life as a TV historian and preservationist. When he learned of my plight helping my then-girlfriend (now wife) recover from a life-threatening brain aneurysm, he thought it would make an interesting story too, so here we are.
Do talk about your love for vintage television for a bit, and some of your favourite shows from yesteryear?
From the time I was maybe eight or nine, I'd always been fascinated with television - both the people in front of the camera but also the technical aspect of it all – the way it was shot, produced, etc. I knew at that young age that it was television that I wanted to base my adult life and career upon. I grew up watching I Love Lucy, The Flintstones, The Dick Van Dyke Show, Bewitched, etc. In the 1960s, all of these were first run except for I Love Lucy, but I also watched The Lucy Show during that decade as a first run program. The shows were so well-produced and well-acted that they left an indelible mark on me and my childhood.
Now one of the key focuses of Stu's Show and also an important woman in your life is Lucille Ball - so what can you tell us about her impact on your life, but also her as a person, and about working with her?
Well, if you had told me as a kid that I would someday know her personally and even work for her, I would have told you to seek some professional help. But lo and behold, the stars aligned, the cards fell into place, I was in the right place at the right time, and I ended up taking a class she taught at CSUN during my last year there. I made sure she realized who I was from the get-go and also let them know I had a vast knowledge of her career. I stayed in touch with her and her husband Gary Morton after the class ended, and when the opportunity arose I became her personal film archivist for the remaining years of her life. She was like a second mother to me – always concerned about my well-being, my family, I always got birthday and Christmas presents from her every year, she really did treat me like one of her family. In fact, Desi jr, who I got to know well and became friends with, used to say when referring to me, "Stu is my mom's other son… her other boy".
It's only fair now that we also talk about the other, probably much more important woman in your life, Jeanine Kasun ...
Yes, after nearly 51 years on this planet, a failed first marriage, and never any long term relationships prior to that, I finally met someone who loved me the way I loved her…and we had everything in common too… which is why I fought so hard to make sure she recovered. Seriously, how many women do you know who love The Three Stooges?
Are there any stories or show biz anecdotes that you'd like to share that just didn't make the final cut of Stu's Show?
Oh, there are so many personal tales I can share that really don't have anything to do with the film. I've been so privileged and blessed to be able to work with and know so many wonderful people in show business – actors, comics, producers, directors, etc. It would take a year to document all the stories I could tell you.
What can you tell us about Stu's Show's director C.J. Wallis [C.J. Wallis interview - click here], and what was your collaboration like?
CJ is a BRILLIANT filmmaker. When he's working, he focuses his entire attention on whatever he's doing at that moment – he gives 1000% to everything he does. I noticed the care and labor he put into Perfect Bid, and that's why when he approached me to do our story, I knew that there was nobody more qualified than CJ Wallis to tell it in a true, proper, and entertaining manner, and he didn't let me down. He's delivered a solid film that I'm damn proud to be a part of. He respected my decision of agreeing to do the film solely to show people that they CAN deal with the medical industry and all its red tape, bureaucratic BS with all its bumps and sags, but if you play the system right, you can emerge victoriously. There are some wonderful doctors, nurses, and therapists out there. You just have to fight hard enough to get to them sometimes. You have to cut through the crap that's thrown at you along the way and stand up for your principles and push, push, push to break down that barrier that the industry thinks most people will just be resigned to go along with.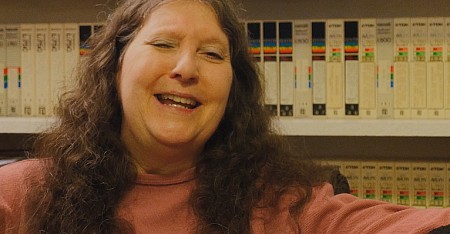 Jeanine Kasun
A few words about the shoot as such, and the on-set atmosphere?
We spent a lot of hours telling and retelling the events because we'd finish a session and then I'd remember something I left out that I felt needed to be said. Not once did CJ ever respond with, "oh, geez – we have to do it all again?", he'd always react positively and allow me to tell the same story again, but with whatever additional points I'd want to make, and he'd always shoot it all patiently, never once complaining. Honestly, he made everything seem so relaxed and natural, even when I got excited all over again when I recounted some of the BS I had to plow through to get Jeanine the care she needed. It was really rough on me having to recall some very tough days again; I got angry and super emotional at times just having to re-tell them, but CJ was the most patient director I've ever worked with. It was a dream set.
The $64-question of course, where can Stu's Show be seen?
Starting May 2, you can see the film pretty much anywhere – over the air, it can be seen in the on demand sections of DirecTV, Dish, Cox Cable, Spectrum, and Cablevision. Online you can find it in the usual places – iTunes, Amazon, Vudu, YouTube, and a few other platforms.
Anything you can tell us about audience and critical reception of Stu's Show?
The critics (like you, and thank you for your kind review) are just now seeing it, but the general consensus is that CJ and Mallory hit this out of the park, which makes me very, very pleased. The more people who see this film, the more they will be better equipped to deal with the medical industry when and if their loved ones ever suffer something very serious. The rest of the film – my years with Lucy, my own TV talk show, my career in general – it's all fun to watch and hear about – I'm very grateful for the things I've been lucky to have in my life, but the true point of this film as far as I'm concerned is learning how to properly deal with the medical industry.
Any future projects you'd like to share?
Right now I'm semi-retired. We recently moved out of the LA area after 35 years and I'm content with just doing my bi-weekly internet TV talk show from way up here in this picturesque mountain community.
Do talk about your podcast, aptly titled Stu's Show, for a bit, and the philosophy behind it, and how it grew, maybe changed over the years?
Thanks for asking. As you saw in the film, I began the show in 2006 as a way to preserve and celebrate classic TV by having conversations with those who were a part of it both in front of behind the cameras. I call them conversations, not interviews… conversations done in a way that makes it seem like the audience watching and listening is right there in the room with us simply observing. I break that "fourth wall" and look right into my camera and make comments to my viewers all the time. They like that… makes them feel a part of the show. After 500 audio broadcasts, in 2017, looking for ways to make the show more entertaining and to not get stale, I invested some money and switched the show to television (with an audio simulcast still available for those who couldn't plant themselves in front of a computer or Roku TV to watch). I also went to a bi-weekly schedule to cut back on my workload. That's turned out very well and for the foreseeable future, that's how it's going to stay. Viewers get a new show every other Wednesday.
People, both within and outside of the show business, who inspire you?
Wow - well, Lucille Ball (obviously), Desi Arnaz, Dick Van Dyke, Norman Lear, Bob Barker, Mark Goodson… outside of the business – hmmm… Barack Obama, Bill Gates, Elon Musk – people who had ideas and received tremendous success from them.
Your favourite movies?
Blazing Saddles, Airplane!, Mary Poppins, The Comic, anything Laurel and Hardy, The Marx Brothers, The Three Stooges. On the drama side, One Flew Over the Cuckoo's Nest, The Social Network, Saving Private Ryan, ET (if that qualifies), JFK, Goodfellas, Forrest Gump. I also love a good documentary – love 'em. You gotta remember, I'm way out of the desirable demographic these days.
... and of course, films you really deplore?

Feeling lucky ?
Want to
search
any of my partnershops yourself
for more, better results ?

The links below
will take you
just there!!!


I hate to slam something that someone put a lot of time and effort into, but I will say that I don't like the way the movie industry is trending – all superhero and special effects movies. I can't stand any of them. I didn't care at all for Star Wars way back when or any of its sequels… probably the only person on the planet who thinks that way.
Your/your movie's website, social media, whatever else?
www.stusshow.com, www.facebook.com/groups/stusshow - also available as a Roku channel
from the Roku Channel Store (it's free).
Anything else you're dying to mention and I have merely forgotten to ask?
I think we've covered everything…I'm exhausted!
Thanks for the interview!
You're welcome – thank you!