Your new movie The Ventures: Stars on Guitars - in a few words, what is it about?
Tim Wilson: It is about the musical influences the Ventures, the biggest selling instrumental band in music history, had on some of the most well-known musicians of all time.
What inspired you to make a film about the musical career about your father in the first place?
Tim Wilson: We knew the story and we're very proud of our fatherís accomplishments, and felt the story needed to be shared with the rest of the world.
You've got quite a star-studded line-up of interviewees in your movie - so who have you got and why, and how did you get them even?
Staci Layne Wilson: Well, we have about 40 interviewees in the movie! But the highlights are certainly John Fogerty, who inducted The Ventures into the Rock and Roll Hall of Fame, and Josie Cotton, who performed with The Ventures in 1983 in one of their few vocal performances on their 35th Anniversary. We also have younger musicians like The Surfrajettes and long-standing legends like Jimmy Page in the movie. Itís a great cross-section of different musicians and music historians.
Tim Wilson: The Ventures have a very large group of well-known artists that mention the Ventures as a big part of their influences, we picked some very special artists and tried to mix it up a bit, a lot of these artists have been friends and worked in some capacity with The Ventures.
Do talk about the shoots as such for a bit!
Staci Layne Wilson: It took about three years to make the film. We did not have a studio or set location, so we got interviews however and wherever we could. I shot the interview of John Fogerty myself at his home; but we also had a talented DP who did a few of the shoots, including the one with Billy Bob Thornton which was filmed at the bar in the famous Sunset Marquis Hotel in West Hollywood. So, there are several different looks and locations.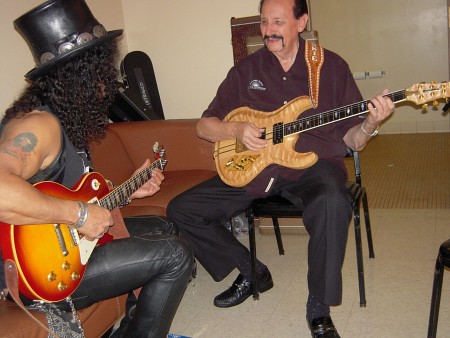 Ventures lead guitarist Nokie Edwards backstage with Slash
The $64-question of course, where can The Ventures: Stars on Guitars be seen?
Staci Layne Wilson: Starting on December 8, 2020, it can be rented on iTunes, Prime, Fandango Now, Vimeo, YouTube, and over 200 local cable stations. Also, itíll be on DVD.
If you don't mind a more personal question, what was growing up with Don Wilson as a father like, and in what way (if at all) has he shaped your own appreciation for music?
Tim Wilson: The Ventures started in 1958 and it wasnít long before they were touring all over the U.S and a short time later that all over the world, 60 years later theyíve never taken a year off except this year due to COVID-19. Their first-ever tours were canceled this year; I donít know of any other band in history who has toured that much, so needless to say, our father wasnít around a whole lot. We saw him when we could, but that is one of the big sacrifices musicians and their kids have to make.
Any interesting The Ventures stories that didn't make it into the final cut of The Ventures: Stars on Guitars?
Staci Layne Wilson: There are a few! We decided not to put long, involved stories in the film, but we did add some of the unedited memories and thoughts to our YouTube Channel where they can be seen in their entirety: http://www.youtube.com/c/TheVenturesMovie
What can you tell us about your directorial approach to your story at hand?
Staci Layne Wilson: I wanted to make it not only informative, but also fun and entertaining. That is where I got super-lucky with my editor (Nina Helene Hirten), because she is also an animator. She created moving infographics and cartoons to illustrate some of Dadís stories that didnít have footage to go along with them.
According to my knowledge, prior to The Ventures: Stars on Guitars you've mostly directed fiction - so how does making a documentary differ from doing a narrative movie?
Staci Layne Wilson: It is so different! I didnít fully realize how different. With a narrative film, you have a script and storyboards, and actors to say exactly what theyíre supposed to. A documentary is a much wilder animal. Also, there are many more legalities to consider. We paid a lot for entertainment lawyers, Fair Use attorneys, official copyright, forming an LLC, and Errors and Omissions insurance. Since this friends-and-family financed, that part has been tough. But we did it!
Anything you can tell us about audience and critical reception of The Ventures: Stars on Guitars?
Staci Layne Wilson: So far, so good! It is not out in the public yet, but the select few participants, friends, and film critics whoíve viewed it early, are liking it.
Any future projects you'd like to share?

Feeling lucky ?
Want to
search
any of my partnershops yourself
for more, better results ?

The links below
will take you
just there!!!


Staci Layne Wilson: Yes, thank for asking, Michael. My next project is a narrative feature called The Second Age of Aquarius. It is a rock'n'roll, sci-fi comedy with all original 60s inspired music by my writing partner, Darren Gordon Smith (you know him from Repo! The Genetic Opera). Nina edited this one too, and she created trippy, psychedelic special effects to illustrate our heroís flashbacks. See, Russell Aquarius (played by Michael Ursu) is a 60s rock star who died in 1970 and has just been brought back from the Great Beyond as an avatar by a young computer programmer, Alberta (played by Christina Calph). Darren and I call it ďWeird Science meets Oliver Stoneís The Doors". We are nearing the end of post-production now, so weíre hoping to have it out by mid-2021.
Your/your movie's website, social media, whatever else?
The Ventures: Stars on Guitars: http://www.TheVenturesStarsOnGuitars.com/
Staci Layne Wilson: http://www.StaciLayneWilson.com/
Tim Wilson: http://www.wilsonguitarventures.com/
Thanks for the interview!