First up, why don't you introduce yourself to those of us unfortunate enough to not already know you?
Hi I'm Sophia Disgrace,an alternative style model, actress and performer!
I think it's safe to assume Sophia Disgrace is not your birth name - so how did you come up with this stage name?
No it's not my birth name - how did you guess?! The name actually came to me completely randomly and just seemed to fit - I've been using it ever since and people seem to like it!
You recently starred in the upcoming film Kung Fu and Titties. What can you tell us about the movie and your character in it?
Sure, it's a cult movie in the making, about all the good things in life - girls, breasts and kung fu! I play Techno Babe, a babe who likes to dance at random!
Judging from the title alone, Kung Fu and Titties sounds like a lot of fun (at least from a male perspective). So how much fun was it to make the movie?
It was a lot of fun to be involved in, I flew out to the US to film my role in the movie and had a really fun time meeting the rest of the cast and crew. It was a very memorable experience - and yes, there were titties!
How did you get involved with the project in the first place?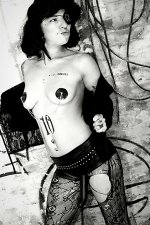 Three's a Shroud
Rather by chance actually, I saw a casting call for the film and knew it sounded like my kind of film! I contacted the director Joe [Joseph McConnell interview - click here] and things went from there!
You also star in the upcoming anthology movie Three's a Shroud. A few words about that one?
Yes, that was againgreat to be involved in, wonderful bunch of people who I've worked with previously, and lots of blood and camped up humour - which is always nice! I feature as a strap-on wielding mistress!
Your segment in Three's a Shroud was directed by David V.G. Davies [David V.G. Davies interview - click here], in whose debut feature Animal Soup you also star. So what can you tell us about that movie, the good Mr Davies, and how did you two originally meet up?
We met up by chance really, I saw an ad for a forthcoming horror movie - Animal Soup. I emailed to see if they required any extras or actresses, they replied and suggested I come down on set one day to catch up, and on the day I turned up, one of the leads had dropped out, so I was offered her role - it was a baptism of fire! Dave's a nice guy, hard working and a real film buff!
When it comes to unique titles, it doesn't get much better than Bear Scary. A few words about that one?
Bear Scary was a film about a killer bear! So yes a Scary bear! Director Dan Brownlie loves the horror genre, and this was one of his many ingenious takes on it!
You are not only featured in the ingeniously titled Houseparty of the Dead 6, you also did the special effects makeup, right? What can you tell us about that one?
Haha! Houseparty is awesome, the very cool Andy Edwards and co are responsible for this utterly depraved film ;p - and yes, I also helped out with some of the SFX makeup, along with some other artists. I love movie gore and so took a SFX make up course a few years ago - to give it a go myself!
Another great title is of course Supervixens of London Town, which you also co-directed. You just have to talk about that one! And is directing something you see yourself doing more in the future?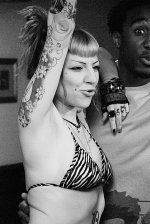 Supervixens of London Town
I co-directed my segment of the film (well, tried to under expert director Andy Edwards watchful eye!) - it's got a real B movie Russ Meyer type feel to it - a vibe I definitely like! It's basically about girl fights - think Fight Club minus Brad Pitt with boobies and lots of tongue in cheek!
I actually wanted to be a director first and foremost - I'd love to direct music videos, really good ones like Aphex Twins' Come to Daddy!
Any other films of yours you'd like to talk about, any future projects?
I'm due to start filming a new horror film next year, in 2012, but that's still under wraps! Another film I've had the pleasure of being involved in is The Shadow of Death - big shout out to the director Gav Chuckie Steel [Gav Chuckie Steel interview - click here] and all the guys! Look out for it, it's going to be very, very cool - go google!
What got you into acting in the first place, and did you receive any formal training on the subject?
My first go at acting was in Animal Soup, when I got a role by pure chance, I have no formal training (I hated drama at school!) but haven't ruled this out as a possibility!
Most of your films are of the horror variety - so is horror a favourite genre of yours, and why? And what kind(s) of horror do you prefer?
I do love horror and so have been very happy to feature in the kind of films I love! Horror can be so varied - it can be surreal, it can be gross-out funny, it can be camp as hell - it has a definite charm for all these reasons - and also, who doesn't like a good scare?!
My passion for horror evolved as a child, when we used to go to the local video rental store and I'd find myself drawn to all these VHS covers I wasn't supposed to be looking at like Halloween, American Werewolf in London, Evil Dead. When I finally saw them, they grabbed my attention like nothing else! I remember when people at school were like 'I just saw this amazing film with Will Smith in it!', and I was like 'I just saw this film where a depraved killer hacks up teenagers for fun!'... it was tough! I enjoy all kinds of horror, I couldn't pick a favourite type !
As an actress, how do you approach your characters in general?
I try to express myself, as would be suitable to the role - I'm not Oscar-worthy by a long chalk, but I hope I bring something memorable to the roles I undertake!
A few words about your work as a model?
Sure, I've been modelling on and off from the age of 18, starting out as a nude art model. From here, I got into the whole alt model scene and have worked at various levels from adult to fetish to pin up and glamour!
You've also made quite a name of yourself as quite a versatile burlesque performer. What can you tell us about that aspect of your career, and how did you become a dancer in the first place?
Thank you!
The thing I like most about performance is the self expression and creativity. I'm actually quite a quiet person behind closed doors and certainly wasn't prancing around like some kid from Fame in my teens - in fact quite the opposite - I did used to do dancing as a child and was a bit crap really! I started doing burlesque with a friend of mine and enjoyed it, she then moved to Japan and that was crunch time - I decided to keep going alone - I'm self-taught essentially.
Among many other things, your burlesque acts include a Star Wars- and a Transformers-routine. Since there are many fanboys among my readers, you have to talk about these for a bit?
Certainly! I love Star Wars and Transformers - who doesn't? And so, I thought it would be cool to incorporate these themes into my own burlesque routines. I don't really do traditional burlesque - that's not me really - I dont look like a pretty, pretty 1950's gal, I wanted to do something relevant to me - that was sexy and fun! For example, I have specially designed R2D2 nipple pasties and a light sabre for my Star Wars number - what could be more awesome than that?!
Some of your special skills include fire eating, sword swallowing, glass walking and bed of nails. Could you please explain to someone whose special skills include "reasonably good at typewriting" and "ok at assembling IKEA-furniture" how, where and why you picked up these amazing skills!
Hehe! Good question - I've no idea! No, seriously, I just read stuff online and tried things out - I clearly have waaay too much spare time on my hands... !
I like trying new things, I love the whole circus freak thing, I like to push boundaries, normal life is boring - corny as that sounds!
Any other skills/aspects of your career you'd like to talk about?
I also write for a number of online-zines such as music-zine Sonic Shocks and lifestyle-zine Sinzine, and also do some artistic type bits and bobs - I had some work exhibited a few months ago in London. I'm a fully trained body piercer as well.
You have appeared naked in front of the camera or in front of an audience quite regularly during your career. Has that ever bothered you, and can you still remember your first nude shoot/performance?
I don't really mind getting my kit off, not because I'm like 'yeah im hot shit!' but because it's just natural, really. It doesn't embarrass me - maybe I have no shame... I used to flash people and pull moonies and stuff at school - I went to an all girls catholic school - that probably has a lot to answer for...
Actresses (or indeed actors) who inspire you?
I like Charlotte Gainsbourg (especially in Antichrist), Marilyn Monroe and actor-wise Jack Nicholson,early Robert De Niro and, erm, Jean Claude Van Damme ... for purely ironic reasons...
Your favourite movies?

Feeling lucky ?
Want to
search
any of my partnershops yourself
for more, better results ?

The links below
will take you
just there!!!

Find Sophia Disgrace
at the amazons ...

amazon.com

amazon.co.uk

amazon.de
Looking for imports ?
Find Sophia Disgrace here ...
Something naughty ?
(Must be over 18 to go there !)

I have lots and lots - I always mention The Texas Chainsaw Massacre, Shogun Assassin, Night of the Living Dead, Taxi Driver, Back to the Future, Star Wars, 2001: A Space Odessey and tons more... genre wise - anything by Stanley Kubrick, Hitchcock, Quentin Tarantino, war movies, especially Vietnam films, gangster flicks like Goodfellas and Casino, foreign cinema like La Haine, Delicatessen, Sci-Fi - Alien, Asian cinema - Ichi the Killer, Oldboy, Horror... the list goes on... I sometimes love movies more than reality!
... and of course, films you really deplore?
Easy: I'm not a fan of chick flicks, films like Street Dance or anything to do with Glee or High School Musical - you get the idea!

Your website, Facebook, whatever else?
Hit me up on Facebook - Sophia Disgrace - or google me for more infos, website coming soon!
Anything else you are dying to mention and I have merely forgotten to ask?

Thank you for a great interiew!
Thanks for the interview!