What can you tell us about the organisation Women Creating Change, the philosophy behind it, how it came about, and what are your roles in it?
Women Creating Change (WCC) is an organization of female filmmakers and artists from across the Middle East and North Africa (MENA) who seek to inspire change and bridge cultural divides through creative, meaningful, and inclusive collaborations in entertainment.
WCC stands first and foremost for women helping women, and our goal is to connect the Arab and Muslim world with the Israeli and Jewish world to create a united community through filmmaking.
Lee Broda, is the founder of the organization, who was inspired to create the group in June of 2017, through intimate meetings in her living room. Lee is an Israeli actress, producer and poet, with Turkish, Syrian and Egyptian heritage, which are seemingly conflicting cultures. She often wondered what can be done to alleviate fear and hatred? And the answer was connect. Bring people together. Celebrate these cultures, and these women.
I joined the organization in September of 2017 and Natalie Marciano joined soon after, and we became a part of the founding members team. We all share the responsibilities. Depending on need, we organize events, invite women to join, and reach out to leading experts in our fields, so that we can offer panels, screenings and mentorship for our members. Natalie and I work a lot on the content that we use, letters, invites, copy for videos, and press outreach.
What does Women Creating Change mean to you personally?
Shelly: For me it's a community, somewhere warm and genuine, that I can be myself, without fear that my Middle Eastern vivacity will be misunderstood. I have made friends here, I've received help and support from other members and have given it in return. Los Angeles is a busy city, people come in and out of your life, but being at WCC feels concrete and stable. I'm far away from my family, who live in Israel and England, and so this is the closest thing to home that I've found.
Natalie: Women Creating Change was an answer to a prayer, literally. I was obsessed with the idea of women coming together to do something meaningful. I wanted to have more amazingly talented women in my life, as inspiration, as friends, and collaborators. Los Angeles felt like a very segregated place for me for many years and the industry even more so. I really felt that our world was getting smaller with social media but also more disconnected. Just as I was envisioning how to set out and build a new, strong female community, Shelly introduced me to Lee and the WCC. It was so exciting to be able to come in so seamlessly and serendipitously. It has been a game changer in my life. It has exceeded all my expectations and I finally feel home here in LA.
Women Creating Change recently held an event, Stand Up 4 Her - so what was the idea behind that event?
Stand Up 4 Her - originated as a night for female stand-up comedians, from the Middle East and North Africa, to showcase and share our culture through comedy. As the planning progressed the event grew into a beautiful variety show with hosts, music, comedians and poets who had the audience laughing and crying, and cheering for more! We also served appetizers, with an open, sponsored bar, desert and even gift bags for the VIP ticket holders. It was an incredible and empowering event!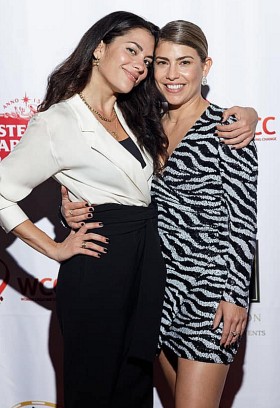 Inbar Lavi, Lee Broda
The idea was to break the walls and boundaries between our different cultures, and to show the beauty and joy that can be achieved when we put religious and cultural differences aside and come together to celebrate. Judging by the guests' reactions, we absolutely succeeded in our mission!
All the women who performed, the food, the art exhibit, and even the decor, everything was Middle Eastern. When you stepped in, you were transported to another place.
Our event was sold out, and star studded, including patrons such as Yael Grobglas (Jane the Virgin), Alon Aboutboul (The Dark Knight Rises), and Sarah Idan (Miss Universe Iraq 2017), had the audience laughing, crying and cheering! The guests came in expecting to be entertained, but they also left so inspired, buying raffle tickets, and donating to the non-profit, proving WCC's mission of bridging communities, to be a success!
Lee Broda opened the show with a moving introduction to Women Creating Change's mission to bring together women of different beliefs, religions and political views from the Middle East. "We seek to inspire change and bridge cultural divides, we believe that together we are stronger, because our similarities are greater than our differences" - Lee Broda.
Stand Up 4 Her kicked off with Muslim-Iraqi Comedian Reem Edan and JewishIsraeli actress Gal Macadar "arguing" over who would serve as host. "Let's settle this like men. Meet me outside in five," Edan said. "Or we can settle this like women and talk about it," replied Macadar. (The women decided to co-host.)
The show featured outstanding comedians Crystal Marie Denha, Melissa Shoshahi, Noam Shuster, Nina Kharoufeh, Natalie Marciano, Zain Shami, and Mona Shaikh, who shared saucy insights into being a modern Middle Eastern woman, revealing through humor, that they all share the same plights. Crystal Marie Denha made the audience blush with her jokes about sex, Natalie Marciano had them ululating loudly, and Zain Shami, surprised them with her humor, "I see you undressing me with your eyes," she says wearing a hijab, "do you want to make me your second wife?"
To balance out the evening, poets and storytellers entered the stage with emotionally provoking performances, reading original and borrowed work. Nawal Bengholam read a poem by Salma El- Wardany, Lee Broda shared her poem The Vow, from her book of poetry Whispers from the Moon, "I promise to honor the woman in me… water her with light, feed her kindness, kiss her scars, bathe her with love." Inbar Lavi (Lucifer) spoke of how women create the feeling of home, and what connects the WCC members is that they've left their homes behind and built a new one in Los Angeles, and storyteller Ayser Salman shared moments about her childhood as an immigrant from her book The Wrong End of the Table: A Mostly Comic Memoir of a Muslim Arab American Woman Just Trying to Fit in.
There was also a musical performance by Inbar Starr and beats from DJ Karina Kay. The event was wrapped up with a dessert reception hosted by The Baklava Factory and Mamilla Restaurant, and the VIP guests even received gift bags with Converse Shoes and other goodies.
Shelly Skandrani
There were regular men and women, as well as industry folk, all with open and supportive hearts. They made such a warm and inviting audience, and those who weren't Middle Eastern were really interested in learning about our culture. We all really felt the love! It was absolute proof of what we can achieve when we come together. Natasha Kermani, who produced the stage show at Stand Up 4 Her, along with Lidiya Korotko says, "I was so thrilled to see this event come together through the hard work of our members and our collaborations. It was so exciting to see Middle Eastern women take center stage for the evening, and only served to show how much creativity and energy we have to give as a community." Inbal-Rotem Sagiv, executive director of WCC, who is so dedicated she did most of her work during her trip to Israel said "We've been planning this event for a while, and were excited to share our vision, but little did we know it would incite such a magnificent reaction!
All the proceeds from the evening will benefit WCC programs for female filmmakers.
Both of you also performed at Stand Up 4 Her - so do talk about your respective performances?
Shelly: I performed two of my spoken word pieces there. The first is called Social Reconditioning and tells the story of a single women who dates in a society that expects her to follow someone else's dreams and to never stand up for herself:
"I deserve to speak for myself,
Think for myself.
Even if that means that your agenda is not advanced,
And that my spirit is enhanced.
It's not at your expense,
It makes no common sense
That fifty percent of the world's minds
Are not being utilized,
Because we're told to be quiet,
Be a good girl,
Don't make trouble!
Sit straight!
Do your nails!
Wear heels so tall
That when you run away from me you trip and fall…."
The second piece is called The Immigrant and highlights the emotional turmoil immigrants go through to make the USA their home, until the day they finally receive their Green Card:
"For today, after ten years
After panic attacks and fears
Scared to build fantasies
constantly emptying my batteries
while running against time
as if I'm living a crime…"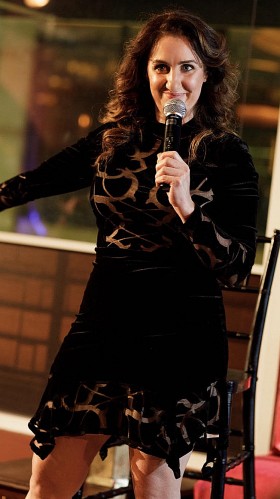 Natalie Marciano
I knew that my poetry had meaning to me, and I knew that I'd perform it with heart, so I hoped that people would connect with it. What I was surprised to experience, was the hugs and flowing tears from the women that came up to me after the show! It was as if I had dared to speak the pain they'd been feeling, and by daring, I had released them from it. It was truly humbling and touching. It made all the hard work worthwhile.
Natalie: I am really passionate about comedy. Truly, madly, deeply passionate about it. I believe that we heal the most individually and collectively when we allow ourselves to connect with joy. I really wanted to craft jokes that helped people relate, like my opening about not fitting in to any of my identities (Canadian, Israeli, Moroccan).
"Fitting in can be hard… people try to relate with me, through the most idiotic things, like, oh wow you have brown hair and I have brown hair… You're Moroccan and I use Moroccan oil… I don't want to jump to any conclusions, but I should totally 23 and me!"
I feel that the audience was so warm and inviting at the event that getting laughs felt so easy. When I had the audience ululating, I knew I had accomplished what I'd set out to do.
Let's put Stand Up 4 Her aside for a moment, do talk about yourselves for a bit, and how did you first meet and become collaborators?
Natalie: We met when I cast Shelly in a short I was directing. I instantly appreciated how talented she was and we became fast friends. We didn't actually begin writing together for several years which now in retrospect feels like such a waste, haha. We are a really great team and bring to the table opposite strengths and weaknesses, which lends to our creative excellence.
What do you think do organizers and performers as well as audiences take away from an event like Stand Up 4 Her?
We think that when you organize an event of this importance, you go in with hope, with aspirations, but you never really know if it will have the desired impact until it's over.
The event was a huge success, so touching, even for us, the organizers, and the performers. There was an energy that swept everyone in. It was only after it ended, that we understood how powerful we are when we work together!
We feel like people came to show their support to us personally, they thought it would be just another night out. It was such a huge celebration of our culture, however, they left inspired and full of emotion! Many of them thanked us profusely for holding such an event, and told us how important our work was. It was proof that politics, and ancient rivalries, can be put aside for one night. And if for one night, then maybe, one day, forever!
Are there any future Women Creating Change-events you're involved with you'd like to talk about?
We have regular events and mixers throughout the year. Some are for community building within WCC, and others are aimed to expose our members to industry professionals, connections and reliable information.
January 2020 - INTERNAL EVENT: Visioning Workshop
Setting personal goals and celebrating a new year together in our intimate WCC circle.
February 2020 - PUBLIC EVENT: Film Screening and Panel - WCC & A Partner Organization
Screening of a film/play to a wide audience. The selected project to screen will be focused on women, according to WCC criteria: (made by / story features region / women from region).
March 2020 - INTERNAL EVENT: Professional Enrichment: "The art of pitching"
Pitching workshop followed by a panel of producers from different positions: producer / executive / financier / agent / distributor.
We also have a short films program, table reads, mixers, LACMA Jazz nights, and even a breakfast pitching event, to financiers and industry professionals. We'll finish the year with a holiday party for WCC with a video presentation of our activities and accomplishments during 2020.
We have big goals, and we've been really successful at achieving them so far!
Any future projects of your own you'd like to share?
We just finished writing a comedy TV pilot with an amazing Israeli creator called Sahar Hagai. It's currently being pitched to all the networks. It's a very unique concept, with a strong female lead. It's a comical quest for salvation, human salvation. But that's all we can say for now…
We're also writing a romantic comedy, we feel like now, more than ever, especially with dating apps and social media, there needs to be a resurgence in the genre. The romantic comedy has been almost forgotten in the last ten years, but as evidenced on Netflix and Amazon, people are craving it once again.

Feeling lucky ?
Want to
search
any of my partnershops yourself
for more, better results ?

The links below
will take you
just there!!!


Your/Women Creating Change's website, Facebook, whatever else?
WCC website: http://womencreatingchange.com/
Shelly Skandrani
IMDb: https://www.imdb.com/name/nm0803840/
Instagram: https://www.instagram.com/shelly.skandrani/
Natalie Marciano
IMDb: https://www.imdb.com/name/nm2513145/
Instagram: www.instagram.com/alotlikenat/
Anything else you're dying to mention and I have merely forgotten to ask?
We really believe that working together is the future of our industry, and the world. We have been socially conditioned to compete, or be complacent. We at Women Creating Change, as well as Shelly and I as co-writers, want to inspire other women to collaborate. And yes there are other groups doing some of what we are, but still with hierarchies and underlying competition. We really want to demonstrate how strong and joyful we are as women, and how we can accomplish anything when we hold each other up, and combine our abilities for the greater good!
Thanks for the interview!